Down the Lane in the early 1960s
Contributed by patricia on July 5, 2017
We used to go to Petticoat Lane on Sundays to shop. When we became teenagers we went more often and met friends and hung out there. We went to The Lane mostly to shop for food but also we looked at the stalls at the clothes, etc. My mother worked at a dress-manufacturing factory owned by my uncle, which was situated in the Lane. Two of my aunts also worked there and my much older cousin. The factory moved a couple of times, but it was always 'down the Lane'. I would visit there often as a kid and tried to help out. During the week the Lane was quieter without the Sunday crowds and I would prefer going then.There was a huge Jewish population around Whitechapel when I was growing up, so many of the food shops in the Lane and in Whitechapel catered to us. Around the early or mid 1960s the Indian population increased around Brick Lane, where they opened shops and restaurants.
Petticoat Lane and Tubby Isaacs' jellied eel stall, 1940s
Contributed by eric on Nov. 1, 2016
Memories of Eric Shorter, b. 1936
Another of our regular week-end outings was to Petticoat Lane at its original site in Middlesex Street. I don't remember why we went: mother rarely shopped for anything, and the crowds of people were suffocating, and there were places where as a small lad I was bothered about being crushed. It was common for me and mum to get separated because of the pressure of the crowds.
Petticoat Lane Market, looking north from the corners of Aldgate High Street (left) and Whitechapel High Street, a still from the 1955 film A Kid for Two Farthings
But at the top of Petticoat Lane, at its junction with Aldgate High Street was Tubby Isaacs' jellied eel stall. He was always there, and his customers seemed to discard their eel vertebrae on to the pavement.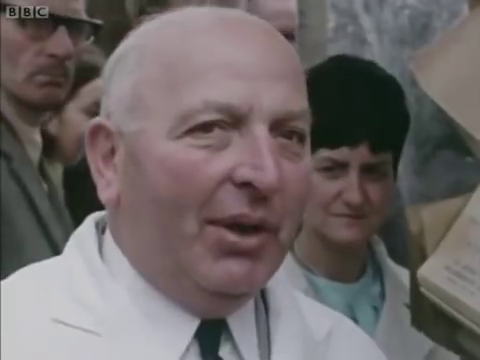 Solly Gritzman, or 'Young Tubby Isaacs', who took over the jellied eel stall after Tubby departed for the US in 1938, seen at his stall in the 1968 BBC film Georgia Brown: Who Are The Cockneys Now?
Lanterns and Smoked Salmon at Petticoat Lane
Contributed by Sarah Milne, Survey of London on June 3, 2017
Jackie remembers Petticoat Lane in the 1960s:
I was born in the Marie Celeste Ward at the Royal London. I went to Harry Gosling School. As a kid I remember that when it got dark at Petticoat Lane all the lanterns came out on the stalls, they were hung outside. Definitely on the weekends. I'd go with my father and I remember the street was lit as we'd pick up oranges. The produce was seasonal, so we'd only get some fruits at certain times of year. There were shoe shops, one very famous shop was Mossi Marks' on the corner of Wentworth St and Toynbee St, all the Jewish community knew that shop. It sold smoked salmon. We ate a lot of smoked salmon. I brought my kids in there and we'd have a chat and the shopkeeper would give us samples of all sorts of different types of salmon. It was sliced paper thin. There was another shop called Kossof's, a Jewish bakery, in Petticoat Market (they had another two branches elsewhere in the East End). Their jam doughnuts were delicious, my son loved them.