Historical Introduction
Whitechapel is a dense and intricate palimpsest, repeatedly regenerated but with great underlying social and physical continuities. Poverty has been pervasive, often beside wealth, though more on its own in the nineteenth and twentieth centuries. Chaotically commercial, industrial, and productive from the medieval period to the Second World War, Whitechapel was thereafter marked by planners to remain so, but in more orderly fashion. This goal was pursued in the face of population decline and extensive bomb damage. Since 2000 wealth has returned, without much productivity, and without the departure of poverty, but bringing transformative change to the built environment.
The architecture of Whitechapel defies thumbnail characterization, except perhaps as unstandardized, at least until recently. There is much that is quotidian, vernacular even, but there is also commercial grandeur and the area has some of east London's finest church interiors. There are many surprises, of survival, and of the innovative or eccentric. As homogenizing as a recent rash of tall buildings is in its impact, this is not the first time Whitechapel has been overshadowed by tall buildings. Numerous eighteenth- and nineteenth-century sugar refineries, all but entirely gone, stood at nine or more storeys.
Just outside the City of London astride the Great Essex Road, the main route east, Whitechapel has been a magnet for settlement for around 800 years. Immigration – principally Huguenot (French), Scandinavian, German, Irish, Jewish (Spanish–Portuguese, Dutch, and East European), Bengali, Somali, and from the rest of Britain – has been a constant since at least the sixteenth century. Whitechapel has been 'global' for as long as that word has denoted the world.
This is a topographical and architectural history informed by social history, which in Whitechapel is well-trodden ground. In terms of social identities, the area presents the richest and most complex of weaves, a four-dimensional tapestry. While touching on many aspects of these identities, these books do not address them directly. In part that is because history is here approached through built fabric, which is mutable as an expression of social identity, in part because the reconstruction of past mentalities, whether possible or not, is a different endeavour.
Whitechapel is certainly a place of transience and of sometimes short-lived traditions about which the word 'community' has often been misleadingly used, obscuring agency, the lack of it, and syncretic forces. The area's brutalities and obsolescences always enjoin 'follow the money'. In contemplating Whitechapel's interwoven historic identities, many of which are now residual, and often concealed contributions to the history of the place, Stuart Hall's words resonate – 'I am the sugar at the bottom of the English cup of tea.'[1]
Some definitions are required. The parish of Whitechapel was once larger, extending south to the Thames. Those southern parts, known as Wapping–Whitechapel and separated off since 1694, are not covered here, nor are lands west of Mansell Street now in the City of London but formerly in Whitechapel, including the site of Holy Trinity Minories, part of the Liberties of the Tower of London that was united with Whitechapel in 1895. The parish boundary to the south of Whitechapel Road, which slices through the London Hospital estate bisecting buildings, is treated here as porous and similar small rationalizations are made elsewhere.
ROMAN WHITECHAPEL
Roman London was surrounded by a cemetery, or rather several cemeteries. Roman law prohibited burial within the City – hominem mortuum in urbe ne sepelito neve urito; the dead were typically buried just outside, beside roads. Immediately beyond the City to its east and with a road through it, the land that later became Whitechapel was thus a likely locus for Roman burials. A cemetery, commonly known as the Eastern Cemetery, inferred from archaeological finds from the late seventeenth century onwards, seems to have covered most of western Whitechapel. Sherds of Bronze Age pottery and worked flint suggest only minimal pre-Roman activity. Further findings indicate a major Roman road running eastwards from Aldgate, possibly with an earlier more southerly route, and another road skirting Whitechapel's southern edge, beyond which lay marshes. Numerous groups of burials have been found near these roads. The City expanded considerably from its first century core, but its limit was marked by a great wall erected around 190 to 220 CE. East of the towered gateway at Aldgate, the only evidence of activity found in Whitechapel, apart from the roads and the cemetery, are traces of field boundaries and quarrying for brick earth and gravel of uncertain date but predating the burials. While pottery has been found at Green Dragon Yard, there is no evidence of Roman settlement in Whitechapel. Lands beyond the cemetery might have been cultivated as market gardens.[2]
To examine this more closely and to start with the roads, it is known that a road from Londinium to Camulodunum (Colchester), the earlier capital, was constructed in the late first century CE running eastwards from Aldgate and crossing the River Lea at Old Ford. Its line is still, and perhaps always will be, a matter for debate, but it seems to have established the line of Aldgate High Street (where Roman gravel metalling was discovered in 1938), and Whitechapel High Street. It then either continued to run straight on a slightly more northerly line than that of Whitechapel Road, or swung slightly northwards around the current Whitechapel Station. The realignment southwards to Whitechapel Road probably came later, in early medieval times, possibly instigated by Queen Matilda in the early twelfth century.[3]
An even earlier road to Colchester, probably built not long after the establishment of Londinium in the mid first century CE, has been inferred as running from around Haydon Street through the vicinity of Alie Street towards the Old Ford crossing, explaining Roman burials much further south than the Aldgate–Whitechapel line. A further minor road evidently skirted the southern edge of Whitechapel along the line of the Highway with burials alongside. A cemetery access road ran south-east from the Minories to Hooper Square.[4]
The exact limits of the Eastern Cemetery are unknown. Finds indicate cemetery use across a wide area between the Minories and Back Church Lane. In 1720 John Strype recorded: 'In Goodman's Fields, without Aldgate, was a Roman Burying Place. For, since the Buildings there, about 1678, have been found there (in digging for Foundations) vast Quantities of Urns and other Roman Utensils, as Knives Combs, &c. … Some of these Urns had Ashes of Bones of the Dead in them, and Brass and Silver Money: And an unusual Urn of Copper, curiously enamelled in Colours, Red, Blue, and Yellow.'[5]
The significance of these objects was confirmed in the late eighteenth century, when finds were more routinely recorded. A minimum eastern limit to the cemetery was established in 1776 with the discovery of a tablet, now lost, to Julius Valens of the Twentieth Valerian Victorious Legion, probably of the late first century, on the east (Stepney) side of Back Church Lane. A small grave slab, probably of the early third century, commemorating Flavius Agricola, a private in the Sixth Victorious Legion, and erected, so the stone records, by his wife Albia Faustina, was found in 1787 in the former tenter ground on Goodman's Fields. Roman funerary urns were found below Whitechapel High Street opposite Leman Street in 1836.[6]
Extensive excavations in the 1980s filled out the picture of the Eastern Cemetery, and suggested a possible northern limit parallel to and north of Alie Street.[7]
The archaeological evidence indicates that the cemetery was in use from the beginning of the second century to the early fifth century and that it was at least twelve hectares (thirty acres) in extent. More than 570 burials and a hundred cremations have been identified, with ashes placed in pots, amphorae, lead urns, tile cists, stone containers, and wooden casks. There were pits in which cremations took place, along with pig and chicken bones suggesting funerary feasting. Cremations were more typical of the earlier period, burials generally later, though examples of both from all periods have been identified. Recent analysis of an adult male skeleton found near Mansell Street has indicated African ancestry. Remains of funeral pyres, unique in a Roman London cemetery, indicate on-site cremation. Masonry and timber fragments are believed to be remnants of mausolea and other funerary structures. Grave goods including glass vessels of the second and third centuries have been found. Concentrations, as around the former tenter ground and Hooper Street, where there was an extensive cemetery within a ditched enclosure, suggest the clustering of graves by family association or religious practice within the larger area of the Eastern Cemetery, which may more properly be seen as a collection of cemeteries.[8]
MEDIEVAL WHITECHAPEL
Then, for close to a millennium, the record is silent. It seems that human activity in Whitechapel was passing and agricultural. The manor of Stepney, encompassing Whitechapel, was part of a larger landholding held by the bishops of London since before 1000, probably from around 604; it was their principal estate. Whitechapel was an independent parish from some time shortly before 1320, the first 'hamlet' in the vicinity of the Tower of London to separate from the vast mother parish of St Dunstan, Stepney. Its mid thirteenth-century chapel, dedicated to St Mary 'de Matefelun' (later Matfelon), named the parish. The first recorded use of the name 'white chapel' is from 1344 when a toll was levied on carts passing between the chapel (by then the parish church) and Aldgate. Originally around 211 acres (eight-five hectares), the parish included territory south to the Thames that later became the parish of St John, Wapping, which separated in 1694. Boundaries seemingly followed those of fields or estates, except perhaps along Back Church Lane, which was part of a meandering medieval route linking Whitechapel's parish church and the then essentially unpopulated riverside parts. The otherwise north–south City-side parish extended eastwards along the realigned main road up to but excluding high-status houses at Mile End Green.[9]
This road remained the main route in and out of London to points east. Its margins were probably open waste, but it is likely that the inner or High Street section was lined with buildings by the thirteenth century when the chapel was built beyond its east end. As Algatestreet the future High Street accommodated numerous shops by the fourteenth century, doubtless including at least some of twenty-four in Whitechapel sold in 1365 by John Chaucer, a vintner and the father of the poet. Inns or taverns on the High Street by the 1450s included the Hammer, the Swan, the Cock, and the Hart's Horn, those just the firmly documented; there were surely many others.
The Franciscan abbey of St Clare without Aldgate was founded in or by 1293 just outside the parish to the west. Its nuns, Poor Clares or Minoresses, gave their name to the Minories. After the Reformation their chapel became a parish church, Holy Trinity Minories. The site was in part later that of Haydon's Yard. Fields to the east of the abbey, up to fifty acres later known as Homefield, were a major part of lands held from the bishops of London by the Trentemars family from the twelfth century, with a large house on the east side of the Minories south of the abbey, called Bernes in 1395 when John Cornwaleys inherited an interest. He subsequently consolidated control of the manor of Bernes (or Barnes) and also had copyhold tenure of other property north of Whitechapel Road. Homefield is said to have been used by the Minoresses as a convent garden or farm, that is market garden. Further south was the Cistercian abbey of St Mary Graces, founded in 1350 on the site that later became that of the Royal Mint, also outside the parish of Whitechapel, but with lands within it that extended east to the site of Wellclose Square.
Eight acres in the north-west corner of the parish, an estate known as Woodlands by the sixteenth century, were part of the Trentemars estate and pertained to the priory of St Mary Spital before the Reformation. Land to the east of that was also part of the Trentemars, then Bernes or Cornwaleys, estate up to the fifteenth century, in fragmented ownership thereafter. A smaller holding north of Whitechapel Road to the east of present-day Osborn Street descended by marriage to John Bramston in the late fifteenth century.
Ashwyes 'Great Field', seventy-five acres in the late thirteenth century, lay to the east on the south side of Whitechapel Road, much of it outside the parish, with a manor house by 1324 on the eastern parish boundary at Mile End Green, which place name also applied in this period to large expanses of manorial waste on either side of the road. These wide verges east of the church were gradually built upon from the late sixteenth century. The main road aside, communications were poor across the open land, and the river Thames had little direct relevance to the life and economy of the parish in the medieval period, the part separated in 1694 excepted.
LAND TENURE AND DEVELOPMENT, 1550 to 1800
The manor of Stepney continued to be a primary landed interest across Whitechapel, especially in northern parts of the parish, and beyond. In 1550 and by prior agreement, Nicholas Ridley, the then newly installed Bishop of London, surrendered Stepney manor to King Edward VI, who at once granted it to the Lord Chamberlain, Sir Thomas Wentworth (1501–1551). Thomas Wentworth (1525–1584) inherited and his son Henry Wentworth (1558–1593) followed as, in due course, did his son, another Thomas Wentworth (1591–1667), created earl of Cleveland in 1626. A courtier, Cleveland ran up debts and mortgaged the manor in 1632 by a ninety-nine-year lease. He could not clear his debts and creditors took possession of the manor and held its courts from 1641. Cleveland was a royalist whose estates were sequestered in 1650; he was a prisoner in the Tower from 1651 to 1656. After the Restoration in 1660 he obtained Private Acts of Parliament to permit him to sell land to pay debts, having settled a lease to trustees in 1658 of properties that included Stepney manor, now much diminished by the sale of free and copyhold lands, to provide an income for Philadelphia, Lady Wentworth (d. 1696), the wife then widow of his son Thomas (c.1613–1665), Lord Wentworth. She sold the manor, still mortgaged, in 1695, when it was described as comprising 200 acres of pasture, four messuages, and twenty cottages, to trustees for William Herbert, Lord Montgomery. The manor passed via further sales to Windsor Sandys in 1710, John Wicker the younger in 1720, and (Sir) George Colebrooke in 1754. There was a flurry of enfranchisements in Whitechapel and beyond in 1772. Colebrooke's descendants held remnants of Stepney manor down to Sir Edward Arthur Colebrooke (d. 1939), remaining copyholds having been converted to freeholds in 1926.
Consequential changes in manorial land tenure occurred in the early seventeenth century. The prodigious outward growth of London into its suburbs had increased property values and from 1584 disputes arose between the then lord of the manor, Henry, the third Lord Wentworth, and his tenants. In spite of growing pressure to switch to a leasehold pattern of landholding, Wentworth resisted administrative and legal changes, leading to ever more complicated fragmentation of leases and confusion over responsibilities for maintenance. Arbitrary fines and the imposition of restrictions on sub-letting angered tenants. A manorial debtors' prison on the north side of the waste (at present-day Court Street) cannot have helped. While long-term investment in land tended to be discouraged, long leases could be secured – a 500-year lease of a large chunk of waste on the south side of Whitechapel Road (the sites of Nos 100–146) was granted in 1584–5.
Wentworth's general approach to land tenure was increasingly incompatible with the area's rising economic forces and it tended to impede development. Concessions were granted in 1587 in exchange for £3,000 from the tenants, but the peace did not last under the young and spendthrift fourth Lord Wentworth, the future Earl of Cleveland. He obtained a patent in 1615 to allow him to offer virtual freeholds to his tenants. Negotiations followed, copyholders led by City merchants mounting a co-ordinated challenge against seigneurial inflexibility. For another £3,500 the tenants secured a Chancery decree in 1617 that formalized new 'Customs', including a right of unlicensed subletting for terms of up to thirty-one years and four months, and a right to enfranchisement, copyholders henceforth being free to re-assign their leases at their own discretion in perpetuity, subject to customary renewal periods of up to thirty-one years, renewable and increasingly a formality. There was a confirmatory Act of Parliament in 1623.
This agreement brought greater stability. But after Cleveland's death in 1667, the manor was so encumbered with debt and troublesome to manage that Philadelphia, Lady Wentworth, enabled by the patent of 1615, sold off property where she could, enfranchising copyholds as freeholds, and permitted more building on wastes. She granted more 500-year leases, several in 1670 and 1672 of waste property on the north side of Whitechapel Road, in and behind the present Nos 197–317. Elsewhere, the thirty-one year customary limit to sub-leases was not a constraint on development, nor is it an explanation for a perceived dominance of piecemeal building, as has sometimes been argued. Longer leases, most frequently of sixty-one years, were widespread after 1680, even where copyhold nominally endured on a much-diminished manor.[10]
Map of Whitechapel's main landholdings in the early seventeenth century (drawing by Helen Jones)
Other secular landowners had long established holdings in Whitechapel, as on the Ashwyes and Barnes estates. After the Reformation these and other holdings were consolidated. Sixteenth-century settlement and mercantile wealth was in large measure a function of the proximity of the City, conditioned in part by roadside trade and industry, as well as by access to the Thames. William Megges, a merchant, acquired the Woodlands estate in 1577, won legal victories regarding sub-leases in 1587–91, built a mansion (the Harte's Horne) and purchased the freehold in 1596. The Barnes lands became Goodman's Fields after the family that held a lease from the 1530s and the manor from 1594, generally maintaining farm use of open fields. Benedict Spinola, a Genoese merchant, took the eight most southerly of the Goodman acres north of what is now Royal Mint Street in the 1570s and laid out twenty garden plots for tenter yards and garden houses. Horatio Franchiotto, a merchant from Lucca, and Sir James Deane built a great house across five of these plots on fifty-year leases of 1597–8.
Considering Whitechapel in 1603, John Stow famously described building on the manorial waste along the 'large street' (Whitechapel High Street and Whitechapel Road): 'both the sides of the streete bee pestered with Cottages, and Allies, even up to White chappel church: and almost halfe a mile beyond it, into the common field: all which ought to lye open & free for all men. But this common field, I say, being sometime the beauty of this City on that part, is so incroched upon by building of filthy Cottages, and with other purprestures, inclosures and Laystalles (notwithstanding all proclaimations and Acts of Parliament made to the contrary) that in some places it scarce remaineth a sufficient high way for the meeting of Carriages and droves of Cattell, much lesse is there any faire, pleasant or wholsome way for people to walke on foot: which is no small blemish to so famous a city, to have so unsavery and unseemly an entry or passage thereunto.'[11] This need not be understood as precisely accurate. Stow and others saw Whitechapel and London's other suburbs as ruined by growth, as disorderly places where building needed to be controlled if not prevented. Elsewhere, Stow reported that Whitechapel possessed 'fair hedgerows of elm trees', numerous garden houses, tenter yards, and bowling alleys.[12]
Whitechapel parish Vestry enclosed part of the waste on the north side of Whitechapel Road in 1614 for almshouses and a burial ground, overflow from the parish churchyard. Around this time several mulberry gardens were planted on the margins of the parish, possibly in connection with the already established local silk industry, principally in Spitalfields – Mulberry Street is a reminder. In 1616 the Bramston estate's copyhold was enfranchised, as was that of the Swan brewery, large premises on the west side of what became Osborn Street. Thomas Pierrepoint took several acres immediately east of the parish church and south of Whitechapel Road by 1620, from manorial waste and from the Ashwyes holding, which was known as Red Lion Farm by the end of the seventeenth century. By 1633 Edmund White, a Puritan merchant adventurer and founder of the Massachusetts Bay Company, held a freehold estate of twenty-four acres, part of which was in Whitechapel to the north-east.
Wentworth Street and Old Montague Street were laid out around 1640, around when 'great' gardens were established on either side of Old Montague Street: to the south by William Rowland, a market gardener who gradually built up copyhold and then freehold possession of several acres, building some roadside houses in the 1640s; and to the north by Leonard Gurle, a nurseryman, whose tenanted grounds included most of the rectangular part of the parish, about seven acres, that lay north of the Bramston land. Edward Montagu and others acquired ownership of this with other land in Spitalfields in 1643. Through inheritance, by George Montagu, Baron Halifax, and by Sir George Osborn, this became the Halifax or Osborn estate. Also in 1643, the Corporation of London built a fort on the south side of Whitechapel Road, part of a defensive ring constructed against the possibility of Royalist attack. The fort was used as a rubbish dump after the Great Fire and came to be known as Whitechapel Mount.
In 1673, Philadelphia, Lady Wentworth, applied to the Crown for a licence for a scheme for building on the wastes on both sides of the road between the disused fort and Stepney Green to the east, frontages that were in fact already much built up. Christopher Wren, as Surveyor-General of the King's Works, prepared a survey plan and a licence was granted, but nothing followed. All along Whitechapel Road copyhold and freehold were intermixed. On the land north-east of Rowland's, a younger Edmund White saw to the building of streets and houses in the 1670s and '80s, including White's Row (the west end of the present Durward Street), issuing unusually long 110-year leases. An acre was left open as a Quaker burial ground, established in 1687. A 500-year manorial lease of land at Court Street was granted as late as 1703.[13]
Parts of the parish around the High Street and the west end of Whitechapel Road were densely built up by 1680, with a network of alleys running through to Wentworth Street and Old Montague Street, intensifying the kind of development that Stow had considered problematic. The formation of Goulston Square around 1690 introduced a touch of regularity. To the south, the area west of Well Close was comparably densely built, and even more irregular and low-grade.
Giles Kinchin had taken a former mulberry garden south-east of Whitechapel's parish church for market gardening in 1679, by when Matthew Penn was running another commercial garden on the south side of Whitechapel High Street. John Skinner, an apothecary, established a Physick Garden around 1692 off Back Church Lane.
Christopher Clarke, a Warden of the Drapers' Company, acquired a frontage to Whitechapel Road west of the parish almshouses (the site of Nos 131–145) in 1659, leaving it to the Drapers' Company when he died in 1672. John Venner bought an adjacent six-acre copyhold estate between the Bramston and Rowland holdings in 1693–4.
London's suburban growth was inexorable and Whitechapel was not spared. The 1680s were a key decade for the march of bricks and mortar through Whitechapel in a fusillade of planned speculative developments. Goodman's Fields had been sold to Sir John Leman in 1628, whose grandson, Sir William Leman, inherited in 1667. He oversaw the laying out of a grid of roads from 1678 and from 1682 granted leases of large parcels of land to several developers, including John Hooper and John Bankes, both timber merchants. To ensure good-quality work to a 'Scheme', most of the details of which remain unknown, it was explicit that the leases had to be long (sixty-one years or thereabouts), with the houses of brick and following the specifications of the Act of 1667 for rebuilding the City. Even so, the process saw numerous corruptions and disruptions, not least on Prescot Street in the late 1680s where Sir Thomas Chambers, the head lessee, manipulated William Chapman, a 'master builder', into penury. Most of the Leman frontages were built up by the 1690s, many with houses of prestigious amplitude, though gaps persisted into the eighteenth century. To the north gardens on land that had been held by Edward Gaunt then Anthony Botley were acquired around 1681 by Thomas Neale with a view to laying out more streets and houses. Neale sold up to Edward Buckley, a brewer, whose son of the same name oversaw development of a tighter grid from 1683, granting leases of up to seventy-nine years. To the south-east, Nicholas Barbon and partners purchased Well Close from the Crown in 1682, with a view to development that was primarily a means of supporting an innovative fire-insurance project. (Sir) John Parsons, another wealthy brewer, joined Barbon and others in seeing to the laying out of Marine (later Wellclose) Square. Its original name reflected the growing influence of maritime people and pursuits on this part of the as yet undivided parish – not just mariners, including many captains, but also the riparian timber trade, in large measure of Scandinavian origin. Early leases from Barbon's consortium were most commonly for sixty-one years, but development faltered and 999-year leases were issued in the 1690s to try to stimulate building in this marginal location.
The variability of lease lengths across these projects indicates the unsettled nature of leasehold development; systems and standards were not yet established. It is clear beyond doubt that observation of the 1617 'custom' of thirty-one-year lease limits had fallen by the wayside.
In the eighteenth century sixty-one-year leases were the most common type, for example on the Drapers' Company estate in 1717 and 1759, and on what had become the Baynes (formerly Pierrepoint) copyhold estate on the other side of Whitechapel Road where concerted development began in 1764. Anthony Forman enfranchised this property in 1770.
Further east on the south side of Whitechapel Road, the London Hospital had acquired a roadside site in 1750, chosen for its openness. The hospital acquired extensive lands to the south that had been the Red Lion Farm estate in 1755 and 1772, the New Road having been cut through in 1754–6, connecting the institution to riverside districts. Planned development of the London Hospital estate on sixty-one-year leases began to the west in 1787, modest houses rising up on an array of closely spaced streets. Building closer to the hospital on the east side of New Road was not countenanced until after 1800 when the Corporation of London redeveloped the site of Whitechapel Mount. The streets that followed were more generously spaced.
The importance of the timber trade to development in Whitechapel has been noted. From the 1680s housebuilding was mainly in brick, but timber houses did continue to go up well into the eighteenth century, as on Wellclose Square. As was common, many of the area's leading builders were carpenters, ranging from William Ogbourne, who lived on Chamber Street and took over a Board of Ordnance wagon yard of the 1680s to its south for his timber yard, to Samuel Hawkins, who gained a local foothold through secondary development on Goodman's Fields in the eighteenth century, and whose sons and later descendants retained possession of property there into the twentieth century. Joel Johnson, another eighteenth-century carpenter who had a yard to the west of Back Church Lane, came to style himself an architect and was responsible for designing chapels and working on the London Hospital where he was succeeded by his partner, Thomas Langley.
Of course, not all builders were carpenters. Samuel Ireland, a Spitalfields bricklayer, put up the four shophouses at 261–267 Whitechapel Road in 1767–72 with Woods Buildings, a court of eighteen smaller houses to the rear. Thomas Barnes (d. 1818) was the first bricklayer to establish himself as a substantial builder in Whitechapel. From work for the London Hospital in the 1770s he moved on to undertake quantities of speculative houses on the hospital's estate from 1788, including on New Road, where some of his houses still stand. His lower-quality development north of present-day Durward Street from 1796 has gone, as have courts of instant slums he built to the north of Whitechapel High Street soon after 1800.
POPULATION AND SOCIAL CHARACTER
Whitechapel's population would have numbered in the hundreds before the sixteenth century. The parish church had 670 communicants in 1548, almost as many as the larger western suburban parish of St Martin in the Fields. This suggests a total population of rather more than 1,000. Greater precision is not possible.[14]
Thereafter population boomed, generating the disorder bemoaned by Stow. London's population as a whole doubled in the first half of the seventeenth century, and it seems clear that this was proportionally surpassed in Whitechapel. The growth had been so prodigious that around 3,000 people died in Whitechapel in the plague year of 1625, suggesting a population at least double that. Four years later Whitechapel was among a ring of parishes added to the Bills of Mortality, through which plague deaths were monitored. In 1665 the parish registered 3,855 burials. A year earlier there were 2,482 households in Whitechapel excluding Wapping, indicating a total population somewhat greater than 10,000. Another half-century on, the population of Whitechapel in 1710–11 has been estimated at 18,000. As devastating as outbreaks of plague had been, mortality in London's eastern suburbs in the eighteenth century was not as high as in places further west and north, from Shoreditch across to St Giles. Compared to what had gone before there was relative stability.[15]
That did not last. Estimates of the population of Whitechapel rise from 23,666 in 1801 to 64,141 in the late 1830s, dramatic growth even by the standards of early nineteenth-century London. It continued up to about 1851 to a measured peak of 79,959, with a density of 220 persons per acre (544 per hectare). St Mark's parish covering Goodman's Fields had a population of 15,790 in 1851 in only 1,757 households. Its average of about nine people per household was the highest in east London.
Decennial census figures for Whitechapel's population from 1861 to 1881 (78,970 to 76,046 to 71,363) indicate a slight decline. Numerical stabilization followed up until the First World War, but overcrowding in Whitechapel was still worse than anywhere else in London in 1902. Density had declined to 195 persons per acre in 1866 (when the corresponding number for London as a whole was 39), then to about 140 in 1921. The Common Lodging Houses Acts of 1851 and 1853, which prescribed densities, might have been one factor, others were emigration, movement further east to be closer to dock labour, and decline in the sugar industry and more widely from 1864–6. Whitechapel saw a net loss of population through migration in every decade between 1851 and 1901 except the 1880s, when the net gain was just ninety-seven people.[16]
Comparable figures for Whitechapel alone for most of the twentieth century are not readily obtainable. Across Tower Hamlets, and it is clear this applied to Whitechapel, there was dramatic population decline, from 597,000 in 1901 to 142,841 in 1981.[17]
Immigration
Migration into Whitechapel from other parts of Britain has been more or less a constant in line with overall population trends, as it has for other parts of London, and is here taken as read. What is more distinctive about Whitechapel is immigration from overseas. Since at least the sixteenth century, this has been a major factor in the shaping of the area's built environment, perhaps more so than in any other London district.
In 1523 a statute ordained that all 'aliens' using handicrafts in suburbs including Whitechapel should be controlled from the City.
An attempt at quantification identified 169 foreigners in Whitechapel in 1571. Only in Shoreditch and East Smithfield among suburban districts were there more. Benedict Spinola and Horatio Franchiotto, wealthy Italian merchants, have already been mentioned as late sixteenth-century property developers in the part of Whitechapel adjoining East Smithfield.[18]
Mercantile connections in the City and the port were one motivation for immigration, others were opportunities for skilled tradesmen, and freedom from religious persecution. Johannes Banfi Huniades (János Bánfi-Hunyadi, 1576–1646), the Hungarian son of a Calvinist bishop, and a goldsmith, chemist and alchemist, was living in Whitechapel in 1625. The majority of those identified as 'strangers' in Whitechapel in 1635 were weavers.[19] Many of these would have been French Huguenot silk weavers, though the main centre of London's silk industry and of Huguenot immigration after the revocation of the Edict of Nantes in 1685 was to the north in Spitalfields. More than weaving, the northern parts of seventeenth-century Whitechapel accommodated silk throwing. The Rev. Richard Welton, Whitechapel's non-juring rector from 1697 to 1715, spurned the area's Huguenot immigrants: 'This set of rabble are the very offal of the earth, who cannot be content to be safe here from that justice and beggary from which they fled, and to be fattened on what belongs to the poor of our own land to grow rich at our expense, but must needs rob us of our religion too.'[20] G. Reginald Balleine quoted this in 1898 with the comment, 'how blind this prejudice was … May we learn the obvious lesson for ourselves!'[21]
London's Danish–Norwegian Lutheran population, maritime–mercantile and mercenary through the timber trade and soldiering, gained a focus on Wellclose Square with the building of a church there in 1694–6. This group was comparatively small in numerical terms, certainly in relation to eighteenth-century German immigration, mainly from northern Hanover between Bremen and Hamburg. This was essentially due to the rapid growth of the sugar-refining industry in Whitechapel. Early eighteenth-century German immigrant entrepreneurs established sugarhouses and brought skilled male workforces in their wake. Religion was, as ever, paramount in cultural continuity for immigrants. The German Lutheran Church of St George on Alie Street, which opened in 1763, was a reflection of and a statement by this population. Whitechapel's Germans were reinforced around 1800 by a wartime influx of sugar entrepreneurs with skilled and unskilled workers. Further German churches opened in Whitechapel in 1819 and 1861 and schools were established alongside. East London's Deutsche Kolonie came to number in the thousands and London's German population as a whole rose from 16,082 in 1861 to 27,290 in 1911. Whitechapel and adjoining districts remained a focus for settlement, in part because most immigrants arrived in the docks. Whitechapel's German population shifted gradually from dependence on sugar baking, which declined from the 1860s, to a range of other and more standard trades, becoming known for its publicans, butchers, bakers, and domestic servants. There was some migration out of Whitechapel beforehand, but it was the First World War that caused the demise of the Deutsche Kolonie. Enormous anti-German sentiment in 1915 after the sinking of the Lusitania and the first Zeppelin raids led to deportations and internments for those who had not anyway departed. There was a limited revival, and Whitechapel sustained two German congregations throughout the twentieth century.[22]
Among the poorest of Whitechapel's immigrant groups were the Irish, who were present in numbers by the early eighteenth century, principally as street-sellers and dock-labourers, and concentrated around Rosemary Lane (Royal Mint Street) and Saltpetre Bank (Dock Street). It has been estimated that there were over 23,000 Irish in all London by the 1780s. The south end of Leman Street witnessed anti-Irish riots in 1736, prompted by fears of lost work on account of cheap labour. The Catholic Irish clashed with Methodists in 1806 and there were Irish-led riots against German workers in 1853, the Irish this time reacting against cheap labour. Following famine in Ireland in the 1840s, immigration peaked in the 1860s. From 1851 to 1881 a steady 64–65 per cent of Whitechapel's population was London-born. In 1881 twenty-one per cent were born in the British Isles outside London, of which twenty-two per cent were Irish – that is, just under five per cent of the total population. Southern parts of the parish of Whitechapel maintained a strong Irish-Catholic identity throughout the twentieth century.[23]
Jewish immigration is both the most complex and the best-documented element of Whitechapel's demographic history. Following on from the Resettlement of 1656 it has Iberian beginnings, with Sephardic immigration from Portugal at the beginning of the eighteenth century stimulated by the Anglo-Portuguese treaties of 1703 and the need to escape the Inquisition. Sephardim, Spanish and Portuguese, sometimes coming to London via Holland or Hamburg, initially settled on the eastern margins of the City. Unlike in other European cities there was no ghetto system in London, but Jews were barred from owning land or property freehold within the City, not because they were Jews, but because they were classified as 'aliens'. Thus, Jewish merchants, bankers, and traders tended to establish residence as close to the commercial centre as possible on the edge of the City. Bourgeois Sephardic Jewish settlement gradually radiated eastwards from Aldgate to the newly formed streets and the mostly large houses and mansions of Goodman's Fields, which were used as places of business as much as homes. It was reinforced after 1720, mainly by Yiddish-speaking Ashkenazi immigrants, many from Germany and Amsterdam, most notably the Goldsmid family of financiers who resided on Leman Street. Some of the immigrant merchants had links to Brazil and other colonies through Portuguese or Dutch connections, and there were involvements in the diamond and Caribbean trades. But Jewish settlement in Whitechapel was always at both ends of the social spectrum. The Jewish poor were a strong presence in eighteenth-century Whitechapel, stereotypically Ashkenazi though of less determinable origins, especially in the shape of itinerant 'old clothes' sellers on Petticoat Lane and Rosemary Lane (Rag Fair), among whom vagrancy and criminality were reportedly common. Initially poor, subsequently wealthy, Samuel Falk (the Ba'al Shem) was exceptional, a Galician immigrant who came to London via Bavaria and Amsterdam to live humbly on Prescot Street then more opulently on Wellclose Square from the 1740s to the 1780s. England's total Jewish population rose in the course of the eighteenth century from under 5,000 to around 10,000, nearly all in London. Wealthier Sephardim began moving away around 1800. Goodman's Fields was in 1823 explicitly deemed 'no longer sufficiently select'.[24]
Eastern European Ashkenazim continued to enter Britain during the nineteenth century and settlement spread along the Whitechapel Road and Commercial Road and into their hinterlands. Whitechapel was already called 'the Jews' quarter' in 1862, but a year earlier Henry Mayhew's collaborator, Bracebridge Hemyng, had explained that 'Whitechapel has always been looked upon as a suspicious, unhealthy locality. To begin, its population is a strange amalgam of Jews, English, French, German and other antagonistic elements that must clash and jar, but not to such an extent as has been surmised and reported.'[25] The establishment of several synagogues in the 1870s, and a report in 1878 that poor Jewish immigrants from Poland exacerbated overcrowding illustrate continuing growth in Jewish settlement.[26]
The assassination of Tsar Alexander II in 1881 unleashed waves of pogroms against Russia's Jewish subjects. This was the catalyst for the largest ever influx into Britain of Jewish refugees, an estimated 100,000 between 1881 and 1914. The majority were from the gigantic ghetto known as the Pale of Settlement, along the western borders of the Russian Empire from the Baltic to the Black Sea. This immigration changed the face of Britain's Jewish community, making Ashkenazim the dominant group by far, some eighty per cent of British Jewry. Booth recorded 28,790 Jewish people in Whitechapel in 1887.[27]
Given pre-existing Jewish settlement and proximity to the port, east London was the point of arrival for the majority of Jewish immigrants. By the end of the nineteenth century, 'Jewish East London' was one contiguous neighbourhood that ranged from Spitalfields in the west, through Whitechapel, to Stepney and Mile End in the east. The Jewish presence was sparser east of New Road, and south of Cable Street.
Late nineteenth-century immigrants from eastern Europe, 'Russians' as they were often known, did not mix much with the area's earlier Jewish population. Samuel Montagu, who led efforts to support and assimilate the new arrivals, not least through synagogue building, offered £100 to help catch Jack the Ripper because the murders led to an upsurge in antisemitic attacks and rhetoric. Arnold White's The Destitute Alien in Great Britain (1892) linked Jews, poverty, and crime, and stirred up hatreds that led to the Aliens Act of 1905 restricting immigration. The King Edward VII Memorial Drinking Fountain on Whitechapel Waste, erected in 1911 from subscriptions raised by east London's Jewish inhabitants, was a direct response to open and aggressive antisemitism.
The Jewish presence rooted itself in a myriad of ways, including through manufacturing, particularly clothing (the rag trade), markets, synagogues, schools, clubs, and theatres. Yiddish was widespread, not least in Hebrew script on shop fascias and windows. The Battle of Cable Street on 9 October 1936 was a moment of great significance when local Jews, with Irish Catholics joining in solidarity, repelled a march by the British Union of Fascists led by Oswald Mosley. Gardiner's Corner was a flashpoint, as was Cable Street's junction with Dock Street, where the event is commemorated by a plaque on Nos 3–5. Vaytshepl, Mayn Vaytshepl, a sentimental song written by Chaim Tauber around 1940, encapsulates attachment to the place. Bombing and evacuations fed an exodus to the suburbs, already discernible well before the war. This became irreversible and was largely complete by the 1960s. Since the 1980s much of the fabric of the 'Jewish East End' has been erased.[28]
South Asian sailors were a presence in east London, travelling to and fro, from the early days of the East India Company in the seventeenth century. Asian seamen, often called lascars (deriving from Arabic ranging to Urdu words for 'soldier'), were by the end of the eighteenth century accommodated in lodging houses in Shadwell. The Strangers' Home in Limehouse opened in 1857 and lodged thousands.
From 1805 enclosed docks lay just a stone's throw south of Whitechapel. The presence in the area of sailors of diverse origins was somewhat regularized by the establishment in the 1830s of the Sailors' Home east of Dock Street. A transient population grew and in other respects the vicinity became an established centre for seamen. By the 1930s Maltese, Cypriot, Caribbean, Bengali, Pakistani, and Somali sailors were settling in the area around the west end of Cable Street. Many Bengali lascars came from Sylhet, a north-eastern district of East Pakistan from 1947 to 1971. Sylheti immigration to east London increased and Stepney Borough's documented south Asian population, mostly single men, grew from 680 in 1951 to 1,605 in 1961. Slum clearances around that time in the Cable Street area pushed this population north into Whitechapel and Spitalfields. This was the only time that a major immigrant population in Whitechapel originated from maritime trade, from sailors. More Sylhetis arrived in the 1960s, also Punjabis and others from West Pakistan, including Sikhs. Asian-run shops opened on Black Lion Yard and Old Montague Street, others around Middlesex Street. Brick Lane was a centre for work in the clothing industry, especially tailoring.
By 1970 racist violence against this population had become a stark and growing problem. Many people abused as 'Pakis' were Bengalis from what became Bangladesh in the Liberation War of 1971. Documented attacks in 1977 numbered in the hundreds; many others went unreported. Matters came to a head in May to July 1978, following the murder of Altab Ali. This was a turning point when resistance was mobilized, mainly by young people. The success of unity against the National Front and other racists in 1978 has been compared in its significance to the Battle of Cable Street forty-two years earlier.[29]
Many single male Asian immigrants had nurtured notions of return. But these dissipated, and from the 1970s wives and children arrived to join husbands. Violence did not vanish entirely, but roots strengthened. For this very largely Muslim population, a notable anchor in Whitechapel was the East London Mosque, present from 1975. Other aspects of impact on the built environment are detailed below. The census of 2001 identified around fifty-two per cent of the population in Whitechapel Ward as 'Bangladeshi'. Across Tower Hamlets this proportion remained stable in 2011 when forty-nine per cent of the total population identified as Muslim. Since then east London's Bengali population has been reinforced by immigration from Italy, onward movement of people including many skilled graduates from Dhaka, Bangladesh's capital.[30]
Poverty and its representations
Stow's 'filthy Cottages' implies poverty in Whitechapel by 1600, and accounts of Rag Fair, the second-hand clothes market on Rosemary Lane, make it manifestly clear without digging deep that the poor were widespread in early-modern Whitechapel. The conversion of stabling at the Red Lion inn on the High Street's south side to tenements for poor people shortly before 1616 seems indicative of increase. That this is known is due solely to concerns that more poor, in particular orphans, meant an increased burden on parish funds.
Among the more architectural and otherwise historically visible aspects of the presence of the poor were almshouses, which appeared from the early seventeenth century in what became a concentrated cluster along the Great Essex Road, in many short rows, more in Mile End than in Whitechapel. The road's frontages were both convenient for City-based charities and benefactors, and prominent to passers-by. Indeed, Robert Wilkinson, writing early in the nineteenth century, had Whitechapel Road in mind when he wrote: 'A stranger can neither enter nor depart out of the capital, by any road, but his eye is attracted by some humane establishment or other. Almshouses, Hospitals, and Public Schools present themselves in every direction'.[31]
There were Whitechapel's parish almshouses (1614), Meggs's Almshouses (1658), Pemel's (Drapers' Company) Almshouses (1698), and, just to the north, Fisher's Almshouses (1711). There were also Yoakley's Buildings at Mile End Green (1801), John Baker's (Brewers' Company) Almshouses on Stepney Way (1826), and the Emanuel (Jews') Almshouses on Wellclose Square (1849).[32]
Whitechapel's first parish workhouse on Alie Street opened in 1724, but it was an almost immediate failure. A petition to form a select or closed Vestry, to give Whitechapel's wealthier ratepayers greater control, in part to permit them to build a new workhouse, gave rise to Parliamentary interrogation in 1734 regarding disputes about the setting of poor rates. (Sir) Clifford William Phillips, a Leman Street distiller and magistrate, estimated that there were somewhat more than 2,500 houses in the parish, most inhabited by labouring people, 1,357 of which were assessed as liable to pay poor rates. Nathaniel Fowler, a collector of duties in the port and a former churchwarden who lived in Prescot Street, said 1,178 householders had paid these rates. He broke down these ratepayers into four classes. 'The 1st Class was composed of Gentlemen of Fortune, Sense, Reputation, and good Manners: The 2d Class were Tradesmen of good Credit, great Dealings, and, most commonly, of good Understanding. … The 3d Class were Tradesmen of lower Degree, such as Artificers, Carpenters, Bricklayers, Glasiers, and Painters, &c. Out of this Class generally the Churchwardens, and other Officers, were chosen. The 4th and last Class were a large unruly Herd of Men, some of whom are scarce rational, or most commonly act as if they were not, having but little Knowledge and Experience in Accounts; who support the 3d Class above-mentioned when they have any Point to carry, or Purpose to serve.' The poorer majority of householders, let alone inhabitants, was not spoken of, save that Phillips returned to add that 'Ragg-fair draws Numbers of Scotch and Irish into the Parish, who live in an idle Way', arguing that an effective workhouse would deter them from coming into Whitechapel. The Vestry remained open and it was 1763 before legislation was passed to permit a new workhouse, which opened in 1768 on the north side of Whitechapel Road next to the parish almshouses. In 1778 the parish supported 449 children under the age of six.[33]
The Poor Law of 1834 caused Whitechapel to be brought together with Spitalfields and other districts to form the Whitechapel Union. A much larger new workhouse, all but entirely in Spitalfields north of Thomas Street and the former Quakers' Burial Ground, was built in 1855–60. There was also a short-lived privately run Jewish workhouse on Wentworth Street in the 1870s.
There were many other approaches to poverty relief. The Rev. George Charles 'Boatswain' Smith took up the cause of the thousands of sailors who had been cast aside and into penury at the end of the Napoleonic Wars. Homeless and vulnerable to 'crimping' (theft and exploitation), such men found help from 1828 through an asylum for destitute sailors on Dock Street, which to some extent paved the way for the innovative and influential Sailors' Home that opened nearby in 1835.
Around this time cholera stimulated initiatives towards improving living conditions, if just to stem the spread of disease. Thomas Southwood Smith, who practised as a physician at the Eastern Dispensary on Alie Street, reported to the Poor Law Commissioners in 1838 on 'the close, dirty and undrained courts and alleys of Whitechapel' wherein 'large collections of putrefying matters are allowed constantly to remain in the neighbourhood of the houses, and the houses themselves are extremely filthy'.[34] John Liddle (1805–1885), a surgeon and Whitechapel native who served as Medical Officer of Health to the Whitechapel Union from 1838 and to the Whitechapel District Board of Works from its inception in 1855 before retiring at the age of seventy-seven, campaigned indefatigably for better sanitation and housing. Disease was linked to dirt in places like the alleys and courts south of Rosemary Lane, north of Whitechapel High Street, or east of Leman Street, but for decades there was little official action.[35]
There were bread riots in Whitechapel in 1855, but it was the 'hungry forties' that were remembered in 1912, when, looking back, Whitechapel was said to have attained a far better social and moral condition. Desperate poverty prompted other early-Victorian campaigners to pioneer practical routes towards bettering the lot of the poor in reforms that are comparatively little known in the historical shadow of the facts and rhetoric of the nineteenth century's last decades. The parish of St Mark's, formed in 1841 and covering Goodman's Fields, was regarded as the poorest division of Whitechapel by its vicar, the Rev. John Lyons, in 1849. His church became a base for early Christian socialism. From St Mary Matfelon, the parish church, the Rev. William Weldon Champneys, a leading evangelical slum parson, brought many reforms and new institutions to Whitechapel, from a mothers' meeting, to ragged schools, and a coal club and shoe-black brigade. He battled cholera and house farmers and founded the Whitechapel Association for the Promotion of the Health, Comfort and Cleanliness of the Working Classes in 1850. It highlighted overcrowded lodging houses and persuaded some landlords to co-operate in improving living conditions. Reports that a Jewish soup kitchen was established in Leman Street in the 1850s have not been corroborated. The George Yard Mission and Ragged School behind 87–88 Whitechapel High Street, founded in 1854 by George Holland, an evangelizing Nonconformist grocer, was another early and sustained endeavour to address the travails of Whitechapel's poor. He dispensed charity without making judgements as to the 'deserving' or 'undeserving' character of the recipients, most of whom were acutely poor. But the challenge was immense. In 1853 The Builder reported, 'Whitechapel is on the north and south divided by many streets and narrow courts, which are inhabited by very poor people, many of whom are weavers, Irish tailors, Jews, costermongers, dock labourers, and thieves: the great extent of this destitution is alarming.'[36]
This kind of description spread, grew elaborated, and established in the minds of middle-class readers an idée fixe as regards Whitechapel. John Hollingshead's Ragged London in 1861 is a representative early example worth quoting at length. 'There are many different degrees of social degradation and unavoidable poverty, even in the east. Whitechapel, properly so called, may not be the worst of the many districts in this quarter; but it is undoubtedly bad enough. Taking the broad road from Aldgate Church to old Whitechapel Church, a thoroughfare, in some parts, like the high street of an old-fashioned country town, you may pass on either side about twenty narrow avenues, leading to thousands of closely-packed nests, full to overflowing with dirt, and misery, and rags. Many living signs of the inner life behind the busy shops are always oozing out on to the pavements and into the gutters; for all children in low neighbourhoods that are not taken in by the ragged and other charity schools are always living in the streets: they eat in the streets what little they get to eat, they play in the streets in all weathers, and sometimes they have to sleep in the streets. Their fathers and mothers mope in cellars or garrets; their grandfathers or grandmothers huddle and die in the same miserable dustbins (for families, even unto the third and fourth generation, have often to keep together in these places), but the children dart about the roads with naked, muddy feet; slink into corners to play with oyster-shells and pieces of broken china, or are found tossing halfpennies under the arches of a railway. The local clergy, those who really throw themselves heart and soul into the labour of educating these outcasts, are daily pained by seeing one or more drop through into the great pit of crime; and by feeling that ragged schools are often of little good unless they can give food as well as instruction, and offer the children some kind of rude probationary home.'
One member of that local clergy, the Rev. Charles Voysey, once a Whitechapel curate, recalled the early 1860s in an account of Goodman's Fields: 'St Mark's, Whitechapel, when I was there, was a parish containing about 16,000 inhabitants, packed into a small space which you could easily walk round in ten minutes. There were only half a dozen streets, or bits of streets in which it was possible for persons in our class of life to dwell, and these were chiefly occupied by Jews. The rest of the streets were occupied by the poorest of the poor, and intersected in all directions by courts and alleys, some of which were of the foulest description. One portion of the parish was almost exclusively occupied by Irish Roman Catholics, the majority of whose families always went barefoot and in rags.'[37]
Voysey looked back from better times to chronicle the poverty he saw in the early 1860s in some detail, not in a quantitative way, but by anecdote and with direct accounts of individuals. He concluded, 'Above all, in spite of their little feuds, they love each other as brothers and sisters, and put our coldness and selfishness to shame.'[38] This might be contrasted with Henrietta Barnett's later recollection of her arrival in Whitechapel ten years on in 1873, where a nameless and generic description of deprivation is followed by 'In these homes people lived in whom it was hard to see the likeness of the Divine.'[39] There is sentimentality in Voysey's memories, no doubt, but so there is in less intimate accounts of the 'outcast' and the 'abyss'. In more sensationalist writing, bigotry and racial slurs were common.
The literature on Whitechapel's poverty is too large to detail here; the best overview remains Gareth Stedman Jones's Outcast London (1971). Disease and sanitation were continuing preoccupations. In the three years to 1864 Liddle attributed 578 deaths in Whitechapel to 'fever'. Commercial collapse in the 1860s, in sugar refining first then more generally following the financial crash of 1866, intensified poverty. Even while population declined, overcrowding persisted, because incomes fell and rents increased.[40]
Nowhere in London was religious and philanthropic intervention more concentrated. William and Catherine Booth began their Christian Mission (later the Salvation Army) in a tent on the disused Quaker's Burial Ground in 1865, securing premises on Whitechapel Road in 1868 from which soup and other welfare was provided. Based on his experience at St Mark's from 1864 to 1871, the Rev. Brooke Lambert published seven sermons titled Pauperism (1871). His successor, George Davenport, echoed Voysey in 1883: 'there are many thieves and people with no ostensible means of subsistence. But amongst all, and especially amongst the little children, there is very much that is truly amicable and lovely – indeed they are singularly affectionate and gentle.'[41]
The Rev. John Richard Green (1837–1883), best known as a social historian, was the incumbent at St Philip's Church in 1865 to 1869, his third east London parish, from where he too nurtured reform-minded aims. Edward Denison (1840–1870) spent eight influential months living close by in lodgings in Philpot Street in 1867–8 in the belief that only if people like him lived among the working classes might classes combine with a common purpose of social improvement: 'Build school-houses, pay teachers, give prizes, frame workmen's clubs, help them to help themselves; lend them your brains'.[42]
The Rev. Samuel Barnett and his wife, Henrietta Barnett, are perhaps best known among those who sought to address poverty by living among the poor. From 1873, from their base at St Jude's on Commercial Street, the Barnetts' vigorous activism led to the establishment of both Toynbee Hall and the Whitechapel Art Gallery, initiatives that reflect their connections, access to funds, and commitment on behalf of the 'respectable' poor to moral and educative uplift, as well as to a consequential architecturally self-conscious approach to improvement. But they were relative latecomers and comparatively ineffectual in terms of direct poverty relief.
Andrew Mearns's pamphlet of 1883, The Bitter Cry of Outcast London, had huge impact, aided by some exaggeration and misrepresentation. Within a year 'slumming' was in use as a pejorative term for visiting Whitechapel and similar places with charitable or philanthropic purposes, or none. Against a backdrop of immigration, slum-writing was otherwise much fictionalized, and from 1888 the Jack the Ripper murders reinforced prejudices. Whitechapel's presentation as exotic became extreme, and deliberately titillating. At night it was said to be full of 'gaudily-dressed, loud-mouthed, and vulgar women, strutting or standing at the brightly-lighted cross ways'.[43] Margaret Harkness described Whitechapel Road as 'the most cosmopolitan place in London; and on a Saturday night its interest reaches a climax. There one sees all nationalities. A grinning Hottentot elbows his way through a crowd of long-eyed Jewesses. An Algerian merchant walks arm-in-arm with a native of Calcutta. A little Italian plays pitch-and-toss with a small Russian. A Polish Jew enjoys sauer-kraut with a German Gentile. And among the foreigners lounges the East End loafer, monarch of all he surveys, lord of the premises.'[44]
The stigmatization of Whitechapel obscured comparable poverty away from east London. The Barnetts and others who knew Whitechapel kicked back against depictions of squalor and depravity, stressing monotonous two-storey streets over fetid slum courts, and the dull and unspectacular grind of pervasive poverty, 'mean uniformity' to which art could be a palliative. But the poorest did come to be redefined as degenerate, as an unreachable 'residuum', with the Barnetts implicated in differentiations that led to Charles Booth's judgmental classifications of poverty. One architectural consequence was hostel building, another was the enlargement and rebuilding of Leman Street Police Station in 1890–1.[45]
From 1886 Charles Robert Ashbee was at Toynbee Hall, from where he established the Guild and School of Handicraft in a warehouse on Commercial Street in 1888. He published a utopian novel in 1892 titled From Whitechapel to Camelot. It tells the reader little about Whitechapel, rather prefiguring Ashbee's escape to the Cotswolds in 1902. In the interim he founded the Survey of London with projects elsewhere in east London, so also unrevealing about Whitechapel.
'Dark' Whitechapel persisted, including among other socialists. Jack London's The People of the Abyss of 1903 was an American take on the East End. Rosa Luxemburg, in London in 1907 as a Polish delegate to a Russian Congress, was excluded from what she called a 'preliminary scuffle' on Fulbourne Street, so sat alone in a restaurant and wrote a letter to Konstantin Zetkin, describing her view of 'the famous Whitechapel district … a strange and wild part of the city. It's dark and dirty here … in the darkness the brightly coloured restaurants and bars give off an eerie glow. Groups of drunken people stagger with wild noise and shouting down the middle of the street, newspaper boys are also shouting, flower girls on the street corners, looking frightfully ugly and even depraved … are screeching and squealing.'[46]
Darkness, of course, remained real, at least at night, though street lighting did improve. Grinding poverty too continued to be all too real. Not long after Luxemburg's visit the National Insurance Act of 1911 led to the building of 271–273 Whitechapel Road in 1913–14, large premises for the Prudential Assurance Company to pay out benefits, a landmark on the road to a welfare state behind a proudly classical façade.
In spite of continuing deprivation, early twentieth-century Whitechapel evoked affection from such as Emanuel Litvinoff who grew up there. In 1938 William Cameron wrote 'Some districts give you the impression of having crumpled up under the pressure of poverty. Sometimes a whole street seems to be lying as if crushed, and even their shabby windows have a way of looking at you with shame and humiliation. Streets are like people, and some of them can't stand being poor. But the meanest street in Whitechapel has a positive quality that you will find nowhere else in London.'[47]
The history and mythology of poverty in Whitechapel retained purchase. Whitechapel's lowly position on the Monopoly board as adapted for the UK in 1936 must be mentioned. Writers continued to draw on old tropes, from Leslie Paul, recalling his youth in the 1920s with picturesque orientalism in Angry Young Man (1951), to Geoffrey Fletcher referencing Jack the Ripper in 1970 before exhorting his Daily Telegraph readers to 'visit Whitechapel now for a living slice of the Victorian East End'.[48]
'This is Whitechapel', an exhibition in 1972 at the Whitechapel Art Gallery, at that time dependent on the Arts Council and the GLC, brought together local and visiting luminaries to present Whitechapel in photographs, poems and prose. In the words of Edith Ramsay, a local councillor, activist, and latter-day slum-worker, this was a 'place in which you are glad to have your home. … Colourful streets, people of varied races and cultures, historic buildings, make a walk round the area a fascinating experience'.[49] The catalogue explained: 'You will find Whitechapel not only in the streets but also in the houses, pubs, labour exchanges, on the buses, in the markets and in the schools. Take a walk along the waste. There are few bomb-sites left where children play but you will still see them playing. You'll see meth drinkers, you'll see the market, the shops and the stalls. You'll see the mothers shopping and shouting at the kids. You'll see the station, the hospital, the breweries, the pubs and the churches, but most of all you'll see people. People who know what it is to go without and sometimes dodge the rent man. People who learnt the hard way but have also learnt to make the most of things. Keep their chin up and struggle on. Laugh at themselves. There's nothing to lose.'[50]
A month earlier, in June 1972, an exhibition of Ron McCormick's photographs of Whitechapel titled 'Neighbours' had opened in the foyer of the Half Moon Theatre on Alie Street. A year later McCormick and others collaborated on 'Inside Whitechapel', another exhibition at the Whitechapel Art Gallery, presenting 'the life of a London village told in photographs' with a conservation message: 'The big danger with demolition is that the heart is literally knocked out of the place, that too much of the past is sacrificed in the name of progress.' It concluded rhetorically, 'When Whitechapel is rebuilt it will belong to the people who live there. It will be their own. Nothing to do with outsiders.'[51] That has not transpired, but the aestheticized neo-slumming of the early 1970s was influential, and different to what was happening in neighbouring Spitalfields which had drawn the Survey of London (volume 27, 1957) and generated conservation battles in the 1970s.[52]
In Whitechapel, where gentrification lagged by a generation, Ripperology remains bankable. There are shops that play on the epithet, and a museum devoted to glorifying the vile episode was underhandedly opened on Cable Street in 2015. Jack the Ripper tours remain popular, moving online in the Covid-19 pandemic in 2020–1. Crime as such is not addressed here, other than to point out that it is not necessarily linked to poverty. Henry Wainwright, a successful brush-maker, murdered Harriet Lane, his mistress, on the site of 130 Whitechapel Road in 1874. For a time, this was Whitechapel's most notorious crime.
HOUSING
Much has been made of the genteel aspects of other east London suburbs, but affluence in Whitechapel up to around 1800 has been overshadowed by later history. Two great houses were built close to the City in the 1590s, William Megges's Harte's Horne and Franchiotto and Deane's southerly mansion, which passed to Thomas Swallow. In 1666 the Harte's Horne had fifteen hearths with a ten-hearth annex, and Swallow's house had sixteen hearths, with three empty ten-hearth properties adjoining. There was then only one other comparably large assessment in the parish, Matthew Bateman's of sixteen hearths, probably an inn. Seven other properties had ten or more hearths, including Leonard Gurle's house on Brick Lane and Richard Abell's on Rosemary Lane, some of the others were inns. Another late sixteenth-century house of eight hearths north of Whitechapel High Street was reputed, perhaps baselessly, to have been a residence of the Earl of Essex. William Rowland built a short row of four five-hearth houses on the north side of the Whitechapel Road in the early 1640s, one for himself, No. 187 appearing to be a much-altered survivor, and Abell built a group of nine eight- to ten-hearth houses on the north side of Rosemary Lane in the years around 1670.
A broadside of 1678 claimed 291 houses had been built in Whitechapel from 1620 to 1656 and 423 more from 1656 to 1678. The overall number of houses in the parish reportedly rose from 1,876 in 1708 to more than 2,500 in 1734, on to 3,689 in 1801. The vast majority of these were of course much smaller than those that have been highlighted. Hearth-tax returns indicate that the total number of households in the parish of Whitechapel (excluding Wapping) was 2,482 in 1664, with an average of 2.4 hearths per household, rising to 2.8 in 1674, still leaving Whitechapel among London's humblest places by this measure. In 1666 sixty per cent of Whitechapel households had just one or two hearths, only six per cent had six or more. Subdivision for multiple occupancy of around fifteen to twenty per cent of houses can be deduced.[53]
After 1700 and the development of Goodman's Fields, the best houses in Whitechapel, including around a dozen five-bay double-fronted mansions, were on Mansell Street's east side, Leman Street's west side, Alie Street's south side, and Prescot Street. Wellclose Square, also newly built up, was less grand, but also had at least one five-bay house, which pertained to (Sir) John Parsons. All this has gone, save a single Baroque mansion at 57 Mansell Street, a rebuilding of 1720 and 1741, the scale and grandeur of which is a last indicator of the area's former cachet. The associated sources of wealth in overseas trade, including in slaves, are typical. There were many sea captains who maintained addresses hereabouts and many with East India Company connections also resided in Goodman's Fields and Wellclose Square, though some of these people perhaps never went to sea.
A surviving row of the 1720s at 30–44 Alie Street illustrates two house types, of ten and four rooms, behind deceptively similar fronts. Later Georgian houses across the London Hospital estate are as divergent in scale and almost as homogeneous in streetscape terms. As wealth fled in the nineteenth century, speculative housebuilding per se became a comparative rarity. Only eighty-four houses were built in Whitechapel from 1839 to 1842.[54]
Hostels
Roadside inns were an important presence from at least the fifteenth century. There were galleried and spacious inns at the Boar's Head, the Red Lion, the Spread Eagle, and the Swan with Two Necks (later the White Swan) on the High Street, and at the Nag's Head, which adjoined another inn, the Green Dragon, on Whitechapel Road opposite the parish church, all with sixteenth-century or earlier origins. They hosted stagecoach stands, and coach, carriage or chair hire. Livery stables were a consequential spin-off, as behind the White Hart, on the High Street's south side, and the Black Horse on Leman Street from the 1680s. There were also coach-makers on the south side of Whitechapel Road east of the church.[55]
A unique kind of hostel, and a canary in the mine for de haut en bas intervention to 'improve' the lot of the unfortunate, was the Magdalen Hospital for the reception of penitent prostitutes, established on Prescot Street in 1758. This reformist refuge had 136 beds before it moved to Southwark in 1772.
The subdivision of houses, many of which were anyway small, was already widespread in the seventeenth century. No clear line can be drawn between multiple occupancy and lodging houses, though the latter came to be more formally identified by the eighteenth century when overcrowded lodgings were prevalent. Sugarhouses often had ancillary 'men's rooms' or dormitory ranges, often purpose-built. What came to be called common lodging houses were typically converted houses with dormitories over common kitchens to accommodate migratory or casual workers, some of whom stayed for long terms. They were increasingly associated with crime and prostitution, which led eventually to attempted regulation via the Common Lodging House Acts of 1851 and 1853. It was reported in 1876 that one fifteenth of the population of the district of Whitechapel, more than the parish so somewhat more than 5,000 people, slept in 167 registered common lodging houses, a number that had fallen to eighty-six in 1894 when the LCC took over regulation. The decline is to some extent explicable by the spread of hostels against the backdrop of a falling population.[56]
Purpose-built hostels became a distinctive feature of Whitechapel in the late nineteenth century. A major forerunner, of much wider significance as an innovative form of this building type, was the Sailors' Home at the south end of the parish. It opened in 1835 with a capacity of 100 and was enlarged and extended to Dock Street in 1865 to accommodate 502. It housed more than 10,000 boarders annually in the 1870s and provided a model for other such institutions in London and beyond.
Map of purpose-made hostels and tenement dwellings in 1914 (drawing by Helen Jones)
A warehouse on Commercial Street was converted in 1888 by the Victoria Homes, a philanthropic venture headed by the Hon. Granville Augustus William Waldegrave, 3rd Baron Radstock, for an austere new type of model lodging house with a capacity of 500. A second Victoria Home opened on Whitechapel Road (1897), with beds for another 500. Gustav Wildermuth, who had run a lodging house in George Yard for twenty years, opened Wildermuth House (1893) at the east end of the south side of Wentworth Street. This private venture was a model lodging house for single working men, accommodating almost 400. The Rowton House on Fieldgate Street (1902), a 'monster doss-house' and one of six in London, was a cut above and also aimed to make a modest profit. It provided lodging for 816 men in cubicles that granted privacy – at 6d a night it was quite expensive. It still stands, converted to flats.
The Jews' Temporary Shelter, which grew out of Simcha Beker's Home for the Outcast Poor, for Jewish migrants newly arrived in London, in ad hoc premises on White Church Lane in the early 1880s, established itself in a house on Leman Street (1886). The Shelter was enlarged (1906), then it moved to purpose-built premises on Mansell Street (1930) with dormitories for 130 men and women. By 1937 the Shelter had accommodated over 100,000 migrants, many on their way to America and South Africa. It left Whitechapel in 1973. The Jewish Association for the Protection of Girls and Women rebuilt a Prescot Street house as Sara Pyke House (1899), a hostel in which 236 'respectable' Jewish girls were housed. The Association expanded to premises on Mansell Street in 1914.
The Salvation Army had opened a women's refuge, the Hanbury Street Shelter (1884, outside Whitechapel). This became known as Hope Town and moved into Whitechapel in a conversion of the Chicksand Street School (1931), accommodating 305 women. Hopetown moved again to Old Montague Street (1979, rebuilt 2007), and was renamed Founder's House when men displaced women (2017). The Salvation Army also took over the Whitechapel Road Victoria Home (1919) and built a large additional hostel to its west (1967) with 252 cubicles. After rebuildings (1996 and 2002) this closed in 2018.
The Working Lads' Institute (1885) on Whitechapel Road was acquired by the Rev. Thomas Jackson, a Primitive Methodist, in 1897 and adapted to include dormitories for homeless teenage boys. A decade later Jackson set up the Whitechapel Mission in a church just east of Cavell Street, incorporating a night shelter from 1923. That site was redeveloped (1971) to include hostel accommodation, and has remained a day centre for the homeless since 1995. For a very different section of the population, four nurses' homes were erected between 1884 and 1918 to the south of the London Hospital either side of Stepney Way. These specialized hostels housed 446 nurses in 1911.
A short-lived hostel was the Hindustan Community House established in 1940 but bombed out in 1943. It was a conversion of the Gower's Walk Free School, primarily to house Bengali sailors, but, as the name suggests, a Gandhi-an initiative. In another conversion of a school, the Colonial Office opened a small hostel on Leman Street (1942) for Black seamen from British colonies in West Africa and the West Indies, victims of racism elsewhere. After controversy and debate, it closed in 1949. In the 1950s there were privately run lodging houses on Wellclose Square and Ensign Street, for Bengali and Somali seamen, respectively. Finally, Wynfrid House on Mulberry Street (1970) is a hostel attached to the adjacent German Catholic Church.
The much rebuilt but long-lived Sailor's Home was adapted in 1978 as a hostel for single homeless men, with a block of transitional flats added on Ensign Street in 1995. The parent building was converted in 2014 into a youth or backpacker hostel. In addition, the Dellow Centre opened in 1994 on Wentworth Street to provide shelter and services for the homeless. It is a successor to Providence Row, a Catholic foundation that had been based in Spitalfields since 1868.
Slum clearances and tenement dwellings
Nineteenth-century rail and road improvements were a standard method of clearing poor housing. To make way for the London & Blackwall Railway below Goodman's Fields in the late 1830s about 150 houses in densely packed courts were pulled down and a further seventy houses, inhabited by some 700, were removed from the south side of the line in 1861. Yet the local population remained little changed as displaced people obtained rooms in other houses in the district.
The road improvements that formed Commercial Street and widened Dock Street swept away more slum alleys in the mid 1840s. Commercial Road was extended westwards in the late 1860s and the vast Commercial Road Goods Depot accounted for much of the area between Leman Street and Back Church Lane in the early 1880s. Estimates of the total number of houses in Whitechapel declined from around 4,600 in 1831 to 1851 to around 3,900 in 1881 and 1891 and 2,800 in 1901. The number of houses per acre decreased between 1851 and 1881 from around 24 to around 21.
John Liddle, who estimated that 1,743 houses were demolished in wider Whitechapel for improvements between 1821 and 1851, gave evidence about Whitechapel to the Commission on the State of Large Towns and Populous Districts in 1844. He spoke about the high proportion of families living in one room, with no running water. Only in the better class of house would water be laid on in a butt in the yard. He particularly noted the increase in overcrowding, with an average of five persons per room, since the recent slum clearance for the building of Commercial Street, noting the impact in Castle Alley, Tewkesbury Court, and Lambeth Street. Men were generally dock labourers and sack makers, women street hawkers, consequent exposure to bad weather being an especial risk for their small children. Liddle, always attentive, again reported families living, eating and sleeping in one room in 1873. With women washing and drying clothes in the same space, people were 'drinking in the seeds of disease from an atmosphere reeking with foul steam'.[57]
Tenement or model dwellings arrived in Whitechapel comparatively late in relation to other parts of London and first on Commercial Road. Vacant frontages generated by road improvement there were taken by the Improved Industrial Dwellings Company for Morrison Buildings (1874) to provide eighty-four flats in three blocks, one of which survives, that company's standard type as devised by Matthew Allen for Sydney Waterlow.
But opportunistic use of clearances for roads was no solution to the larger problems. The Artizans' and Labourers' Dwellings Act of 1868 to encourage large-scale slum clearance and rebuilding had lacked force, as was pointed out by an influential report of 1873 (and subsequent memorial to Parliament) by the Charity Organization Society with which Samuel Barnett was closely involved, collaborating with Octavia Hill. This recommended that local authorities be given compulsory purchase powers in slum areas. The Society's aim was not philanthropic and it opposed municipal housebuilding except as a last resort. It was understood that an expectation of clearance would make landlords unwilling to spend money on repairs. Still it aspired to social engineering through improved housing. If the slums were replaced with good-quality blocks, better tenants would be drawn in and the most resilient of the poor (the 'deserving') would occupy the houses they had left, thus 'levelling up' an area. Barnett put it more starkly: 'If the gang of thieves and idlers who inhabit this quarter could be scattered and good houses built, the boon would be immense'.[58]
The passing of the Artizans' and Labourers' Dwellings Improvement Act of 1875, sponsored by the Home Secretary, Richard Assheton Cross, who the Barnetts had shown around Whitechapel's slums, was a legislative milestone. To remedy the shortcomings of earlier legislation it enabled local authorities (in London, the Metropolitan Board of Works) to override reluctance to tackle slums through compulsory purchases of areas designated as unhealthy. Slum clearance could henceforward take place on a scale large enough to generate sites attractive to model-dwelling companies. The thorniest issue was compensation to the slum landlord – not to give full market value was considered inequitable, selling sites below market value an unjustified imposition on ratepayers, yet selling them at full market value made them unattractive to builders.
Liddle, who had been involved in the build-up, stepped in quickly to see to it that two early projects ensued in Whitechapel. They were pioneering but problematic, and redevelopment took twenty years to play out. The Whitechapel and Limehouse Improvement Act of 1876 made the area south of Royal Mint Street the first addressed anywhere. The Metropolis (Goulston Street and Flower and Dean Street, Whitechapel) Improvement Act of 1877 followed; it tackled north-westerly parts of Whitechapel. These projects condemned whole swathes of houses – homes to around 12,000 in Whitechapel. In the end, fewer were housed than were displaced. Wrangling over compensation had dragged on through arbitration and saw awards that made slum clearance onerous to the Board, and slow in the time it took to sell cleared sites. The purchase costs for the two projects together were £559,158; the lands had to be sold for £123,395.
For the Royal Mint Street area project the MBW was obliged to sell a large freehold cheaply to the Peabody Trust; Whitechapel's Peabody Estate was the first development to be completed in 1881, providing 286 flats. The Trust, which did not have shareholders, generally had lower rents than other model-dwelling companies, but it could not or would not let one-room flats for less than 3s; only eleven of 1,260 people on the estate had lived on the site before its redevelopment. Tenement dwellings were not for casual labourers, the 'outcast'.[59]
Meanwhile, Augustus George Crowder collaborated with the Barnetts and the Charity Organization Society to erect George Yard Buildings (1876). They provided just one room per family, and were soon deemed a failure. In 1882 the Barnetts, Liddle and others based in Whitechapel, frustrated by delays with improvements, formed the East End Dwellings Company. It did not build in Whitechapel, but its first block, Katherine Buildings on the west side of Cartwright Street (1885), was just outside and part of the completion of the Royal Mint Street improvement. Within Whitechapel on the other side of Cartwright Street, were Royal Albert Buildings (1886), and Royal Mint Square (1888), both private speculations. The Goulston Street improvement generated Wentworth Dwellings (1886), Brunswick Buildings (1886), and Davis Mansions (1895), all built by private speculators.
The last of these, Abraham Davis, was one of seven Jewish brothers who together made a substantial contribution to Whitechapel's tenement housing provision. The Davis brothers (Maurice, Abraham, David, Israel, Hyman, Nathaniel, and Raphael) worked together or singly in various permutations building across Whitechapel in the decades either side of 1900.[60] Their speculative tenement developments, many of which incorporated upper-storey workshops, for tailoring and other domestic trades, an unconscious revival of an eighteenth-century arrangement, were distinctive, instantly recognizable once known. Archetypal is Davis's Terrace, 40–72 Settles Street (1891, Israel and Hyman Davis), just outside the parish. The main survivals in Whitechapel are: 117–119 New Road (1894, Nathaniel and Raphael Davis); the buildings on the block bounded by Casson Street, Chicksand Street, Spelman Street and Monthorpe Street (1903, Maurice Davis, with H. Chatfeild Clarke); those at 52–60 Leman Street with 20–30 East Tenter Street (1902, Nathaniel and Raphael Davis); and Fieldgate Mansions (1907, Davis Brothers, with Rowland Plumbe). Many other Davis brothers' buildings have been demolished, including Brady Street Mansions (1899, Nathaniel and Raphael Davis), 120 flats in six blocks. They stood to the north of Brady Street Dwellings (1890), 286 flats in twelve blocks, the only venture in Whitechapel by the Jewish-owned Four Per Cent Industrial Dwellings Company. There were also one-offs, to some extent following the Davis example, such as at Kirstein's Mansions (1911) on White Church Lane, a tenements and workshops speculation by Solomon Kirstein, a printer.
The Great Eastern Railway Company, which had a large local workforce, was involved in housing provision. In and around 1890 it built two sets of dwellings in Whitechapel: Blackwall Buildings, five blocks on the west side of Fulbourne Street, and Great Eastern Buildings, two blocks on the north side of Fieldgate Street.
In 1900 Whitechapel had 3,748 tenement dwellings housing 15,494 people, around a fifth of the total population. Model dwellings were not a failure as such, they were simply insufficient to the scale of the housing problem. They were in any case scarcely admired. As Charles Booth noted in 1902, 'as to the great general disadvantages of block dwellings there is a consensus of opinion. They may be a necessary evil; but, none the less, particularly in a district so built over as Whitechapel, they are an evil, bearing with especial hardship on child-life.'[61]
With a few small exceptions, private residential development was not a feature of interwar Whitechapel. Among the exceptions, Gwynne House (1938) on the London Hospital estate is notable. Small flats for students, social workers or professionals, it was a miniature Isokon. Generally, landlords failed to rebuild; it did not pay and the Rent Restriction Acts were blamed. Some of Whitechapel's tenement blocks, including Fieldgate Mansions and Brunswick Buildings, became centres of rent strikes in 1938–9 supported by mostly Jewish tenants and led by the Communist Party through the Stepney Tenants' Defence League. In a wartime continuation of the tenants' movement a Communist-controlled committee ran the Tilbury Shelter, an unofficial use of the Commercial Road Goods Depot in which thousands gathered in late 1940 to shelter from air raids.[62]
Council and late twentieth-century housing
As compared to other parts of Tower Hamlets, there is little council housing in Whitechapel. In the early twentieth century this was mainly due to the costs and difficulties of assembling sites in such a densely built-up place. Tenement housing remained prevalent amid population decline. After the war it was more a matter of planning policy that prioritized commerce and industry in Whitechapel. The council housing that was built was erected not by the Borough authorities, but by London-wide government.
The LCC, Labour controlled from 1934, replaced Old Castle Street School with Herbert House and Jacobson House (1936), and built Spelman House (1939) on land that had been acquired for a school. These typical LCC walk-up blocks, 'modest, sturdy brown brick and tile four-to-five-storey deck-access flats – a little modernist, a little Georgian',[63] were made parts of the Holland and Chicksand estates that otherwise lie north of Whitechapel.
While post-war reconstruction did prioritize commercial uses in Whitechapel, plans for residential redevelopment crept in as the North West Stepney Comprehensive Development Area took shape in the 1950s, with new housing gaining favour for substantial chunks of the land north of Whitechapel High Street and Whitechapel Road between Old Castle Street and Vallance Road. The process was, as elsewhere, protracted, with the securing of Compulsory Purchase Orders and subsequent clearances carrying on through the 1960s and '70s. There was similarly slow progress with slum clearance in the area around Wellclose Square. This was complicated in the years around 1960 by a divisive anti-vice campaign led by Father Joseph Williamson of St Paul's Dock Street that blamed the area's prostitution on poor housing and Maltese, Somali, and West Indian immigrants. One result of this was the adaptation of Church House on Wellclose Square in 1958 as a refuge for young prostitutes, an echo of the Magdalen Hospital of exactly 200 years earlier.[64]
From 1965 the GLC saw to the building of the New Holland Estate (1977), including Denning Point, a twenty-two-storey tower, the Hopetown Estate (1983) and the Davenant Street Development that became part of the Chicksand Estate (1985). To the south, the Royal Mint Estate (1982) resulted from a further abandonment of commercial redevelopment aspirations, the GLC again taking the lead. These later low-rise, brick developments are humble, undemonstrative, vernacular housing around open spaces; they have for the most part aged well. In its last years to 1986 the GLC also used its Community Areas Policy, introduced to protect established residential areas against commercial development pressures, to start building housing on the south side of Scarborough Street, seen through up to 1989. This was all perfectly good housing, but except the Royal Mint Estate, which has some syncopated panache, these developments tend towards the anti-architectural generic blandness favoured by New Left politics of the 1980s.
The slow pace of these council initiatives caused blight, housing demand, and overcrowding to intensify. Slum landlords neglected many tenement blocks and divided terrace houses. Elsewhere, Whitechapel's Peabody Estate was substantially refurbished (1977) and through GLC initiatives the Goulston Street area's tenement blocks were gradually replaced or refurbished up to 1992. Elsewhere, from 1972 squatters took possession of properties across the area, as on Old Montague Street and at Fieldgate Mansions and its environs. This helped give rise to the Bengali Housing Action Group, formed in 1976 (bhag is Bengali for tiger). Fieldgate Mansions were refurbished for a largely Bengali population as part of a GLC Housing Action Area with Levitt Bernstein Associates as architects (1983–91). Other Bengali-led initiatives included the Spitalfields Housing Co-operative (later Association) founded in 1979 and responsible for three houses on Casson Street (1988), and the Mitali Housing Association, set up in 1985, which built more extensively on Back Church Lane and Gower's Walk (1996). The Bethnal Green and Victoria Park Housing Association built Mosque Tower and Mosque Terrace (2002) in collaboration with the East London Mosque. In southern parts of the parish there was some overspill from Docklands in private housing developments that conformed in character with those being built in Wapping and beyond, as at George Leybourne House on Wellclose Square (c.1986) and Darbourne & Darke's Hooper Square (1990).[65]
ADMINISTRATION AND PUBLIC BUILDINGS
Early local government in Whitechapel was the responsibility of a parish Vestry, open to all rate-paying inhabitants, but in practice generally attended by few, meeting at the parish church and presided over by the rector to set church, highway, and poor rates. The manor of Stepney retained jurisdiction over certain matters, controversially, and justices of the peace upheld the law. There were upheavals based in religious divisions through and beyond the Reformation, and the parish was reduced in size in 1694.
By the 1620s a manorial debtors' prison stood where Durward Street and Court Street now meet. This place also hosted a Court of Record for dealing with debts from 1664, that function transferring in 1750 to a Court of Request for Tower Hamlets that was independent of the manor. This small-claims court moved to a new building in Osborn Street in 1792. After wider legislative reorganization, that courthouse was adapted for Whitechapel County Court (1846), until more substantial premises on Prescot Street opened in 1859 in a lively Ruskinian palazzo designed by Charles Reeves. The County Court continued there to 1943.
Wellclose Square was under separate jurisdiction as one of the Tower Liberties. From about 1755 to 1894 their justice was administered from a sessions house on the square's south side. Magistrates wielded considerable power, over licensing, sanitation, and punishments, and they were often more or less openly corrupt. Sir Daniel Williams was an especially feared figure, first at Wellclose Square then from around 1792 at a new Whitechapel Police Office on Lambeth Street. The Metropolitan Police succeeded, operating locally ever since 1830 from a repeatedly rebuilt base on Leman Street. The London Beth Din, the Chief Rabbi's ecclesiastical court, was added to the east of the New Hambro Synagogue on Adler Street in 1905, later moving into Adler House.
The transfer of responsibility for poor relief to the Board of Guardians of the newly formed Whitechapel Union in 1837 unified Whitechapel, Spitalfields, and some smaller territories. This amalgamation was echoed when the Metropolis Local Management Act (1855) led to the formation of the Whitechapel District Board of Works to administer paving, drainage, lighting, and other services in the same places, the Metropolitan Board of Works henceforward acting as the first London-wide authority. From 1856 the Whitechapel Board was based at 22 Alie Street, which incorporated a 'courthouse' that had been formed and used by the Tower Hamlets Commissioners of Sewers from around 1840 to their winding up in 1847. The London County Council succeeded the MBW in 1889 and the London Government Act (1899), a response to the power of the LCC, created larger subsidiary local authorities including the Metropolitan Borough of Stepney, which embraced Whitechapel and continued to operate from the Alie Street offices. The London Government Act (1963) combined the Metropolitan Boroughs of Stepney, Bethnal Green, and Poplar to form the London Borough of Tower Hamlets from 1965.
No more than a broad and loose account of Whitechapel's politics is appropriate here. In the years either side of 1900 Nonconformists, Catholics, and Jews allied as Liberals (Progressives) against Tory (Ratepayers' Association) Anglicans. Labour Party control of Stepney from 1925 was interrupted by the Conservatives in 1931–4 and challenged from the left by the Communist Party until the 1960s. For a period around 1990 the Liberal-Democrats controlled Tower Hamlets Council and designated Whitechapel part of Stepney Neighbourhood.
Building control is more immediately germane. William Croshaw was the first appointed District Surveyor in Whitechapel in 1774, following the provisions of that year's Building Act. It is not evident that he left much mark. William Grellier (1807–1852), an accomplished architect, was a successor from 1838 who produced an elegant parish map. Harry Oliver (1815–1891), who had worked on the Houses of Parliament, was Whitechapel's District Surveyor from 1852. He was based on Leman Street, sharing a house with John Hudson (c.1821–1897), Surveyor to the Whitechapel Board of Guardians and a prolific local architect. Arthur Crow (1860–1936), an earnest practitioner and a member of the Garden Cities Association, succeeded from 1891 from a base on Prescot Street. He moved on to Finsbury and Henry Thomas Bromley (1872–1960), Crow's assistant, had the job from 1914 to 1927, followed up to 1939 by Frederick William Charles Barker, working from 130 Whitechapel High Street.[66]
Henry Robinson Fricker was the Whitechapel District Board of Works's Surveyor from 1856 up to at least 1873. William La Riviere was a successor in the 1880s and '90s and Matthew William Jameson was the Board's last Surveyor (and Engineer), moving across to be Stepney Council's first Borough Engineer.
The Board of Works established a depot on the east side of George Yard (Gunthorpe Street) from 1885, a works yard that incorporated a Coroner's Court, and began generating electricity from an adjoining site that fronted Osborn Street before Stepney Borough Council took and enlarged both these facilities. There is still a privatized substation on Osborn Street.
The Vestry had watch houses at the east end of Rosemary Lane from the 1680s and, from about 1800, at the south-east corner of the parish churchyard, where a fire-engine house was soon added. The Phoenix Fire Office had built another fire-engine house at Wellclose Square in 1782. These were superseded by an MBW fire station on Commercial Road (1875), rebuilt by the LCC (1932) and still in use. East London's Salvage Corps station (1874) was on the other side of Commercial Road.
Industrial, impoverished, Victorian Whitechapel lacked public open space. Its Board of Works took a lease of the former Quakers' Burial Ground in 1880 to permit the formation of a recreation ground. Tower Hamlets Council reshaped this as Vallance Gardens in 2003. The Metropolitan Public Gardens Association made the parish churchyard another recreation ground in 1885, but it was not sustained. The LCC acquired the ground after the church had gone and opened St Mary's Gardens (1966), renamed Altab Ali Park by Tower Hamlets Council (1994). There is little other public open space.
Public buildings erected by central government departments in Whitechapel include the East London Mail Centre (formerly Eastern District Post Office), a big sorting and distribution facility from the late 1880s, rebuilt in the 1960s, and wound down after 2000. The Board of Trade's Mercantile Marine Office on Ensign Street (1894) was closely linked to the Sailors' Home.
Whitechapel suffered heavily from bombing during the Blitz of 1940–1 and later in the Second World War. Recovery as a matter of public administration was led from the LCC where by late 1941 John Henry Forshaw and (Sir) Leslie Patrick Abercrombie were already directing work towards the County of London Plan (1943). Benjamin William Stuttle, Stepney's Borough Engineer and Surveyor from 1939 to 1948, was an enthusiastic collaborator who was already advancing reconstruction ideas in 1941.
The LCC designated eight 'comprehensive redevelopment' areas across London in 1945, places where bomb damage, inadequate roads, insufficient open space, jumbled land use, and bad housing conditions were especially concentrated. One of these became the vast Stepney–Poplar Reconstruction Area covering 1,300 acres, including virtually all of Whitechapel. This project was led from the LCC by Arthur Ling, a Communist and the head of the town planning division, then, from 1949, Chief Planning Officer, working with Percy Johnson-Marshall. Denys Lawrence Munby's detailed analyses in a report to the Stepney Reconstruction Group, Industry and Planning in Stepney (1951) remains a valuable source.
Whitechapel was initially zoned for business uses with a small industrial zone around Plumber's Row and south of Fieldgate Street for the tidying up of what were called 'non-conforming users', an enclave that took shape gradually into the 1970s. Extensive road improvement had been intended since before the war and a large roundabout around Whitechapel High Street at Gardiner's Corner was part of plans by 1943. It was carried through as a rectangular gyratory system (1966). What came to be the North West Stepney Comprehensive Redevelopment Area extended across northern parts of the parish, where housing projects were gradually built into the 1980s.
Tower Hamlets Council collaborated with London Transport in planning a large shopping mall north of Whitechapel Road and Whitechapel Station from 1972 to 1988, but entrusted the project to commercial developers who failed to see it through. Spin-offs included a Sainsbury's supermarket (1994) and the Whitechapel Sports Centre (1999).
The GLC's Community Areas Policy, applied elsewhere for housing purposes, lay behind its anti-racist and pro-feminist funding of the Davenant Centre, for community resources and training, and the architecturally distinctive Jagonari Asian Women's Education and Resource Centre on Whitechapel Road, completed in 1987 after the Conservative government had abolished the GLC. In the late 1990s Tower Hamlets Council promulgated Banglatown as a brand for the Brick Lane area, with Mina Thakur's arch erected across that street where Whitechapel meets Spitalfields.[67]
Health
The London Hospital is an immensely important part of Whitechapel's history. Its origins in 1740 were as the London Infirmary on Prescot Street. It moved to Whitechapel Road in 1757 and established itself as 'one of the most distinguished charitable foundations of any in England'.[68] Renamed in 1990 and rehoused in 2012, the Royal London Hospital has long standing as 'a leading, internationally renowned teaching hospital'.[69] Its architects, including of highly diverse ancillary or satellite buildings, range from Boulton Mainwaring to Rowland Plumbe to HOK. The Royal London Hospital is physically and historically a gigantic presence in Whitechapel, and is accordingly dealt with extensively on a site-specific basis. No more need be said in an introductory context.
Two other early health establishments in Whitechapel stood on Leman Street, Richard Johnson's Bagnio (bath-house), operative for a half century from 1724, and the London Bet Holim Hospital for poor Sephardic Jews, here from 1748 to 1793 when it moved to the Mile End Road. Another Jews' Hospital, an Ashkenazi establishment founded in 1795 by Abraham and Benjamin Goldsmid, was on the same road, just outside Whitechapel to the east. The Eastern Dispensary, on Alie Street from 1782, provided free healthcare to the poor, continuing from a new building on Leman Street from 1859 to 1940.
Following the Public Baths and Washhouses Act (1846) Whitechapel saw an early venture in the provision of public baths at Goulston Square, a model establishment of 1847. Whitechapel District Board of Works rescued it from closure in the 1870s and, enlarged to include swimming pools, these baths were maintained as a local-authority facility through vicissitudes and rebuildings up to 1990. Aldgate Turkish Baths, a commercial project immediately east of Gardiner's store, were built in 1874 to designs by George Aitchison, and carried on up to the Second World War. Russian Vapour Baths, for Jewish clients, functioned briefly behind 25 Whitechapel Road (1901), possibly failing on account of competition from an earlier and more successful establishment on Brick Lane in Spitalfields.
The mikveh (ritual bath), which has roots in the ancient world, is arguably the only quintessentially Jewish building type. Strictly, according to Jewish law (Halakhah), the construction of a mikveh takes precedence over the opening of a synagogue. The earliest known mikvaos in Whitechapel were in a synagogue on Goulston Street (1876) and an informal synagogue on White Church Lane (c.1879). Other mikvaos opened to cope with demand generated by a growing Jewish population. Most were constructed in residential premises and were run by women. The most enduring in Whitechapel was at 30 Osborn Street (1892 to the 1930s). Other private mikvaos were on Alie Street (1897 to 1916), and at Buckle Street Buildings and on Stepney Way in the 1930s.[70]
Education
Education here covers not just schools and places of higher learning, but also libraries, clubs, and other institutions whose missions were essentially educational, while often overlapping with other social purposes.
Whitechapel's schools present a history dotted by significant firsts. Among the many developments of the eventful 1680s was the first Davenant School, originally for poor children of the parish. This was built at the south-east corner of the overflow burial ground on Whitechapel Road. It was enlivened in 1806 by early demonstrations of the Rev. Andrew Bell's (Madras) monitorial system that gained influential Anglican support and led to the formation of the National Society for the Education of the Poor in the Principles of the Established Church in England and Wales. Another school with a renewed focus on the poor opened on St Mary (Davenant) Street in 1815 and the original school was rebuilt in a Soanian vein three years later. After parish interests amalgamated as the Whitechapel Foundation, the renamed school was extended to the rear in 1895, by when most of its pupils were Jewish. Part of this fine addition, designed by Frank Ponler Telfer who built little else, still stands hidden away.
The Gower's Walk Free School of 1808 (rebuilt 1885) was an innovative venture also affiliated to the National Society, a 'school of industry' that incorporated a printing workshop. The Jews' Orphan Asylum, a boarding school, began on Leman Street in 1831 and occupied purpose-built premises on the former tenter ground on Goodman's Fields from 1846 to 1876.
St Mark's National Schools (1841) were on the north side of Royal Mint Street in the shadow of a railway viaduct. St Philip's National School (1843) followed; its more congenially located Tudoresque building on Newark Street survives. St Jude's National Schools (1849) was behind Commercial Street and humbler.
The Rev. William Weldon Champneys and George Holland were instrumental in bringing ragged schools to Whitechapel in the 1850s – at George Yard (Gunthorpe Street), Colchester Street (Braham Street), Osborn Place (Chicksand Street), and Buck's Row (Durward Street). The parish, again led by Champneys, also built the Whitechapel Charities' Commercial School on Leman Street (1857), 'commercial education' being for boys. A parish infants' school at 62 Fieldgate Street (1867) was adapted for use as an International Modern School by Jewish anarchists (c.1920). The George Yard Mission built an infants' school on Angel Alley (1886).
St Paul's National Schools (1870) replaced the former Danish Church in the middle of Wellclose Square with a Gothic building designed by Reuben Greatorex. An early nursery was added in 1874. With further enlargements, the school continues as a Church of England establishment with a predominantly Muslim intake.
St George's German Lutheran Church on Alie Street accommodated schools from 1765, in a separate building (1805), replaced by an infants' school (1859) and big red-brick junior schools (1878) that stand converted. Close by on Leman Street there was also a German Mission Day School (1863). The German Catholic Church of St Boniface had attached schools (1871). Wycliffe Chapel Charity School (1833, rebuilt 1878) was on Philpot Street.
Tower Hill Roman Catholic School (1872), on Chamber Street, preceded the associated Church of English Martyrs. Its successor, English Martyrs' Roman Catholic School (1970) spreads in a hen-and-chickens layout across much of the former tenter ground. The Jews' Infants' School expanded from Spitalfields to build on Buckle Street (1888), and the Jewish Day Nursery (1901) was at 23 New Road.
Following the Elementary Education Act (1870) and the establishment of the School Board for London, primary responsibility for education shifted from churches and charities to the state. The first purpose-built Board School in London was in Whitechapel at Old Castle Street School (1873), Ernest Jones Biven being the architect for a complex that did not establish norms. The former Buck's Row Board School on Durward Street (1877) by E. R. Robson stands and is more typically vertical on account of site limitations. Rutland Street School (1885) and Commercial Street (Canon Barnett) School (1901) followed, under Robson and T. J. Bailey respectively.
Temporary Board and LCC schools in the Philpot Street Charity School (1895) and on Fieldgate Street (1913) aside, these schools served Whitechapel until the GLC built Shapla School west of Wellclose Square (1986), and Tower Hamlets Council built Swanlea School on Brady Street (1993), the first secondary school anywhere designed to take account of the National Curriculum. Both these were architecturally influenced by Sir Colin Stansfield Smith's admired Hampshire schools.
The East End Community School was established (1977) in Brunswick Buildings on Goulston Street as a Bengali-language supplementary school. It moved to the Wentworth Community Centre (2011) and has become a branch of Tanzeel, Islamic schools. Shah Monowar Ali Sunni Madrasha formed behind Spelman Street. A number of other private Islamic schools and colleges, also language schools, have in recent times made adaptive use of once commercial spaces.
The London Hospital Medical College has eighteenth-century origins in the hospital and has had its own premises since 1854 on Turner Street (latterly the Garrod Building). It has become part of Queen Mary University of London, which has established a large life-sciences campus on the London Hospital estate, with a library in the former Church of St Philip, the Blizard Building (2005), a research centre, and the Bioenterprises Innovation Centre (2009) on New Road.
Higher learning has otherwise been represented in Whitechapel only since the mid 1960s when the Sir John Cass School of Art took occupancy of Central House. It became part of London Metropolitan University, formed in 2002, which, as the successor to the City of London Polytechnic, also has a presence on the north side of Whitechapel High Street between Goulston Street and Old Castle Street, where the polytechnic adapted and reconstructed former Brooke Bond and other buildings from 1972, including for the award-winning Women's Library (2001) by Wright and Wright Architects. The HULT International Business School moved into the former St George's Brewery (2014).
Among other charitable educative initiatives in Whitechapel that warrant mention, here little more than that, Toynbee Hall (1885) occupies the foreground. This original university settlement, the realization by the Barnetts and others of Denison's mission to address problems arising from the crisis of impoverishment of the 1860s, has been a totemic model. The more short-lived Working Lads' Institute on Whitechapel Road (1885) provided evening education and exercise to teenage boys, though only those in employment.
Whitechapel Free Library (1892) came about after a long struggle, again involving the Barnetts, and bears a blue plaque to Isaac Rosenberg attesting to its use as an educational refuge. Next door, the Whitechapel Art Gallery (1901) brought Charles Harrison Townsend's distinctive architectural style to Whitechapel High Street, and exhibitions that have over the decades adopted fascinatingly varied didactic approaches. Whitechapel Idea Store (2005), by David Adjaye, is a worthy successor, in terms of both architecture and social reach.
Many clubs, institutes, associations, and societies have used assorted premises in ad hoc ways. The Russian Free Library, first at 29 Whitechapel Road then at 16 (White) Church Lane from 1898 to 1904, was notable as a centre for revolutionaries. A surprising number of Jewish youth clubs enjoyed purpose-built facilities. These included the Jewish Mens' Working Club and Lads' Institute, built on Alie Street in phases from 1883. The Jewish Working Girls' Club used the former German Mission Day School from 1903. Close by, the Jewish Lads' Brigade built Camperdown House (1913) to designs by Ernest Joseph who played a central role in this sphere with the aim of Anglicizing the British-born children of immigrants. The Brady Street Club for Working Boys was founded in Durward Street (1896) and rebuilt to Joseph's Modernist designs (1938).[71]
The Order Achei Brith and Shield of Abraham Friendly Society used the former Gunmakers' Hall on Commercial Road from 1927. Less (or differently) Masonic was the Workers' Circle, a socialist mutual-aid society, based on Alie Street from 1923 around when the former mission and infants' school at 62 Fieldgate Street was used as the New Worker's Friend Club and by the East London Anarchist Group. These premises returned, coincidentally, to anarchist use from 1999 when the London Action Resource Centre was formed. Freedom, a renowned anarchist bookshop on Angel Alley, traces its origins to the 1940s.
INDUSTRY
The following account of Whitechapel's industries divides the field by commodities and only highlights a handful. Against that structure, it is vital to point out that there were countless other minor industries, and that the predominance of casual labour meant that people moved in and out of trades, as circumstances impelled and opportunities presented, the same individuals sometimes spending time working with cloth, building or in the docks.
Cloth
Tenter grounds for the stretching of newly made cloth were present in the sixteenth to eighteenth centuries on Goodman's Fields and off the west side of what became Osborn Street. The silk industry, throwing and dying more than weaving, ramified southwards from its centre in Spitalfields by the end of the sixteenth century and mulberry plantations followed. Riots against the introduction of Dutch engine-looms extended into Whitechapel in 1675. Wealthy silk-throwsters had substantial sheds in northern parts of the parish, and resided in some of the better houses of Goodman's Fields. Silk-throwing moved away after 1700 to larger premises outside London and the industry as a whole had gone from Whitechapel by 1800, though silk-weaving did remain elsewhere in east London well into the nineteenth century.[72]
Ropemaking, not dissimilar to silk throwing, though principally maritime in its markets, was present in several long thin walks in the eighteenth century. (Sir) Samuel Gower established a noted sailcloth factory west of Back Church Lane in the 1720s.
Tailoring grew widespread in the nineteenth century, as did furriers and bootmaking. These trades drew the attention of a House of Lords Select Committee on the 'Sweating System' in 1888–9 that highlighted Whitechapel's poor employment practices, low pay, and the casual labour of thousands. Much of the work was by Jewish immigrants, including women, in poorly maintained houses or cramped and insanitary workshops behind houses. The only attempt at establishing a tailoring co-operative (in Tenter Street Buildings) had failed. Purpose-built tailoring workrooms had begun to appear behind houses and yards, as on Prescot Street from the 1870s, by when sewing machines were widespread, and in later more orderly form on Old Montague Street in 1928, or in the attics of four-storey tenements, as built by the Davis Brothers around 1900. The biggest operator in the 1880s was Henry Friedlander, who had several houses at the east end of Prescot Street, employing eighty people there making trousers, and another seventy to eighty elsewhere. The Jewish Board of Guardians estimated that of 2,834 Jews employed in 1892 in east London 926 (thirty-three per cent) were engaged in tailoring, 466 (sixteen per cent) in boot- and shoe-making, 316 (eleven per cent) as hawkers, and 146 (five per cent) in tobacco.[73]
Representations of the sweatshops as exploitative were countered by Beatrice Potter in her survey of the Jewish coat trade in Whitechapel in 1888, and they have since been discredited as hiding antisemitism. The long perpetuated domestic or putting-out system, casual low-paid labour notwithstanding, was, it has been argued, broadly efficient. East London's largely Jewish clothing industry thrived, becoming dominant with a near monopoly on women's clothing by the 1930s. Casual work by immigrants, often women, many working in their homes, continued, and there was a pavement 'slave market' for taking on workers on Whitechapel Road that persisted into the 1960s.[74]
Sadok Schneiders, a Dutch Jew, was making caps in Whitechapel from the 1840s. His son, Michael Schneiders, established S. Schneiders & Son and built a large hat and cap factory in 1881 (enlarged 1893) on the north side of Buck's Row (Durward Street), employing around 2,000, mainly women, and continuing into the 1960s. The same firm built the long range at 100–136 Cavell Street (1916) to meet wartime demand for military clothes and caps.
From around the turn of the twentieth century the scale of demand pushed Whitechapel's clothing industry away from domestic working into purpose-built factories, for the making in particular of women's garments (wholesale or readymade dressmaking). An early example stands at 4–6 Davenant Street, built for S. Schneiders & Son in 1900 and taken in 1904 by Hyman Lotery & Co., a major presence hereabouts. Louis London & Sons built a factory on Alie Street in 1913 (enlarged 1926), following Schneiders and Lotery in employing Hobden and Porri, architects, specialists in this building type, simple well-fenestrated workshop blocks of four or five storeys. There were many ancillary trades, from trimming to button-making. Albion Mills on East Tenter Street (1905) was a warehouse for Israel Hyman and Sons, rag merchants. Mention must also be made of the gargantuan buildings of the Co-operative Wholesale Society's drapery showrooms, not factories, on Leman Street, in F. E. L. Harris's Baroque style (1910), surviving, and in a Moderne neo-classicism vein by L. G. Ekins (1930–7), demolished.
Speculatively built workshop–showroom blocks sprung up in locations across Whitechapel, as at 5–9 White Church Lane (1921) and 20–24 Commercial Street (1928), which was occupied by Ellis & Goldstein Ltd until 1959. Eva Pepper's dressmaking complex at 91–99 Fieldgate Street (1927) was, as it were, tailor-made. Moderne or Art Deco finishes were introduced to attract dressmaking or other clothing firms for which fashion awareness was essential. On New Road, Hume Victor Kerr designed Service House (1930) and Empire House (1934), George Coles was responsible for 29–33 White Church Lane (1937), and Oceanair House, 133–137 Whitechapel High Street (1938), a seven-storey block built for a subsidiary of Prices Tailors Ltd, upped the ante.
After the war there was greater architectural austerity in somewhat humbler buildings that were yet more flexible, for use as workshops, showrooms, or warehouses behind quiet brick-faced Modernist elevations, as at 8–10 Greatorex Street (1956, for H. Lotery & Co.), 1 Whitechapel Road (1958), 12–20 Osborn Street (1961), and 101 Greenfield Road (1965). Zetland House (1964) and Cromlech House (1965) were larger and more assertive purpose-built rag-trade warehouses with piloti for open ground floors. Neil House, 3–15 Whitechapel Road (1968), glass and steel fronted so resembling an office block, was intended for but failed to attract similar occupants. Tailoring and dressmaking was collapsing, unionized factories closing.
Rag-trade employment, much of it still essentially of a domestic nature, had since the 1950s been shifting from Jewish to Bengali hands. There was further decline by the 1980s in the face of competition from cheap imports, but 42 Fieldgate Street (1982) and Ahmed House, 48 Fieldgate Street (1985), were built as garment workshops, only to be converted to offices and flats in the early 1990s. Traces of the wholesale clothes trade endured, lingering around White Church Lane up to 2020.
Sugar
Whitechapel was a major centre of sugar refining in the eighteenth and nineteenth centuries, for most of the period of Caribbean sugar-cane imports enabled by African slave labour. Numerous large sugarhouses and ancillary buildings rose across Whitechapel, and there were many more in the adjoining parish of St George-in-the-East. Sugarhouses generated great wealth for their proprietors. Sugar refining was a highly capitalized and hugely lucrative business, but also very risky. In buildings where the processing involved the application of great heat fires were frequent and tall buildings collapsed – sugar refining was at the centre of the development of the insurance industry. Thousands were employed in Whitechapel's sugarhouses, many of them German immigrants. Thus Africa, North America, and Continental Europe were thrust together in a Whitechapel crucible to supply London, an imperial capital, with a commodity, white loaf sugar, that, anti-slavery boycotts of the 1790s and 1820s notwithstanding, remained lucrative into the 1860s, while even in the 1840s 'a holiday luxury to the middle classes, and, hitherto, an unattainable one to the humble'.[75]
Map of sugarhouse sites in Whitechapel c.1800 (drawing by Helen Jones)
The sugar-refining industry in England traces its beginnings to the 1540s when Cornelius Bussine from Antwerp brought his knowledge of the 'secret' art of sugar refining to establish a sugarhouse in the City of London. From early on investments and profits were substantial. In 1597 a Stepney sugarhouse had stock worth the then vast sum of £14,000. Thereafter London's port in the City grew to bursting, sugar imports and consumption burgeoned, and sugar refining in London expanded, weathering periods of volatility in the trade and its profits. By 1750 there were said to be eighty sugarhouses in the capital, with only a further forty across the rest of England and Scotland. In spite of the noxious nature of the industry and the propensity of its buildings to catch fire, many of the London refineries were still then located in the City, close to the Thames or Fleet. Sugar refining had also spread into the suburbs; it was present in Whitechapel by 1698 off the south end of Leman Street. Through the early decades of the eighteenth century sugarhouses quickly became widespread in southern parts of the parish, many of them instigated and worked by German immigrants. Sugarhouses were to be found across all but the north-east arm of the parish by 1800 when there were about forty sugarhouses in Whitechapel. The shift of the trade to the eastern suburbs was further encouraged by the openings of the West India Docks (1802) and the Commercial Road (1806). Its concentration was finally cemented by the City's decision in 1807 to forbid sugarhouses within its boundaries. This coincided with a wartime wave of German immigration. Technical innovations helped transform the industry from small-scale manual operation to larger and more sophisticated premises. The industry was both dynamic and lucrative on account of the unrivalled British consumer market.[76]
The census of 1851 documented more than 1,000 sugar refiners in London's near eastern suburbs, more than ninety per cent of those in all London. George Martineau, from a long-standing East End family of sugar refiners, reflected in the same decade that 'practically all the loaf sugar consumed in this country was produced in the East End of London'.[77] Thereafter decline was rapid. This had various causes, including a shift in the market away from loaf sugar, and competition from less remotely grown beet sugar. A crucial change came when the subsidization of sugar refining across the Channel met British free-trade dogma. The upshot of an international Sugar Convention in Paris in 1864 was that sugar refined in bond in France, Belgium and Holland could be sold more cheaply in England than that locally refined. The collapse in credit of 1866 was a further blow. Distress due to the closure of sugarhouses was reported in 1868. By 1880 only twelve sugarhouses remained in London, precedence in the industry in Britain having been ceded to Liverpool and Greenock, which though better placed for Caribbean imports, also soon declined. George Gissing's Will Warburton, published posthumously in 1905, tells a story of the sugar industry's late nineteenth-century decline pivoting on Whitechapel, a witness to the then still familiar connection of the place with sugar.
A single functioning east London sugarhouse survived into the twentieth century, just outside Whitechapel on Kingward Street in Mile End New Town. It was run by the Martineau family, which had secured a joint sugar-cube-making licence with Tate and Lyle. This delayed its demise and Martineau's closed in 1961. Thereafter Tate and Lyle, which had built refineries on the banks of the Thames much further east and diversified into syrup, was the sole survivor of the London industry.[78]
Sugarhouses were distinctive and a defining feature of Whitechapel's streetscapes. Charles Dickens described Whitechapel's sugar refineries as 'great buildings, tier upon tier, that have the appearance of being nearly related to the dock-warehouses of Liverpool'.[79] Sugarhouses were uncommonly tall, rising up to ten storeys, and cuboid in form with plain stock-brick elevations punctured by rows of small windows regularly arrayed. In imagining the large number of Whitechapel sugarhouses with seven or more storeys, it needs to be borne in mind that the upper storeys of sugarhouses generally only had six-foot clearances to their ceilings. They were tall, but compressed.
Iron internal columns were introduced early in the nineteenth century and lower storeys might be brick vaulted, half basements generally being given greater height. But timber internal construction persisted and fed fires. Bowman's sugarhouse of 1851 on the east side of Leman Street was an architecturally elaborate exception to the rule of plainness, from late in the trade's prosperous period.
This is not the place for an account of a highly complex and constantly evolving refining process, other than to say verticality, that is numerous storeys, permitted separation of stages. The levels were connected by openings in the floor – 'pull-up holes'. Plant included sugar-pans or boilers of seven-foot diameter. Conical moulds were filled in basements to make loafs that were transferred back to upper storeys to be further purified by allowing treacle to drain into clay pots. Alongside the tall sugarhouses, which were multiple on larger sites, and rated by insurers by the number of pans they accommodated, there were retort houses and steam-engine and boiler houses and chimneys. Other associated buildings often included housing for workers, the lodging ranges known as men's rooms. In a lecture in 1867, the Rev. Charles Voysey described 'the intolerable smell' of sugarhouses. He related 'that the men who work there must be nearly naked on account of the heat, that windows or gratings must be constantly open to let out the steam, and that bullock's blood and animal charcoal, the former in every degree of freshness and staleness, have to be employed in the process'.[80]
Sugarhouses were big robust buildings, but their low ceiling heights made them unsuitable for conversions to storage or workshop use, so replacement was usual once they fell redundant. Most were in any case serially rebuilt on account of frequent fires. There is still a radically altered remnant of a sugarhouse of 1798 at 7–8 Davenant Street. Otherwise the building type is entirely and long-since gone. Whitechapel's last standing and recognizable sugarhouse was on the west side of Dock Street, rebuilt in 1863, adapted to tea storage a decade later, and only demolished in 1981.
Beer and spirits
Whitechapel was home to a number of breweries, though east London's most renowned, Truman's on Brick Lane and Charrington's on the Mile End Road, were just outside the parish. Early large-scale brewing took place to the north of the High Street, perhaps at the Hart's Horn, present as a brewhouse by the 1460s, certainly at the Swan by the early seventeenth century. It is difficult to gauge the size of early brewing enterprises, many were doubtless small, but Rowland Cunney, a brewer and vintner, had fourteen- and eight-hearth properties in the 1660s, one of these seemingly the Grid Iron on the High Street. Brewers were prominent among the developers of lands in southern parts of the parish at the end of the seventeenth century, including (Sir) John Parsons, the owner of the Red Lion Brewery on the Wapping riverside, London's most valuable brewery in the 1690s. There was a brewhouse at the Brown Bear, on Hooper's Square for a century until it moved to Leman Street around the 1780s. This was run by Thomas Jordan who was also brewing on Leman Street from 1755. He had cellar beer stores in a chapel and a mansion on Alie Street.
The King's Arms brewhouse, which began in 1747 on the west side of Old Castle Street, was where Henry Tickell patented a method for chilling wort in 1801. Tickell & Co. became the eleventh largest brewers of porter in London in 1822. John A. Furze moved from the King's Arms to set up St George's brewery (1847) off White Church Lane, a pioneering model and a productive purveyor of beer for the rest of the century, the main building of which still stands.
The biggest of all, and straddling Whitechapel's boundary with Bethnal Green, was the Albion brewery. This started small in 1807 behind the Blind Beggar public house on Whitechapel Road, and grew to be one of London's largest breweries under Mann Crossman and Paulin. Buildings of 1864 and the 1890s survive.
A sugarhouse site on the west side of Osborn Street was adapted by its proprietors, the Coope family, to be a brewery depot in the late 1840s following the establishment of Ind Coope, a partnership with Edward Ind of Romford. Further east, beyond Greatorex Street, a former Ind Coope stable building (1849) remains extant.
Distilleries, principally for the production of gin, were scattered along the north side of Whitechapel High Street and Whitechapel Road from the eighteenth century. John Rex built one at 87 Whitechapel High Street (1769) and John Goldie put up another next door on George Yard (1836). William Forster was distilling at the Angel and Still at 25 Whitechapel Road from the 1740s. His successor, John Davey Liptrap, took on a seven-acre site north of Ducking Pond Row (Durward Street) where he and his successors built up what became London's third largest spirits' distillery by 1820. Finally, John Walker & Sons (Johnnie Walker) converted the former St George's brewery (1901) into a bonded whisky depot with distilling on its lower storeys.[81]
Chemicals
Small cottage enterprises, using progressively more sophisticated chemical processing techniques, expanded through the eastern suburbs in diverse directions from the early seventeenth century.Banished from the City, horners settled in numbers in the north-west corner of Whitechapel, around Petticoat Lane (Middlesex Street). Working with discarded animal horns to make objects and for a range of chemical purposes continued into the nineteenth century. William Menish diversified from 'hartshorn' to process sal ammoniac (ammonium chloride) for commercial purposes from the 1770s on sites north and south of Whitechapel Road, his 'elaboratory' being deemed a 'nusance'. His successor, John Burnell, another horner, was also a significant property owner.
William Megges encouraged soapmaking in the vicinity of his mansion in the early seventeenth century and John Venner, a soapmaker, became a landowner in the 1690s. Small soap factories were scattered across the parish in the early nineteenth century, including for the exploitation of Baron von Doornik's patent for making soap for use in seawater.
Edward Dallow ran two glasshouses at the south end of the parish in the late seventeenth century. They made green bottle glass, which involved saltpetre, thus Salt Petre Bank, Dock Street's earlier name. There was a large tallow chandlery between the south end of Leman Street and Mill Yard for a century from the 1740s, long held by the Langfer then Bridgeman families. Numerous oil and colourmen had premises on the High Street. Thomas and William Quarrill, present on the south side by the 1730s, were perhaps the largest operators. They had a mill on what became the east side of Commercial Street, and branched into property development on Prescot Street. South of Chicksand Street, Robert Womersley established a drysalters in 1797, initially for dying silk. It continued as a chemical factory into the 1950s.
A large white-lead factory, principally producing paint, was present at the east end of Buckle Street from the 1720s to 1811, and long run by Sir James Creed with patent methods. The processes were noxious and dangerous; workers had short life expectancies.[82]
There were other hazards to working life. A labourer in Whitechapel was 'stifled in a bog-house' (1723), another suffocated clearing out drains on the High Street (1843), and three more died from asphyxiation in a sewer (1857).[83] Sewers have become safer, if not less problematic. A manhole cover at Whitechapel Road's junction with Court Street commemorates the removal of the Whitechapel 'fatberg' in 2017.
Metal
Whitechapel's metal trades, including bell-making, have medieval origins. In 1458 three adjoining properties, probably on the High Street, housed a spurrier, a blade-smith, and a smith, tenure also involving the wife of a pewterer.[84]
The Whitechapel Bell Foundry, a unique establishment, can be traced back to around 1570 on a site north of the High Street. It moved to Whitechapel Road in the 1740s and continued there to 2017, a remarkable history. Samuel Bellamy then William Thoyts were successful coppersmiths operating from 88 Whitechapel High Street where their business thrived for a century from around 1720. There was a foundry at Swan Yard off Osborn Street from 1819 and James Schooling established a stove and range factory on Greatorex Street around the same time. Creed's white-lead works were adapted for the making of sugarhouse machinery, and another foundry of about 1870 on Greatorex Street lasted only until 1894 when it was taken for conversion to be a synagogue. Buck and Hickman began as saw-makers on White Church Lane in the 1830s, diversifying into more general tool-making and taking extensive premises along Whitechapel Road and behind up to the Whitechapel Bell Foundry until 1974.
Further south, gunmaking was prevalent, around the Minories and East Smithfield by the mid seventeenth century, proximity to the Board of Ordnance at the Tower of London being a desideratum. The Gunmaker's Company's proof house moved to its present site on Commercial Road in 1676, and as Goodman's Fields became built up, gunmakers moved in, this remaining largely a domestic industry, with a particular concentration on Chamber Street. Local gunmakers there and elsewhere included suppliers of the Confederacy in the United States's Civil War. Gunmakers' Hall was built next to the proof house in 1871.[85]
Tobacco
Tobacco was another product that came to Whitechapel from the Americas via the port, after 1800 from the London Docks. There was a tobacco warehouse on Chamber Street by the 1730s and tobacco manufacturing was a presence on Whitechapel High Street and Whitechapel Road from the 1740s, a number of early tobacco entrepreneurs, though not all, being Jewish. Cigar-making was present and so-called in Whitechapel from the 1840s. This industry is said to have been brought to east London by Dutch Jews, who maintained it in an enclave at Tewkesbury Buildings.[86]
Whitechapel was the cradle for the beginnings of two great tobacco corporations, both due to German Jewish immigrants: Salmon and Gluckstein, whose founder's early premises were on the High Street and Whitechapel Road across the second half of the nineteenth century; and Philip Morris, which takes its name from the Whitechapel-born son of Barnard Morris, a cigar-maker who had a factory off Half Moon Passage from the 1840s. There were numerous other small cigar- and cigarette-making factories, generally workshops behind houses, mainly in the hands of east-European Jewish proprietors, with concentrations in the decades either side of 1900 on Whitechapel Road, Leman Street, and Prescot Street. A substantial building at the corner of Dock Street and Royal Mint Street was erected in 1890 to designs by Edwin Arthur Brassey Crockett as a factory for Thomas Bear & Sons, tobacco manufacturers. There were other large tobacco workshops on the south side of Commercial Road up to 1939. The Tobacco Workers' Club was one name for premises on Fulbourne Street that in 1907 held a conference preliminary to the Fifth Congress of the Russian Social Democratic Labour Party (the forerunner of the Bolshevik Party), attended by Vladimir Lenin, Leon Trotsky, Maxim Gorky, and Josef Stalin, while Rosa Luxemburg was not admitted.
Commerce
Before proceeding to accounts of several categories of commercial activity in Whitechapel, some brief prefatory remarks about transport links and surviving indicators are called for to give additional context. Whitechapel High Street and Whitechapel Road, with Roman origins, have always formed the main artery, a wide road along which livestock was driven for centuries. From 1722 this was the west end of a turnpike to Essex, with a tollbooth at the parish boundary at Mile End Gate. The North Metropolitan Tramways Company opened its first horse-tram route on Whitechapel Road, running from the parish church to Bow, in 1870; electrification followed from 1909. New Road had been formed by 1756 to provide a north–south link, to improve connections with riverside settlements, at the same time as the London Hospital was being built. From 1845 Dock Street, Leman Street and Commercial Street formed another continuous route, to link the London Docks to railways at Shoreditch. Commercial Road was extended westwards to link up in 1870.
As for railways, the London & Blackwall Railway opened the way for the formation from the 1850s of sidings to depots, several in Whitechapel. The East London Railway sliced through to the north-east in 1876 to be met seven years later at Whitechapel Station by the Metropolitan and District Railway's subterranean route through northern parts of the parish. This has left odd above-ground survivals in the shape of a converted ventilation shaft at 9 Whitechurch Passage, and a former 'deodorising' shed at 193B Whitechapel Road. Aldgate East Station has moved and St Mary's Station has vanished. Other traces of transport buildings include parts of a former cartage depot on Dock Street (1860), and motor garages on Chamber Street (1921), New Road (1930), and Whitechapel Road (No. 100, 1963, and Nos 139–149, 1954, rebuilt 1991).
Shops and markets
Whitechapel High Street was full of shops from the time of its earliest medieval development. Many were of a quotidian nature, grocers, cheesemongers, and the like. Butchers were arrayed together with their slaughterhouses, not wanted in the City, on the south side near Aldgate. The mess they generated became a cause of complaint. Buildings along Whitechapel Road have also always incorporated shops. Development of the frontage on the south side to the east of the parish church and rectory around 1570 led to leases to a grocer, two drapers, two bakers, a pewterer, a blacksmith, a carpenter, a weaver, and a freemason. Numerous shopkeepers were also makers, such as upholsterers, and cabinet-makers. Whitechapel was an early centre of retail discounting and was said to be 'rife' with 'ticketing' (selling on credit) in 1833. Loud advertising well beyond fascias was prevalent and there has been little corporate standardization.[87]
Among the grandest of many Whitechapel drapers were T. Venables & Sons Ltd, whose business began in 1825 and grew to be a department store on the east corner of Whitechapel High Street and Commercial Street that lasted until 1927 – its buildings remain. Opposite was Gardiner's (1874), designed by George Aitchison for Glasgow clothiers and Army contractors on the triangular corner formed by the extension of Commercial Road. A department store that clothed the Metropolitan Police, this was Whitechapel's largest, most prominent, and best-known shop until it closed and was destroyed by fire in 1971–2.[88]
Black Lion Yard was a centre of the Jewish jewellery trade from around 1900 into the 1970s, benefitting from Sunday trading. Through the same period Old Montague Street functioned as a Jewish shopping street, with vats of pickled herrings and poultry hung in open fronts.
From at least the 1660s to 1928 Whitechapel hay market was a fixture, with hay carts inconveniently lined up along Whitechapel High Street. The main hay dealers maintained premises in Spread Eagle and Kent and Essex yards.
Through the same period, the selling of 'slop' or second-hand clothing in markets was an important local trade. Rag Fair on Rosemary Lane (Royal Mint Street), thriving by 1700, was London's largest such market in the eighteenth century but in decline thereafter. It mainly employed women and Jewish men. Small market buildings or exchanges stood in yards north of the street.
Street trading on Petticoat Lane (now Middlesex Street) can be traced back no earlier than the 1760s, its origins being with itinerant Jewish old-clothes dealers moving east from Houndsditch. The market grew and prospered until the mid twentieth century and 'Petticoat Lane' became one of London's best-known markets. Its Sunday trading spread to Wentworth Street and Goulston Street, and adjacent buildings were deferentially designed to accommodate barrows. The market continues in much reduced form, its Jewish and Cockney identities long gone. Trade in fabrics of a West African character has been a feature since the late 1990s.
The market on Whitechapel Waste, the spacious margin between Whitechapel Road and its north-side buildings, began informally before 1800 and was not disciplined into orderly bounds until the 1860s and then more definitively through regulation (1909). Thus limited in its extent, it has grown in density, the nature of its merchandise evolving. Since the 1980s the Waste's market has been largely Bengali and mostly given over to clothing and food.
Two short-lived indoor markets were the People's Market at 20–22 Whitechapel Road, established in 1867 to sell cheap groceries and hot soup in response to great poverty, and the People's Arcade on Back Church Lane of 1906, a project by a consortium of Jewish traders. A fish-market hall of 1902 on Hope Street, built by Abraham Davis, doubled as a cinema from 1910 and was adapted for kosher poultry slaughtering in 1927.
Warehousing
The tea trade was transformed in 1834 by the withdrawal of the East India Company's monopoly on pricing. The London Public Tea Auction was established and Mincing Lane in the City became the centre of the international tea trade. Whitechapel tea dealers prospered, including Charles Henry Harrod at the west end of Cable Street. Harrods moved west, while Whitechapel became a centre for tea warehousing. Brooke Bond was on the High Street from 1873, expanding massively and remaining until about 1970. The Monastery Tea Bonded Warehouse was on Dock Street through the same period, and Twining Crosfield & Co. and Tetley had warehousing on Wellclose Square and Mansell Street respectively through the early twentieth century. Kearley & Tonge, tea importers who became provision wholesalers, had premises on the north side of Durward Street from 1892, expanding in phases with massive warehouses to form its London Central Depot, the largest wholesale grocery depot of its kind, which closed in 1972.
Rail connections were critical to the establishment of wool warehousing in Whitechapel in several locations from the 1860s to the 1920s. Browne & Eagle were the dominant firm, with multiple premises. Their large warehouse on Back Church Lane of 1890 is the only survival.
Wine warehousing could be said to date back to early vintners, John de Stodeye and John Chaucer on the High Street in the fourteenth century. Successors included the Victoria Wine Company, which adapted a sugarhouse on Osborn Street in 1878 for the storage and bottling of wine and spirits, and Kinloch's, with warehousing on Back Church Lane of 1895.
There was also speculative warehousing, as on the west side of Commercial Street, ten blocks of 1864 in part designed by Hyman Henry Collins. On Middlesex Street, seventeen warehouse buildings went up in 1888 to robust designs by his son, Marcus Evelyn Collins; six survive.
The Co-operative Wholesale Society was a huge presence in Whitechapel from 1881, one that is covered extensively on a site-specific basis. Its imposing buildings, largely given over to tea, provisions, and drapery storage with associated offices, spread to form a kind of fortress at the south end of Leman Street and east end of Prescot Street. The CWS held its position here up to the 1970s.
Offices
Plans for Whitechapel after the Second World War zoned large areas as for 'general business', but purpose-built office blocks were not in mind at first. Flatted factories for the rationalized relocation of businesses, conceived as primarily small-scale manufacturing, were what then seemed appropriate to Whitechapel. Small often cramped rag-trade warehouses, showrooms and workshops, and other small businesses intermixed with housing were all to be displaced by redevelopment. The LCC aimed to concentrate industries and improve their accommodation in the flatted factories, a building type that sought to provide small-scale enterprises with affordable units zoned away from housing. The aim was to allow 'one man' enterprises to prosper. The LCC saw to it that two blocks were built in 1964, on Adler Street and at Central House.
By then, Richard Seifert, who had been brought up on Whitechapel High Street and educated on Whitechapel Road, had returned (with Tony Henderson and George Marsh) as R. Seifert & Partners to build what became Brunning House on Whitechapel Road (1963), an eight-storey speculative office slab. The same firm was responsible for United Standard House (1965), on the edge of the City and occupied by insurance companies and shipping agents. The Aldgate side of Whitechapel had become a centre of commercial marine business. Beagle Shipping, a successor to Browne & Eagle, had offices on Leman Street that were redeveloped by Seifert in nine storeys in 1974 in a jaunty style that echoed Centre Point.
Insurance and banking back offices began to proliferate in moves out of the City. The NatWest Management Services Centre of 1978 was a sprawling complex between Leman Street and Back Church Lane for space-consuming banking processes. Minet Holdings Ltd, insurance brokers, fought an inquiry against local authorities resisting the spread of offices to build Minet House (also of 1978), a low-rise block on Leman Street, again designed by Seifert. Around the corner on Prescot Street, Minet's put up a Stirling-esque Postmodern building in the early 1990s.
The GLC had fought back on Whitechapel Road, obliging Lyndon Properties to build the Whitechapel Technology Centre (1981) as industrial units, though soon effectively used as offices, before allowing it to build Black Lion House (1983). Back by Aldgate, the Sedgwick Centre and Standon House (1984) were built for another insurance group, Fitzroy Robinson & Partners explicitly echoing the firm's neighbouring building in the City – overspill was made architecturally manifest.
Further south on Mansell Street, Roy Sandhu, a textiles entrepreneur, followed with Aliffe House in 1989, a rebarbative Postmodern block. Sandhu's scheme of 1988 for a sixty-storey tower on the Central House site had been vigorously opposed. Insignia House, near the south end of Mansell Street (1991), struck a more refined HighTech note.
A new red-brick faced business centre on Dock Street was made a data centre following the City's deregulatory Big Bang of 1986. Camperdown House, a glass-box office block of 1983, became another expressionless data centre in 1999. Local-authority funded business-development and small-business centres were built on Greatorex Street from 1999.
Public houses and restaurants
Early inns have been mentioned and only a tour d'horizon of later public houses is appropriate here. There were 163 licensed alehouse-keepers and brandy sellers in Whitechapel in 1730.[89] At the time of writing (2020) there are around forty extant public-house buildings, of which only somewhat more than half continue to operate as pubs. Some of the more interesting as buildings, listed chronologically by principal build date up to 1910, are: the Crown and Seven Stars, Royal Mint Street (1826, altered 1880s, renamed the Artful Dodger); the Brown Bear, Leman Street (1838); the Garrick, Leman Street (1856, renamed the Oliver Conquest); the Blue Anchor (1854, renamed Bar Indo, closed); the Castle, Commercial Road (1873); the Royal Oak, Whitechapel Road (1873, closed); the Grave Maurice, Whitechapel Road (1874, closed); the London Hospital Tavern (1876, renamed the Urban Bar); the George, Whitechapel Road (1882, converted as Haji Nanna Biryani); the Princess Alice, Commercial Street (1883, renamed the Culpeper); the Bell, Middlesex Street (1883); the Queen's Head, Fieldgate Street (1886, converted as Tayyabs); the Blind Beggar, Whitechapel Road (1894); Ye Olde Angel, Whitechapel High Street (1900, closed); the Archers, Osborn Street (1903, renamed the Buxton); the Queen's Head, Whitechapel Road (1904, closed); the Lord Napier, Whitechapel Road (1909, converted as Zam Zam Gift Shop).
Later architectural highlights, and still in use as pubs, are Truman, Hanbury, Buxton & Co.'s buildings by Arthur Edward Sewell, that brewery's chief architect from 1910, who was responsible for the Princess of Prussia, Prescot Street (1913), the Sir Sidney Smith, Dock Street (1936), and the Good Samaritan, Turner Street (1938).
Whitechapel's largely Muslim population since the 1970s has meant reduced demand for pubs, but many closures are recent. The Black Bull on Whitechapel Road, refronted in a Brewers' Tudor style (1927), closed in 2007 and is now a restaurant, a branch of Sonargaon. Even premises responding to Whitechapel's most recent demographic shifts have gone – Bar Indo closed in 2019. Covid-19 brings a new reckoning.
That also applies to restaurants, which generally fared better up to 2020. Such use is comparatively ephemeral with less impact on building fabric. There were coffee rooms at 3 Osborn Street and 129 Whitechapel Road from about 1830 and at 102 Whitechapel Road from about 1852. That address can stand for many others in having later become a café and boarding house. Filomena and Antonio Fusco, Italian immigrants, ran it from 1910 to 1928.
Among a great many small Jewish establishments, Morris Kersch's Curley's Café can be similarly emblematic. On Osborn Street from 1937, bombed out and on Whitechapel High Street from 1942 to 1962, it was a centre for both boxing promotion and anti-fascism and is said to be where Arnold Wesker lighted on the title Chips with Everything. The standout among Whitechapel's Jewish restaurants was Blooms, at 90 Whitechapel High Street from 1952 to 1996. The Kosher Luncheon Club, on Greatorex Street from the 1960s to 1996, was less widely known but is as fondly remembered.[90]
The history of Asian restaurants in Whitechapel can be said to start on St Mark Street, with what latterly has been the Halal Restaurant, which traces its origins to 1939 and plausibly claims to be east London's oldest continuing Indian restaurant.[91] Narian Singh had dining rooms on White Church Lane in the early 1940s next door to the Hindustani Markaz (Indian Centre), and Nisar Ali opened a restaurant on New Road around 1950 that came to be the Great Tajmahal.
The area around the west end of Cable Street was known in the 1950s for cafés and clubs of dubious repute, especially as regards prostitution. There were also several respectable dining rooms for Asian and Somali (Muslim) sailors. The Royal Standard pub on the corner of Ensign Street and Graces Alley had become the Rio Café, a Somali establishment run from around 1950 by Mokter Miah. It was misleadingly linked to prostitution on national television in 1961, but a libel suit was dismissed. Saif Salek took over dining rooms at the south end of Leman Street in the 1950s that later became the Arabian Club, then from 1993 the Empress Restaurant, Bengali-run.
Brick Lane's Asian restaurants are principally outside Whitechapel, but not entirely. Many 'Indian' restaurants in the wider area are actually Bengali. Banglatown branding in the late 1990s ostensibly boosted the area's restaurants, but the character of that time has not endured, and there have been many closures. Just inside Whitechapel, the Bell pub at 40 Brick Lane was converted to be Sweet & Spicy, Ikram Butt's locally renowned curry house, here from 1969 to 2013. Among others, Bengal Cuisine has been at 12 Brick Lane since the 1990s and Clifton's moved from Brick Lane to be at Osborn Street's corner with Whitechapel Road from 1996 to 2015. On Whitechapel Road's market (Waste) stretch, Feast and Mishti might be singled out as comparatively long-lived. Even more ephemeral than curry houses are the numerous chicken shops that have sprung up, in particular along Whitechapel Road. Outliers include Tayyabs on Fieldgate Street, a Pakistani-run establishment, present since the 1970s, and Café Spice Namasté, on Prescot Street from 1995 to 2020, run by Cyrus Todiwala, a Parsee chef, and aiming at a more affluent market.[92]
Playhouses, theatres and music halls
Whitechapel has a surprisingly long and rich theatre history. It starts in 1567 with the Red Lion, London's first purpose-built playhouse, at Mile End Green on the eastern edge of the parish, and moves on through the Boar's Head, another inn playhouse, built in stages in the late 1590s at the western edge of the parish.
Eighteenth-century theatres came and went, with more or less constant strife over licensing and the patent laws that effectively kept spoken drama in the West End. The Goodman's Fields Theatre adapted a workshop building in 1729 and launched David Garrick's career, a success that brought about closure in 1742. New Wells, a theatre at the south end of Gower's Walk, staggered along erratically from 1740 to 1756 under the Hallam brothers, William and Lewis. Rather different was Jones's equestrian amphitheatre of 1786 at the north-west corner of the Mulberry Gardens site in a grand circular edifice of 100-foot diameter. The enterprise folded after two years and the circus building became a church.
The west side of Well (Ensign) Street was the improbable setting for a late-Georgian epic of theatrical hubris. The Royalty Theatre of 1787 was an ambitiously large, 'Quixotic', and venal attempt to rival the great West End houses. It was suppressed, but flickered back to life, reopening as the East London Theatre around 1814 with innovative gas lighting that led to destruction by fire in 1826. The Royal Brunswick Theatre, an architecturally sophisticated project by Thomas Stedman Whitwell, took its place in 1828, but it was structurally too innovative, collapsing catastrophically three days after opening.
The Pavilion Theatre of 1827 on Whitechapel Road profited from this and kept going through destruction by fire in 1856 and other vicissitudes to 1934. It was a celebrated venue, not least after 1900 as London's principal Yiddish theatre and a cinema for Jewish audiences. Across Whitechapel Road was the Earl of Effingham Saloon, a pub concert room rebuilt as a theatre in 1846, which was rebuilt again on a much larger scale as the East London Theatre in 1867, only to be burnt out in 1879. There was also the Garrick Theatre on Leman Street of 1830 (rebuilt 1854), another lively venue that lasted up to the 1880s.
Wilton's Music Hall is a renowned and genuinely unique survival. Its beginnings were as a pub concert room in 1839, rebuilt by John Wilton in 1853 and 1859, reconstructed in 1878, and closed in 1881. Its re-establishment as a place of entertainment was a protracted process, begun in 1967 and only brought to completion in 2015. The Albion Bazaar and Concert Room on Whitechapel High Street appears to have been a 'penny-gaff' described by Dickens in 1851. There were also the (New) Prince's Hall of Varieties of 1853, behind the Lord Rodney's Head on Whitechapel Road, which closed in 1885, and Zebedee Wilcox's briefly spectacular New Music Hall on Vine Court of 1871.
The East London Theatre site became Wonderland (1896), a rough-and-ready multi-purpose venue, mainly used for boxing, then the Rivoli Cinema (1921), a smart development designed by George Coles and bombed beyond repair in the Blitz. Premierland (1911), another essentially Jewish venture and a conversion of the People's Market on Back Church Lane, was a boxing hall and cinema up to 1930. Adler Assembly Hall (1925, later Adler House) was used as ballrooms, for boxing, and for theatre including the Jewish National Theatre. It was also the last home of the Great Synagogue from 1958 to 1977.[93]
The Half Moon Theatre (1972), a lauded left-wing initiative in a former synagogue on Alie Street, had an intended move to Wilton's Music Hall stymied, and left Whitechapel in 1979. The Sedgwick Sports and Conference Centre with the Chaucer Theatre (1985) was a misbegotten product of planning gain, gone but little mourned. The Toynbee Theatre (1938), which has been Toynbee Studios since 1995, was a survivor in 2020.
PLACES OF WORSHIP
In the late twentieth century Islam became Whitechapel's principal religion in terms of observance. The East London Mosque of 1975 (rebuilt 1985) has overarching local dominance as the principal religious institution of the past half-century. In Whitechapel it is in a class of its own and with related buildings is dealt with on a site-specific basis, so is not further discussed here.
Churches and chapels
The 'white chapel', soon the parish church, stood alone as a built place of worship until the seventeenth century. Protestantism sparked early in Whitechapel, through the celebrated challenge that Richard Hunne, a Merchant Taylor and probably a Lollard, had presented in 1511 to the claimed rights of the rector, Thomas Dryfield, and also through John Harrydance, a Whitechapel bricklayer, arrested for preaching from his High Street window in 1537 causing 'a great conventicle and unlawful assembly'.[94] Henry Daunce, another sixteenth-century Whitechapel bricklayer, was a preacher, and Richard Farnham and John Bull were weavers and self-proclaimed prophets with Whitechapel links who gained a following in the 1630s. In the early 1640s Thomas Lambe's General Baptists formed in Whitechapel 'easily the most visible and notorious of all sectarian congregations in London'.[95]
With Calvinism normative, puritan rectors led the parish church and its congregation from 1570 to 1626. After a Laudian interval, Independents were in control from 1646. Following the Restoration the parish church was rebuilt in 1673 in a form that was to some extent an attempt at a consensual response to preceding upheavals.
Before returning to what had become Dissent or Nonconformity, the rest of the story of Anglican building can be set out. In 1711 the Commissioners for Building Fifty New Churches decided that Whitechapel needed two more churches. Locations were considered and designs sketched, but nothing followed. It was a further century before another Church Building Commission, that of 1818, helped see anything built. Stepney New Church of 1821 was a simple Gothic chapel astride the parish boundary near the London Hospital. It soon became the Church of St Philip, which was rebuilt in 1892 for the self-financing Rev. Sidney Vacher to Early English designs by Arthur Cawston. St Philip's has been called the 'largest and most magnificent church of East London'.[96]
The Rev. William Weldon Champneys, Whitechapel's evangelical rector from 1837 to 1860, who has cropped up repeatedly as a social reformer, also established a Sunday school, sought to convert Whitechapel's Jews to Christianity, and set up two district chapelries with new churches.[97] These were paid for through Bishop C. J. Blomfield's Metropolis Churches Fund, the first being dedicated to St Mark (1839, T. H. Wyatt and David Brandon), on the former tenter ground, the second to St Jude (1848, Frederick J. Francis), on Commercial Street. Hypothecated for seamen, St Paul's Dock Street (1847, Henry Roberts) initially lacked a parochial district. St Mark's and St Paul's were both competent as Gothic Revival architecture, but distinctly non-Ecclesiological. Evangelism was strong in Whitechapel, and High Church or Anglo-Catholic Anglicanism made few inroads. From St Paul's the Rev. Dan Greatorex outmanoeuvred Tractarians in 1864 to secure a district covering Wellclose Square. The parish church was again rebuilt in 1876 and, after a fire, once more in 1882.
In the census of 1851 about thirty-one per cent (24,547 of 79,959) of Whitechapel's population were said to attend places of worship, of which group about fifty-six per cent (13,845) were said to be Anglican. This highlights the demographic importance of irreligion. Victorian Godlessness is often underestimated – 'the old story of indifference' or 'the absence of the fashion of churchgoing among the poor' as two Whitechapel vicars, Arthur James Robinson and Samuel Augustus Barnett, differently put it in 1883.[98] Around 1910, the Rev. George Hanks visited Plough Street Buildings, a particularly 'bad' tenement block, and found that 'as we went in they went out giving us a cheery greeting as they passed us'.[99]
Even so, Nonconformity had been an important presence since the seventeenth century. Worship in conventicles cannot be well chronicled, but the Act of Toleration (1689) conferred protections to meeting houses and Baptists are recorded as having a number of chapels thereafter. The most notable congregations gathered at: Mill Yard (Seventh Day Baptists, 1691 to 1884); on Little Prescot Street (1730), moving to a building of classical grandeur on Commercial Street (1854 to 1909); on Little Alie Street (1754 to 1909); on the south side of Commercial Road (1763 to c.1820); and on Great Alie Street (Particular Baptists) from 1807, moving in 1922 to Varden Street, where their Zoar Chapel has pertained to the Free Presbyterian Church of Scotland since 1974.
Whitechapel had a Quaker burial ground (1687) and a Danish-Norwegian Lutheran church (1696) in Wellclose Square, designed by Thomas Woodstock and Caius Gabriel Cibber. Presbyterians and German Lutherans built chapels on Alie Street (1747 and 1763), both seemingly designed by Joel Johnson, the last (St George's) a remarkably little-altered survival. St Paul's German Reformed Church began on Hooper Square (1819) and moved to Goulston Street (1887). St Andrew's Scotch Church (1824) and the Greek Revival Congregationalist Wycliffe Chapel (1831) stood on Philpot Street. George Holland's George Yard Mission's hall (late 1880s) also deserves mention. Pentecostalism has brought some temporary adaptations of buildings in recent years, but it has been a comparatively minor presence.
John Wesley was stoned while preaching in gardens north of Old Montague Street in 1742, but Methodism did take root in Whitechapel. On the present-day site of the Church of St Boniface, the equestrian amphitheatre was adapted to be the Sion Chapel for Calvinistic Methodists in 1790. The congregation moved and built the Gothic Revival New Sion Chapel (1867, T. Chatfeild Clarke) on the south side of Whitechapel Road at the eastern edge of the parish. Primitive Methodists, led by the Rev. Thomas Jackson who had established a foothold in the former Working Lads' Institute on Whitechapel Road in 1897, took this chapel in 1906. What became the Whitechapel Mission (rebuilt 1971) continues on the site, with longstanding dedication to poverty relief. The Wesleyan East End Mission, established in Shadwell in 1885, had premises at Wilton's Music Hall (the Old Mahogany Bar, 1888 to 1956).
Roman Catholicism in Whitechapel grew from a base among German and Irish immigrants. An attempt at tallying Catholics in the parish in 1767 recorded only sixty individuals in twenty-seven households; it seems highly likely that many went unrecorded.[100] The census of 1851 documented 2,749 observant Catholics, somewhat more than three per cent of the whole population and eleven per cent of those attending places of worship. They would all have been worshipping outside the parish until the former amphitheatre that had been vacated by the Calvinistic Methodists was taken to become the German Roman Catholic Church of St Boniface in 1861 (rebuilt 1875 and 1960). The Church of English Martyrs followed in 1876, to designs by Edward Welby Pugin, the fruit of a long project by the Oblates of Mary Immaculate, an order of priests with a mission to the poor. The associated Sisters of the Immaculate Conception set up a convent that moved from home to home on Prescot Street. William Booth's Christian Mission (later the Salvation Army), converted a market building to be the People's Mission Hall in 1870, while continuing work in the open air, much mocked and opposed.
Whitechapel's increasingly large Jewish population prompted further attempts at conversion to Christianity by the end of the nineteenth century, including preaching from an external pulpit on the rebuilt parish church, which was also festooned with banners in Hebrew script. The Mildmay Mission to the Jews took the former Presbyterian church on Philpot Street and enlarged it in 1893, and the Hebrew Christian Testament to Israel built premises on Whitechapel Road in 1900 that survive. The architects were, respectively, Alfred Robert Pite and William Alfred Pite, the father and brother of Arthur Beresford Pite. These and other smaller missionary projects had little success.
Synagogues
Early Sephardic Jewish immigrants who lived in Whitechapel worshipped at synagogues in the City, initially at Creechurch Lane and then from 1701 at Bevis Marks. The Ashkenazi Great Synagogue was at Duke's Place north of Aldgate from about 1690. A humble congregation is said to have gathered on Rosemary Lane from 1748, moving to Prescot Street by 1871. Samuel Falk (the Ba'al Shem) had private synagogues in his homes, first on Prescot Street from 1747, then on Wellclose Square to 1782, and the Nathan family appears to have had one on Mansell Street by 1818. There was also a synagogue behind the same square's Emanuel Almshouses of 1849.
Whitechapel's growing Jewish population formed makeshift or informal synagogues. Early examples in Whitechapel include a house synagogue in Tewkesbury Buildings (1863), a room in Wentworth Street's Jewish workhouse (1871), conversion of a warehouse on Old Castle Street (1872), Scarborough Street Synagogue (1872), a large 'hall' on Goulston Street (1876), and Simcha Beker's informal synagogue on White Church Lane (c.1879).
With the arrival of thousands of east-European Jewish immigrants after 1880, hevros (prayer circles) and Hasidic shtieblekh (conventicles) proliferated. To start with at least, most new immigrants worshipped in further adaptations of rooms in homes, factories, warehouses or workshops. Such transient synagogues, with simple Ark cupboards, bimot (reading platforms), and a few chairs, are difficult to identify. If an ezras noshim (women's section) was required (by no means always the case), a curtain mehitzah (partition) was strung up at the back of the room, or the women prayed in a neighbouring kitchen or back room. More ambitious kehillos (religious communities) knocked a hole in a ceiling to create a gallery, from where women could at least hear proceedings. Often such synagogues had alternative names, in Hebrew or Yiddish, sometimes translated, accurately or otherwise, or they were known simply by their street address. Whitechapel's bounds as defined here appear to have contained around forty synagogues, but there is uncertainty. Informal places of worship rarely figured in official records, and shifting memberships and frequent mergers and moves make such congregations hard to track.[101]
From the 1880s to the 1930s Fieldgate Street was home to a number of small hevrah synagogues, perhaps as many as ten. Some of these were formed by groups of people hailing from the same shtetl (village) or shtot (town). Such landsmanschaften (regional societies) commonly formed the basis of a minyan (prayer quorum). An early documented hevros, the Crawcour Shul of 1887, for immigrants from Kraków, was formed in an annexe at the back of a shophouse near Fieldgate Street's corner with Greenfield Road, possibly building illegally – the premises were immediately condemned as unfit. Even so, they soon transferred to the Chevra B'nai Wilna, for immigrants from Vilnius, and by 1904 had become the Chechanover Shul, for those from Ciechanow, Poland.
Some spaces converted into synagogues lacked propriety. By 1884 the Bikkur Cholim Bnai Lodz Chevra was meeting above the Green Man public house in Tyne Street, where gambling was suspected. The Vine Court Synagogue of 1892 was in a former music hall behind the Royal Oak onWhitechapel Road, originally for a landsmanschaft from Kovno (Kaunas, Lithuania). Generally, such converted spaces eschewed outward religious symbolism beyond a small written notice or perhaps a discreet Star of David.[102] But inside, typically, and as was common in east-European synagogues, Vine Court's Ark cabinet was decorated with crowned Luhot (Tablets of the Law) with flanking griffins, here further flanked by British Royal family prayer boards, to express allegiance to the host country. The gallery had an iron mehitzah over the former music hall's panelled fronts.
Beatrice Potter, working on Charles Booth's poverty survey, painted a vivid outsider's picture of the atmosphere in one of east London's small synagogues in the late 1880s: 'And it is a curious and touching sight to enter one of the poorer and more wretched of these places on a Sabbath morning. Probably the one you choose will be situated in a small alley or narrow court, or it may be built out in a back-yard. To reach the entrance you stumble over broken pavement and household debris; possibly you pick your way over the rickety bridge connecting it with the cottage property fronting the street. From the outside it appears a long wooden building surmounted by a skylight, very similar in construction to the ordinary sweater's workshop. You enter; the heat and odour convince you that the skylight is not used for ventilation. From behind the trellis of the "ladies' gallery" you see at the far end of the room the richly curtained Ark of the Covenant, wherein are laid attired in gorgeous vestments, the sacred scrolls of the Law. Slightly elevated on a platform in the midst of the congregation, stands the reader or minister ... At last you step out, stifled by the heat and dazed by the strange contrast of the old-world memories of a majestic religion and the squalid vulgarity of an East End slum.'[103]
Extensions behind houses formed larger synagogues, a further stage in a congregation's development. This had happened by 1890 at the Limciecz Shul or St Mary Street Synagogue. In Black Lion Yard, the Chevra Kahal Chasidim Synagogue was added behind a house in 1903, and the Austrian Gemilus Chassodim Shul built a galleried synagogue behind a new shophouse on Fieldgate Street in 1907.
As populations shifted, more spacious conversions became possible. In 1908–10 the Wycliffe Chapel on Philpot Street was recast to be the Philpot Street Great Synagogue, the associated Wycliffe Chapel Charity School across the road became the Philpot Street Sephardish Synagogue, and Alie Street's Baptist Chapel became a synagogue.
In 1887 Samuel Montagu (1832–1911) set up the Federation of Minor Synagogues to be an umbrella organization for east London's multitude of hevros. Montagu, a strictly Orthodox Jew of German background, was a merchant banker, from 1885 the Liberal MP for Whitechapel, and from 1907 the first Baron Swaythling. He intended the Federation to appeal to traditionalists who looked askance at the Anglo-Jewish United Synagogue that had been created by Act of Parliament (1870). To east London's new immigrants, the United was Der Englischer Shul run by upper-crust West End Jews whose personal level of religious observance was highly suspect. The cultural alienation felt by foreign-born Jews was reinforced by economic differences.[104]
The Federation, which did aim to Anglicize the immigrants, albeit more subtly than the United and with lower fees, decided in 1890 not to admit existing synagogues, nor to sanction the building of new ones, unless they met minimum standards of size and sanitation laid down by Lewis Solomon (1848–1928), Honorary Architect from 1889. Solomon inspected the premises of hevros that applied for membership, and where he found squalor and poor ventilation he encouraged mergers to form larger congregations, the Federation advancing loans for renovations, conversions, or extensions.[105]
Solomon's most original contribution to synagogue architecture was the creation of small 'model synagogues', the building of which, whether through conversion or from scratch, was underwritten by the Federation. New Road Synagogue of 1892 was Solomon's first purpose-built synagogue to which the epithet 'model' was officially applied. However, Old Castle Street Synagogue had been rebuilt a year earlier under the aegis of the Federation and Solomon was reported as saying it might serve as a model. Both unpretentious buildings possessed characteristic features, vestibules, galleries, and top-lighting. However, the Ark at New Road, which in principle should have been oriented towards Jerusalem, was not on the east or even south wall, but for pragmatic reasons on the north wall. Great Alie Street Synagogue of 1895 was a bolder version of Solomon's 'model' approach with a pedimented façade.
Two further 'models' were in fact conversions of around 1896, both concealed from the street, like New Road. The Chevrah Shass (Talmud study circle) Synagogue, adapted a top-lit warehouse off Old Montague Street with the addition of galleries, and Great Garden Street Synagogue was formed by Solomon from the shell of a spacious top-lit foundry. The Ark, again pragmatically, was on the west wall. These interiors, typical of the Federation's galleried 'model' type, had traditional Ashkenazi floor plans with centrally placed bimot surrounded by pews. Great Garden Street boasted both prayer boards for the British Royal family and a pulpit from where sermons could be given in English, provided by donors wishing to Anglicize the membership. This location was home to the Federation's head office from 1974, by when most of Whitechapel's synagogues had closed and been cleared, to 1992. Previously, from 1925 the Federation had occupied purpose-built offices on Leman Street.
Lewis Solomon also designed the New Hambro Synagogue of 1899 on Union (Adler) Street for the United Synagogue. This was the successor to a presence in the City of almost 200 years. Unlike the Federation's synagogues, it was a prominent, even conspicuous, Italianate building.
Fieldgate Street Great Synagogue of 1899, so called to distinguish it from the small shuls in the same street, was a further and substantial 'model' project, amalgamating three hevros in a new building designed by William Whiddington, a City-based commercial architect. Under a caretaker's flat and meeting rooms, the front block housed a shop next to the synagogue's twin recessed entrances, one of which led directly to the galleries in the large shul to the rear. The Ark was at the back on the north wall. Fieldgate Street Great Synagogue continued after post-war rebuildings up to 2009. The Federation sold it to the neighbouring East London Mosque in 2015.
A late example of a Federation 'model synagogue' and the only one that still survives in Whitechapel is the East London Central Synagogue of 1923 on Nelson Street, designed by Digby Lewis Solomon who succeeded his father as the Federation's architect. Its neo-classical interior derives from that of the Great Synagogue.
SINCE 2000
The first fifth of the twenty-first century has seen Whitechapel change at a bewildering rate, even by local standards. This change has been wrought by an extraordinary spree of footloose speculative capitalism unlike anything seen in Whitechapel before, except perhaps in the 1680s. The fever has been interrupted by, perhaps halted by, a pandemic.
From 2001 to 2011 Whitechapel's population grew markedly from 12,864 to 14,862, a sixteen per cent increase largely made up of people aged twenty to thirty-four, with a corresponding increase in the number of households from 4,311 to 5,797, or 34.5 per cent – reasons will become apparent. Even so, after the declines of the twentieth century, population density in Whitechapel Ward in 2011 was only 162 persons per hectare (66 persons per acre), less than half that of a century earlier. There were new channels of immigration, from east Europe and a number of other places, not all documented by censuses. Further increase was projected in 2018. In Tower Hamlets as a whole, free-school-meal eligibility, a proxy measure of poverty, was the highest in any London borough in 2010 at fifty-two per cent. This had fallen to less than forty per cent by 2015 when the Evening Standard dubbed Whitechapel 'hipster central'. The Culpeper, a gastropub on Commercial Street, was established in 2014, and Jack the Chipper, a fish-and-chip shop, replaced the Khushbu Grill House halal restaurant and takeaway on Whitechapel High Street's corner with Osborn Street in 2019. The opening of a franchise of CUPP Bubble Tea on Fieldgate Street in January 2021 had to be broken up by police to maintain social distancing.[106]
Despite all this, Whitechapel as a place name continues to carry associations with poverty and crime. There has been a rebranding of western parts of the parish of Whitechapel as Aldgate, a name that did have currency on account of Aldgate East Station, with much earlier precedents. It was consciously emphasized by Tower Hamlets Council in the 1990s, and has more recently been promoted for commercial reasons through the Aldgate Partnership.
Expectations for development sites in the western parts of Whitechapel in the early 1990s were generally for buildings of around four or five storeys, occasionally rising to eight or nine. In 2004 the London Plan, produced by Mayor Ken Livingstone and the Greater London Authority, radically liberalized London's skyline. It also identified Whitechapel/Aldgate as an 'Opportunity Area', to be developed to support the City's financial and business services with high-density buildings for 14,000 jobs and 700 homes by 2016. Tower Hamlets Council's Local Development Framework, particularly the Aldgate Masterplan of 2007, responded by proposing a redevelopment site covering twelve hectares around the now-superseded Gardiner's Corner gyratory, taking in the whole of Whitechapel High Street, and most of the land east of Leman Street, and identifying a 'cluster' of fourteen development sites. The Masterplan envisaged this area as 'a focus for new high quality office development, supporting the continued expansion of London's financial and business district'. However, the financial crash of 2008 and insatiable demand for housing in London, for investment if not for accommodation, reinforced an embryonic shift from office to residential development. Pre-lets of office space became difficult, while the selling of residential units off-plan in Asia was comparatively easy.[107]
Crossrail had become another prime factor behind change in Whitechapel, affecting property value and motivating developers. In 2006, it was said that Crossrail would within a decade 'turn Whitechapel into a thriving transport hub'.[108] Designs for the rebuilding of Whitechapel Station were made public in 2010, and completion in 2018 was forecast. Crossrail's opening as the Elizabeth Line, repeatedly deferred, may occur in 2022.[109]
The shift from offices to housing had been in the wind. A straw was the Londinium Tower (1998–2001) by Berkeley Homes, eight storeys of flats on a Mansell Street site that would have seen office development a few years earlier. Towers of thirteen and seventeen storeys for ninety-eight flats followed at 52–58 Commercial Road (2005–9); almost half the flats were immediately repurposed as an apart-hotel.
Some much bigger residential projects ensued. Redrow's Relay Building on Whitechapel High Street's corner with Commercial Street (2006–14), a Carbuncle Cup nominee, has twenty-three storeys for offices and flats, with back-alley or 'poor door' access to the 'affordable' flats. Altitude Point on Alie Street (2007–14), built by Barratt London and L&Q, a housing association, has twenty-seven storeys and is mainly residential with 235 flats of which sixty-four are 'affordable' with rear access from Buckle Street.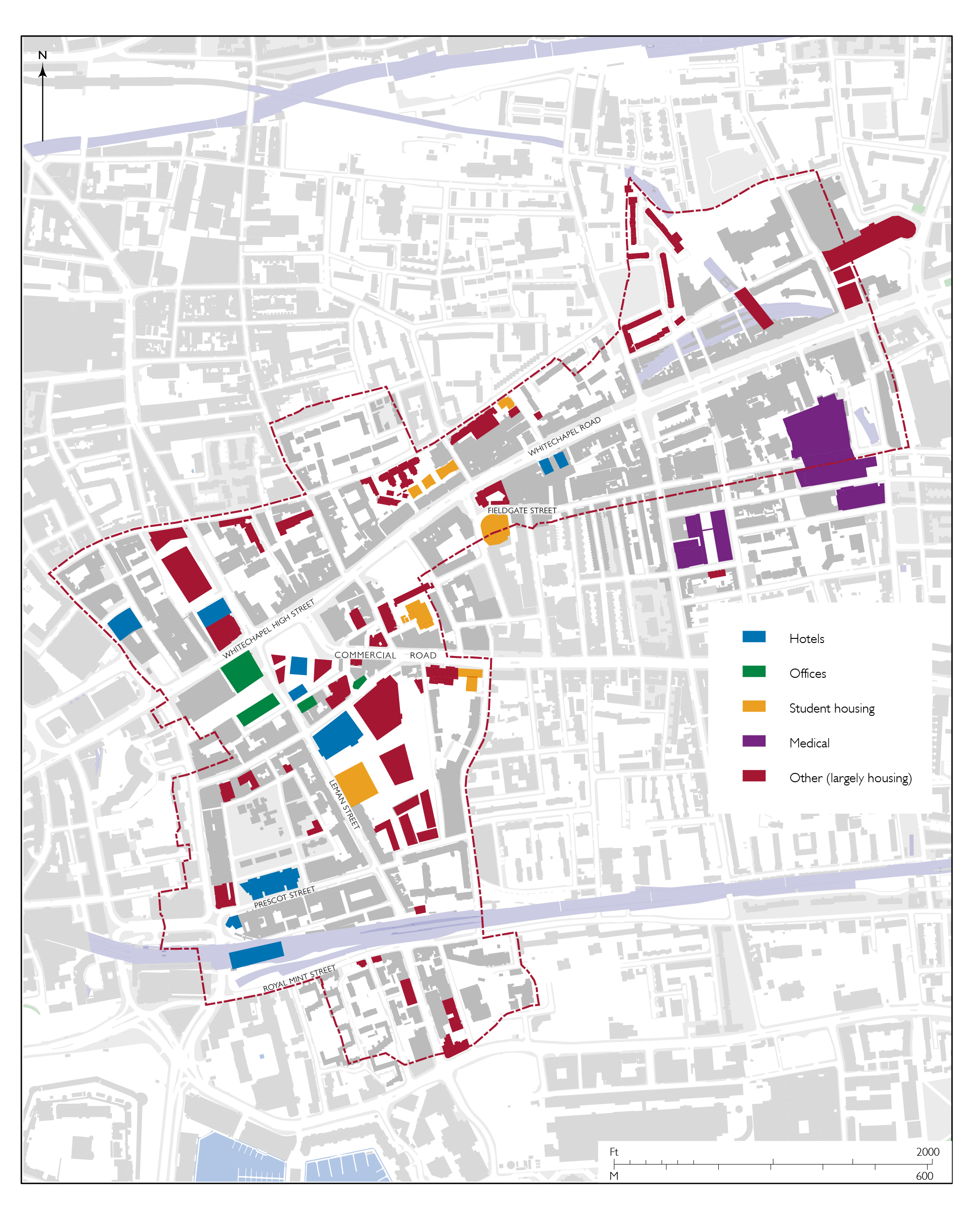 Map of new buildings in Whitechapel since 2000 (drawing by Helen Jones)
The reconfigured Gardiner's Corner site was developed as Aldgate Place. A twenty-one storey office scheme of 2007–9 was replaced by a residential project by British Land and Barratt London (2012–17) intending 463 flats. It was truncated in 2018 there being a glut of residential property on the local market. Four of seven blocks, rising up to twenty-five storeys, had been built.
Goodman's Fields, east of Leman Street, began as a Royal Bank of Scotland project in 2002, proposing flats and offices up to eight storeys. City Quarter materialized (2007), 203 flats of which 116 were 'affordable', shared ownership, or for key workers, alongside eighty-seven more flats in refurbished listed buildings. The Berkeley Group took over the rest of the project in 2010 and revised and enlarged the scheme without offices, for 920 homes in buildings rising up to twenty-one storeys (2014–19).
To the south, the Ordnance Building on Dock Street (2017–19), only permitted following appeals, rises to twelve storeys and has eighty-nine flats. Royal Mint Gardens, an air-rights project over railway lines, is the successor to ten-storey office schemes of the 1980s and '90s. IJM Land, a Malaysian property company, took a long lease in 2012 and has built the first part of a much bigger development, 254 flats over shops and offices in three fourteen-storey towers (2018–19).
Hotels featured in some of these developments, and proliferated elsewhere. Conversions from workshops and offices paved the way, on Osborn Street (2001), Prescot Street (2005), at Brunning House on Whitechapel Road (2010, enlarged 2018, with plans for a further block), on Adler Street (2013), and New Road (2018). What had been Black Lion House on Whitechapel Road was raised to ten storeys for another hotel (2020). A scheme to convert the Whitechapel Bell Foundry to use as a boutique-hotel went to a Planning Inquiry in 2020.
New-build hotels include a ten-storey block for 348 rooms behind Relay House (2008), the former Grange Tower Bridge on Prescot Street (2010), with 370 rooms in blocks of up to fifteen storeys, one of the Aldgate Place blocks (2019) with 212 rooms, an eight-storey block with 395 rooms on the Cromlech House site (2017), one of the Goodman's Fields blocks with 250 rooms (2015), and a fifty-seven-unit apart-hotel on Prescot Street (2019) that is to be enlarged. A further large hotel is intended at Royal Mint Gardens.
Student housing is also profitable. Rents are not low, there is ambiguity as to its planning use class, and schemes are free of Section 106 payments. Don Gratton House on Old Montague Street (2005, extended 2011) is low-rise. The Curve (2012) is a nine-storey block for 339 student rooms and nine flats over a supermarket. Magenta House on Greatorex Street (2012) has 187 rooms in six-storey blocks. Drapery Plaza (2013), part of Goodman's Fields on Leman Street, has 617 rooms in up to ten storeys. Assam Place (2014) behind Commercial Road has an eighteen-storey tower and 346 rooms. A twenty-one-storey tower at 60 Commercial Road (2015) has 417 rooms. There is approval for more on the corner of Whitechapel High Street and Middlesex Street, a twenty-four storey tower for 953 student rooms over offices.
There were also estate regenerations, whereby social housing was transformed through redevelopments that tapped into the profitability of property. Tower Hamlets Council transferred the New Holland Estate to EastEnd Homes for its redevelopment in 2006–15. In and around the retained, refurbished, and twice re-clad tower at Denning Point, 'affordable' housing is a part of a mix that includes 179 new flats and houses; some of these are in Kensington Apartments on Commercial Street, a twelve-storey block opposite Toynbee Hall, evidently named for marketing to buyers, overseas or otherwise, with little sense of London's geography. Toynbee Hall redeveloped the housing on its north and east perimeters in 2012–19 as three blocks for sixty-three flats, of which fourteen are 'affordable'.
Alongside all this housing, there were some glass-faced office projects on Leman Street's west side, at Aldgate Tower (2014) and One Braham (2020), replacing Beagle House, both rising eighteen storeys. Central House was also raised six storeys (2020) for more offices. A scheme for a twenty-storey office block on Whitechapel High Street's eastern corner with Commercial Street aimed to take tall glass deeper into Whitechapel. Following objections, it was revised down to fourteen storeys in 2020–1.
More of a surprise than speculative offices was the arrival in Whitechapel of august institutional headquarters, for the Royal College of Psychiatrists in a former bank call-centre on Prescot Street (2013), and for the Royal College of Pathologists in a new building by Bennetts Associates on Alie Street (2019). Further, the Royal London Hospital was rebuilt in 2007–12 in a vast Private Finance Initiative project. High Street 2012, stimulated by plans for the London Olympics, comprised cosmetic improvements to numerous existing High Street and Whitechapel Road frontages, with related enhancements of the market on the Waste and Altab Ali Park. The former Sedgwick Centre, refurbished as the White Chapel Building in 2018 was to have incorporated a photography museum, an unfulfilled plan.
Anticipating yet more growth and development pressure associated with Crossrail, Tower Hamlets Council produced a Masterplan in 2013 that proposed 3,500 more homes and seven new public squares and open spaces in Whitechapel, defined as an area centred on Whitechapel Station, so excluding areas west of Greatorex Street and Plumber's Row. In 2018 the Council itself began work on converting and enlarging the disused former London Hospital buildings to be a Civic Centre.
Some large schemes for this easterly district have arisen, and are noted here, knowing that there is great uncertainty. Plans for a former London Hospital Estate site flanking Philpot Street north of Varden Street propose buildings of up to twenty-three storeys for more than 300 flats on what London and Newcastle is calling Whitechapel Estate. Sainsbury's joined with Far East Consortium in 2020 for another large project in the north-east corner of the parish, to be Whitechapel Square. Just south-east, outside the parish, the Silk District is another huge development project of up to twenty-five storeys for 620 flats for Mount Anvil and L&Q that had largely sold off-plan in 2018. Queen Mary University London's Life Science Campus is another key component of the 'Whitechapel Vision'.[110]
[1]: Stuart Hall, 'Old and New Identities, Old and New Ethnicities', in Anthony D. King (ed.), Culture, Globalization and the World-System: Contemporary Conditions for the Representation of Identity, 1991 (edn 1997), pp.41–68 (48)
[2]: Bruno Barber and Jenny Hall, 'Digging Up the People of Roman London: Interpreting Evidence from Roman London's Cemeteries', in Ian Haynes, Harvey Sheldon and Lesley Hannigan (eds), London Under Ground: The Archaeology of a City, 2000, pp.102–120 (102): Ralph Merrifield, London: City of the Romans, 1984, pp.14–22,134: Bruno Barber, David Bowsher and Ken Whittaker, 'Recent Excavations of a Cemetery of Londinium', Britannia, vol.21, 1990, pp.1–12 (4): archaeologydataservice.ac.uk/archives/view/romcem_eh_2009/: Bruno Barber and David Bowsher, The Eastern Cemetery of Roman London: Excavations 1983–1990, MOLAS Monograph 4, 2000
[3]: Merrifield, Romans, pp.112,123: Museum of London Archaeology, The Archaeology of Greater London: An Assessment of Archaeological Evidence for Human Presence in the Area Now Covered by Greater London, 2000, pp.123–5: T. F. T. Baker (ed.), Victoria County History, A History of the County of Middlesex, vol.11: Stepney, Bethnal Green, 1998, pp.7–8: surveyoflondon.org/map/feature/296/detail/#ley-street-and-queen-matildas-12th-century-bypass
[4]: MoLA, London, pp.130,147: Museum of London, 'Roman London: the eastern cemetery Post-excavation assessment report and updated project design for research and publication', 1993, in archaeologydataservice.ac.uk/archives/view/romcem_eh_2009/downloads.cfm: Merrifield, Romans, pp.37-8,112,133: Barber, Bowsher and Whittaker, 'Cemetery', p.3
[5]: John Strype, A Survey of the Cities of London and Westminster, vol.2/4, 1720, p.23: Baker, Stepney, Bethnal Green, p.13
[6]: David Hughson, London; Being an Accurate History and Description of the British Metropolis vol.4, 1809, pp.433–4: Royal Commission on Historical Monuments, An Inventory of the Historical Monuments in London, vol.3: Roman London, 1928, pp.1712: Merrifield, Romans, p.176: Gentleman's Magazine, series 2, vol.5, April 1836, pp.371–2: romaninscriptionsofbritain.org/inscriptions/11:
romaninscriptionsofbritain.org/inscriptions/13
[7]: S. S. Frere, M. W. C. Hassall and R. S. O. Tomlin, 'Roman Britain in 1985', Britannia, vol.17, 1986, pp.363–454 (408): Robert Whytehead, 'The Excavation of an Area within a Roman Cemetery at West Tenter Street', Transactions of the London and Middlesex Archaeological Society, vol.37, 1986, pp.23–124: Barber, Bowsher and Whittaker, 'Cemetery', p.3
[8]: MoLA, London, pp.148–9,151: Barber, Bowsher and Whittaker, 'Cemetery', p.4: S. S. Frere, M. W. C. Hassall and R. S. O. Tomlin, 'Roman Britain in 1988', Britannia, vol.20, 1989, pp.257–345 (309,327): Sheila Girardon and Jenni Heathcote, 'Excavation Round-up 1988: Part 2, London Boroughs', London Archaeologist, vol.6/3, 1989, p.79: Rebecca C. Redfern, Michael Marshall, Katherine Eaton and Hendrik N. Poinar, '"Written in Bone": New Discoveries about the Lives and Burials of Four Roman Londoners', Britannia, vol.48, 2017, pp.253–77 (264–6)
[9]: A. H. Thomas (ed.), Calendar of the Plea and Memoranda Rolls of the City of London: vol.1 (1323–1364), 1926, pp.208–9: Baker, Stepney, Bethnal Green, pp.1–7: The National Archives (TNA), C146/4128
[10]: Strype, Survey of London, 1720, vol.4/5, pp.86–100: Hubert Llewellyn Smith, The History of East London, 1939, pp.50–60: Baker, Stepney, Bethnal Green, pp.19–52: Derek Morris, Whitechapel 1600–1800: a social history of an early modern London inner suburb, 2011, p.5: Mark Ballard, 'Copyhold tenure and the nature of development in the manor of Stepney', London Topographical Society newsletter, no.85, Nov 2017, pp.9–10: Isobel Watson, 'From West Heath to Stepney Green: Building Development in Mile End Old Town, 1660–1820', London Topographical Record, vol.27, 1995, pp.231–56
[11]: John Stow, A Survey of London, 1603, C. L. Kingsford (ed.), 1908, vol.2, p.70
[12]: Stow, A Survey of London, vol.1, p.127
[13]: Smith, East London, pp.58–9: LMA, M/93/138
[14]: C. J. Kitching (ed.), London and Middlesex Chantry Certificate 1548, 1980, pp.xxx–xxxi
[15]: M. Dorothy George, London Life in the Eighteenth Century, 1925 (edn 1964), p.413: Daniel Defoe, A Journal of the Plague Year, 1722 (edn 1969), pp.47,268: Neil Cummins, Morgan Kelly and Cormac Ó Gráda, 'Living standards and plague in London, 1560–1665', Economic History Review, vol.69/1, 2016, pp.3–34 (p.9): www.gresham.ac.uk/lecture/transcript/print/17th-century-plague/: John Landers, Death and the Metropolis: studies in the demographic history of London 1670–1830, 1993, pp.301­–55
[16]: Parliamentary Papers (PP) 1837–8 (447) XXVIII, Fourth Annual Report of the Poor Law Commissioners, appx C, p.45: LMA, P93/PAU2/212: ELO, 7 Sept 1861: B, 24 March 1866, p.219; 26 July 1890, p.73: Census: George, London Life, p.413: www.visionofbritain.org.uk/unit/10071306/cube/TOT_POP: www.visionofbritain.org.uk/unit/10071306/cube/POP_DENS-A: Anthony S. Wohl, The Eternal Slum: Housing and Social Policy in Victorian London, 1977, p.312: Gareth Stedman Jones, Outcast London: A Study in the Relationship Between Classes in Victorian Society, 1971 (edn 2013), p.231
[17]: data.london.gov.uk/dataset/historic-census-population
[18]: Irene Scouloudi, 'Alien immigration and alien communities in London, 1558–1640', 1936, MSc thesis, King's College London: Irene Scouloudi (ed.), Returns of Strangers in the Metropolis, 1593, 1627, 1635, 1639: A study of an active minority, 1985: George, London Life, p.341
[19]: Oxford Dictionary of National Biography (ODNB): Jacob Selwood, Diversity and Difference in Early Modern London, 2010, p.63
[20]: As quoted by Anne J. Kershen, Strangers, Aliens and Asians: Huguenots, Jews and Bangladeshis in Spitalfields, 1666–2000, 2004, p.170
[21]: G. Reginald Balleine, The Story of St Mary Matfelon, 1898, p.22
[22]: Panikos Panayi, 'The Settlement of Germans in Britain during the Nineteenth Century', www.mawer.clara.net/ppanayi.html
[23]: Landers, Death, p.48: Tower Hamlets Local History Library and Archives (THLHLA), cuttings 022: Bronwen Walter, '"England People Very Nice": Multi-Generational Irish Identities in the Multi-Cultural East End', Socialist History Journal, vol.45, 2014, pp.78–102: Stedman Jones, Outcast London, pp.139,148–9
[24]: As quoted in Todd M. Endelman, The Jews of Georgian England, 1714–1830, 1979, pp.128,171–2: Albert M. Hyamson, The Sephardim of England: A History of the Spanish and Portuguese Jewish Community 1492–1951, 1951
[25]: Henry Mayhew, London Labour and the London Poor, vol.4, 1861, p.227: The Builder, 25 Jan 1862, p.54
[26]: The Builder, 16 March 1878, p.278
[27]: W. J. Fishman, East End 1888: A Year in a London borough among the labouring poor, 1988, p.131: David Englander (ed.), A Documentary History of Jewish Immigrants in Britain 1840–1920, 1994
[28]: Vivi Lachs, 'Singing in Yiddish about London: 1880–1940', European Judaism, vol.42/2, autumn 2009, pp.94–106 (103–5): jewisheastendmemorymap.org
[29]: Michael Banton, The Coloured Quarter: Negro Immigrants in an English City, 1955: The Times, 23 Dec 1977, p.1: Kenneth Leech, Brick Lane 1978: the events and their significance, 1980 (edn 1994), pp.6–10: Sukhdev Sandhu, 'Come hungry, leave edgy', London Review of Books, vol.25/19, Oct 2003: Geoff Dench, Kate Gavron and Michael Young, The New East End: Kinship, Race and Conflict, 2006, pp.33–51: Ansar Ahmed Ullah and John Eversley, Bengalis in London's East End, 2010: THLHLA, 'The Bengali East End: Histories of life and work in Tower Hamlets', 2012: Rozina Visram, Asians in Britain: 400 Years of History, 2002, pp. 14–33, passim: Sarah Glynn, Class, Ethnicity and Religion in the Bengali East End: A political history, 2015: Aminul Hoque, British–Islamic Identity: Third Generation Bangladeshis from East London, 2015
[30]: www.towerhamlets.gov.uk/Documents/Borough_statistics/Ward_profiles/Census-2011/RB-Census2011-Ward-Population-and-household-estimates-2012-10.pdf: Claire Alexander, 'Making Bengali Brick Lane: claiming and contesting space in East London', British Journal of Sociology, 2011, vol.62/2, pp. 201–19: The Independent, 29 Nov 2015
[31]: Robert Wilkinson, Londina Illustrata, vol.1, 1819, p.139
[32]: Janet Cumner, 'Mile End and Whitechapel: The almshouses along the Great Essex Road and their founders', in Nigel Goose, Helen Caffrey and Anne Langley (eds), The British Almshouse: new perspectives on philanthropy ca 1400–1914, 2016, pp.101–20
[33]: House of Commons Journals, vol.22, 1734, pp.270–1: London Metropolitan Archives (LMA), DL/A/C/MS19224/441: James Peller Malcolm, Anecdotes of the Manners and Customs of London During the Eighteenth Century, 1808, pp.8–9
[34]: PP 1837–8 (447) XXVIII, Fourth Annual Report of the Poor Law Commissioners, appx A, pp.91,94
[35]: The Builder, 25 Jan 1845, p.48: London Daily News, 2 June 1885, p.1: Ancestry
[36]: The Builder, 9 April 1853, p.226; 26 Oct 1850, p.514: Lloyd's Weekly Newspaper, 16 Dec 1849, p.4: TNA, HO44/39/85: East London Observer, 24 Aug 1912
[37]: Charles Voysey, A Corner in the Kingdom of God, 1861–1863, 1905, p.4
[38]: Voysey, Corner, p.48
[39]: Henrietta Barnett, Canon Barnett, His Life, Work, and Friends, vol.1, 1918, p.74
[40]: The Builder, 23 Sept 1865, p.675; 24 March 1866, p.219
[41]: Church of England Record Centre (CERC), FP Jackson 2, f.151: ODNB sub Lambert
[42]: Baldwin Leighton, Letters and Other Writings of Edward Denison, 1872, p.37: Henry Walker, East London, vol.1: Whitechapel, Sketches of Christian work and workers, 1896
[43]: Eastern Evening News, 11 Sept 1888, p.2: Emily Cuming, Housing, Class and Gender in Modern British Writing, 1880–2012, 2016, pp.23–72: Oxford English Dictionary
[44]: Margaret Harkness, In Darkest London, 1889 (edn 2009), p.12
[45]: Stedman Jones, Outcast London: Arthur G. Morrison, 'Whitechapel', Palace Journal, 24 April 1889, pp.1022–3: E. Dixon, 'A Whitechapel Street', English Illustrated Magazine, 1890, p.355–60: Geoff Ginn, 'Answering the "Bitter Cry": Urban Description and Social Reform in the Late-Victorian East End', London Journal, vol.31/2, 2006, pp.179–200: Oliver Betts, '"Knowing" the late Victorian East End', London Journal, vol.42/3, 2017, pp.257–72: Sarah Wise, 'Povertyopolis: Beyond the East–West Binary in the Late-Nineteenth-Century London Literary Imagination', The London Journal, vol.46/1, 2021, DOI: 10.1080/03058034.2020.1854499
[46]: The Letters of Rosa Luxemburg, George Adler, Peter Hudis and Annelies Laschitza (eds), translated by George Shriver, 2011, p.239
[47]: 'Whitechapel', Picture Post, 15 Oct 1938, pp.26–7: Emanuel Litvinoff, Journey Through A Small Planet, 1972
[48]: Daily Telegraph, 21 Oct 1970
[49]: 'This is Whitechapel', exhibition catalogue, 1972, pp.5,13
[50]: Paul Beasley, 'This is Whitechapel', exhibition catalogue, 1972, p.40
[51]: THLHLA, John Furse, 'Inside Whitechapel', 1973, unpaginated: Amateur Photographer, 5 July 1972, pp.62–4
[52]: Mark Girouard, Dan Cruickshank, Raphael Samuel et al, Saving of Spitalfields, 1989
[53]: George, London Life, p.413: M. J. Power, 'East London housing in the seventeenth century', in Peter Clark and Paul Slack (eds), Crisis and order in English towns, 1500–1700, 1972, pp.237–62: Matthew Davies, Catherine Ferguson, Vanessa Harding, Elizabeth Parkinson and Andrew Wareham (eds), London and Middlesex 1666 Hearth Tax, 2014, pp.142–145,1385–1436: TNA, E179/143/370, rot.32–6
[54]: LMA, MR/B/SRC/001
[55]: Morris, Whitechapel, pp.45–8
[56]: Report of the Medical Officer of Health for Whitechapel, 1876, p.10; Annual Report of the Medical Officer of Health for Whitechapel, 1894, p.10: Jane Hamlett, At Home in the Institution: Material Life in Asylums, Lodging Houses and Schools in Victorian and Edwardian England, 2015
[57]: The Builder, 19 April 1873, p.311: First Report of the Commissioners for Inquiring into Large Towns and Populous Places, vol.1, 1844, pp.103–11: Reports of the Medical Officer of Health for Whitechapel, 1856, p.3; 1861, p.6; 1863, p.3: www.visionofbritain.org.uk/unit/10071306/cube/HOUSE_OCCUPANCY: Stedman Jones, Outcast London, pp.164,232
[58]: Henrietta Barnett, Canon Barnett, p.129: Wohl, Eternal Slum, pp.84–95: Stedman Jones, Outcast London, pp.197–9
[59]: Susannah Morris, 'Market solutions for social problems: working-class housing in nineteenth-century London', Economic History Review, vol.54/3, 2001, pp.525–45 (p.534)
[60]: Isobel Watson, 'Rebuilding London: Abraham Davis and his Brothers, 1881–1924, The London Journal, vol.29/1, 2004, pp.62–84
[61]: Charles Booth et al, Life and Labour of the People in London, Third Series: Religious Influences, vol.2, 1902, pp.61–2: Wohl, Eternal Slum, p.171
[62]: D. L. Munby, Industry and Planning in Stepney, 1951, pp.76–104: player.bfi.org.uk/free/film/watch-tenants-in-revolt-1939-online: Sarah Glynn, 'East End Immigrants and the Battle for Housing: a comparative study of political mobilisation in the Jewish and Bengali communities', Journal of Historical Geography, vol.31, pp.528–45
[63]: Owen Hatherley, Red Metropolis: socialism and the government of London', 2020, p.69
[64]: 'LCC Planning – 1943–1960', Official Architecture and Planning, vol.23/6, June 1960, pp.262–5: William J. Fishman, The Streets of East London, 1979, pp.92–5: Leech, Brick Lane 1978, pp.11–12
[65]: Ullah and Eversley, Bengalis, p.42: Glynn, Bengali East End, pp.120–46: Kershen, Strangers, Aliens and Asians, p.67
[66]: Public Ledger, 27 July 1774: LMA, SC/PM/ST/01/002: Colvin, pp.450–1: District Surveyors' Returns: The Builder, 30 May 1891, p.428: RIBA Journal, 28 May 1891, p.323; 22 Feb 1936, p.441
[67]: Alexander et al, Banglatown
[68]: Hughson, London, p.435
[69]: www.bartshealth.nhs.uk/the-royal-london
[70]: Sharman Kadish, '"Eden in Albion": A History of the Mikveh in Britain' in Sharman Kadish (ed.) Building Jerusalem: Jewish Architecture in Britain, 1996, pp.101–54
[71]: Sharman Kadish, A Good Jew and a Good Englishman: The Jewish Lads' and Girls' Brigade, 1995
[72]: Morris, Whitechapel, pp.65–70,164: George, London Life, p.187
[73]: PP 1888 (361) First Report from the Select Committee of the House of Lords on the Sweating System, pp.515,844; 1888 (448) Second Report etc, pp.571,582; 1889 (331), Fourth Report etc, p.587: Fishman, East End, pp.63,132
[74]: 'Whitechapel', Picture Post, 15 Oct 1938, p.28: Andrew Godley, 'Immigrant Entrepreneurs and the Emergence of London's East End as an Industrial District', London Journal, vol.21/1, 1996, pp.38–45: Munby, Industry, pp.57–8,161–224: Anne J. Kershen, Uniting the Tailors: Trade Unionism amongst the Tailoring Workers of London and Leeds, 1870–1939, 1995
[75]: George Dodd, Days at the Factories, 1843, p.90: Julie L. Holcomb, 'Blood-Stained Sugar: Gender, Commerce and the British Slave-Trade Debates', Slavery & Abolition, vol.35/4, 2014, pp.611–28
[76]: Calendars of the Proceedings in Chancery in the Reign of Queen Elizabeth, vol.1, 1827, p.22: Philippe Chalmin, The Making of a Sugar Giant: Tate and Lyle, 1859–1989, 1990, pp.12,14,53–4: Bryan Mawer, Sugarbakers: From Sweat to Sweetness, rev. edn 2011, pp.11,14–15: Geoffrey Fairrie, The Sugar Refining Families of Great Britain, 1951, pp.24–5: Morris, Whitechapel, pp.58–62,163
[77]: George Martineau, Sugar from Several Points of View, 1918, p.475
[78]: East London Observer, 22 Feb 1868, p.7: Munby, Industry, pp.65–6: Chalmin, Sugar Giant, p.54: Mawer, Sugarbakers, p.41
[79]: Charles Dickens, The Uncommercial Traveller, 1860, chapter 35 (p.340)
[80]: Charles Voysey, A Corner in the Kingdom of God, 1905, p.7: Dodd, Factories, pp.89–110: Mawer, Sugarbakers, pp.26–7,39–41,46–48,52–65
[81]: TNA, hearth-tax returns: Morris, Whitechapel, pp.51–4: Munby, Industry, pp.252–4
[82]: Peter Earle, The Making of the English Middle Class, 1989, pp.25–27: Ayesha Mukherjee, Penury into Plenty: Dearth and the Making of Knowledge in Early Modern England, 2014, pp.118–19: Munby, Industry, pp.18–19,71–2: Morris, Whitechapel, pp.55–8
[83]: British Journal, 15 June 1723: Morning Post, 9 Oct 1843, p.4: The Builder, 5 Sept 1857, p.515
[84]: Calendar of the Close Rolls Preserved in the Public Record Office, Henry VI, vol.6, 1454–1461, 1939, p.290
[85]: Munby, Industry, pp.72–4,247–63: Morris, Whitechapel, pp.62–4
[86]: Munby, Industry, p.245
[87]: PP 1833 (690), Reports from the Select Committee on Manufactures, Commerce and Shipping, vol.6, p.89
[88]: Anon., Reminiscences of An Old Draper, 1876
[89]: LMA, MR/LV/05/026
[90]: jewisheastendmemorymap.org/?feature_type=polygon&id=72; jewisheastendmemorymap.org/?feature_type=polygon&id=93
[91]: Nurull Islam and Rehan Jamil, Changing Tastes, film, 2018; surveyoflondon.org/map/feature/39/detail/#media
[92]: Claire Alexander, Seán Carey, Sundeep Lidher, Suzi Hall and Julia King, Beyond Banglatown: Continuity, change and new urban economies in Brick Lane, 2020, at www.runnymedetrust.org/uploads/publications/pdfs/RunnymedeBanglatownReport.pdf: Saif Osmani, 'Crossroads: What makes Brick Lane's Banglatown culturally distinct', 2020, UCL MA dissertation: Rehan Jamil, Chicken, 2015, vimeo.com/132019487
[93]: Gil Toffell, Jews, Cinema and Public Life in Interwar Britain, 2018
[94]: Letters and Papers, Foreign and Domestic, Henry VIII, vol.12/2 (June–Dec 1537), 1891, item 594: Balleine, St Mary Matfelon, pp.12–13: ODNB sub Hunne
[95]: Murray Tolmie, The triumph of the saints: the separate churches of London, 1616–49, 1977, p.76: ODNB
[96]: Gordon Barnes, Stepney Churches: An Historical Account, 1967, p.73
[97]: ODNB: Balleine, St Mary Matfelon, pp.33–5
[98]: CERC, FP Jackson 2, ff.513–4
[99]: THLHLA, George Hanks, 'Whitechapel, Parish "St Mary Matfelon" 1908–1916', n.d., p.6
[100]: CERC, FP Terrick 23, ff.187–8
[101]: Sharman Kadish, The Synagogues of Britain and Ireland: An Architectural and Social History, 2011, chapters 10 and 11: HEA, Survey of the Jewish Built Heritage Archive, Samuel Melnick, 'Sites of Synagogues in East London 1800–1940', n.d., early 1990s. The essay from which the present summary is derived (Sharman Kadish, 'Jewish Built Heritage in Whitechapel') is elsewhere on this website at surveyoflondon.org/media/uploads/2018/12/17/jewish-built-heritage-in-whitechapel-sharman-kadishfinalwebversion2018-12-16.pdf. Note on transliteration: names of synagogues mostly follow spellings used when they existed. General terms follow Yiddish Ashkenazi form, rather than standard modern Hebrew, reflecting more closely pronunciations used by Whitechapel's Jewish population.
[102]: Laura Vaughan and Kerstin Sailer, 'The metropolitan rhythm of street life: a socio-spatial analysis of synagogues and churches in nineteenth century Whitechapel', in Colin Holmes and Anne Kershen (eds), An East End Legacy: Essays in Memory of William J. Fishman, 2017, pp.188–210
[103]: Beatrice Potter, 'The Jewish Community', in Charles Booth (ed.), Labour and Life of the People, vol.1, East London,1889, pp.568–9
[104]: ODNB: Edward Jamilly, 'Synagogue Art and Architecture', in Salmond S. Levin (ed.), A Century of Anglo-Jewish Life, 1870–1970, 1970, pp.75-91 (83)
[105]: Jewish Chronicle, 22 Feb 1889, p.18: Kadish, Synagogues, pp.150–2
[106]: www.towerhamlets.gov.uk/Documents/Borough_statistics/Ward_profiles/Census-2011/RB-Census2011-Ward-Population-and-household-estimates-2012-10.pdf: Evening Standard, 25 Feb 2015, p.19: Shlomit Flint Ashery, Micro-residential Dynamics: A Case Study of Whitechapel, 2018
[107]: THLHLA, Aldgate East Urban Design Guidelines, 1992: Mayor of London, London Plan, 2004, p.247: BD, 20 July 2011, p. 2: Estates Gazette, 11 March 2013
[108]: Ken Livingstone, Mayor of London, public letter, March 2006
[109]: Crossrail, 'Whitechapel On Track', Nov 2010
[110]: Tower Hamlets Borough Council, 'Whitechapel Vision Masterplan Supplementary Planning Document', Dec 2013; 'Whitechapel Vision Regeneration Prospectus', May 2015: Homes and Property, 10 July 2018