The Crown and Seven Stars
Contributed by Survey of London on Jan. 25, 2017
There was a public house of the name Crown and Seven Stars at the corner of Blue Anchor Yard and Rosemary Lane (the name of Royal Mint Street until the late 1850s) by 1790. The present building was described as 'recently built... with superior elevation' in 1829.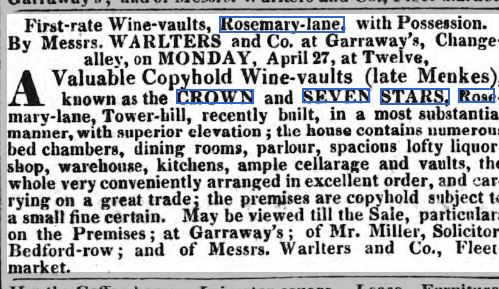 The signage on the front suggests reuse of an existing building, but it seems likely, given that the premises included a warehouse in 1829, that it refers to use of part of the building for the retail and wholesale sale of wines and spirits concurrent with its use as a public house which has apparently been unbroken since 1790. The pub was renamed the Artful Dodger in 1985.