Posted by Survey of London on July 6, 2018
On Saturday 16th June at 12.30pm, a play written by Celeste from the Off the Wall Players was performed. The play was one of a number of events which took place during the Aldgate Festival (15th-17th June), marking the opening of a new public square located adjacent to St. Botolph's Aldgate.
Celeste grew up in Wapping and has lived and worked in the East End for decades. She has been involved with many oral history projects documenting untold stories of East London people. The Survey of London caught up with her as she prepared for the performance to reflect on the connection between her work in the applied arts and local heritage.

Celeste overlooking Aldgate Square under construction (6 June 2018).
"I'm looking at the space now...and I'm quite nervous. It's next week! The performance is based on the Inside Out: Aldgate Women's Oral Histories project.
I'm really interested in women, space, visibility and community in the Aldgate/Whitechapel area and these concerns are central to the project. I want to triangulate history, the applied arts and culture. The driving force behind all my projects is firstly to make visible the invisible narratives, and secondly, I really believe in the strength of community and that, when applied art is done in the right way, it can really bridge a gap, helping with social cohesion. Thirdly, the projects are about supporting education...I'm a teacher by training but didactic teaching is not the only way to teach.
In a way, the distinction between Aldgate and Whitechapel seems to be more important now than it was in the past. Obviously back then you had your little local areas, but when I was growing up you mostly just had the East End. The boundary between Aldgate and Whitechapel was a bit more fluid. Because of where we are located, in an economic loop with the City, local identity straddles the East End. It's not so easy to make those internal lines of division because it's defined so much by being the 'other'. You cannot live in any of the East London areas and not be touched by the City. It's hard to talk about one without the other. The city is like a feeder. Even Whitechapel is a feeder. At some point most people in the East End have had a job in Whitechapel or Aldgate. I've had lots of different jobs around here. In the past, even though a lot of women worked from home elsewhere in the East End, they might do 'piece work' for a factory in Whitechapel, and travel back and forth once a week to deliver their work.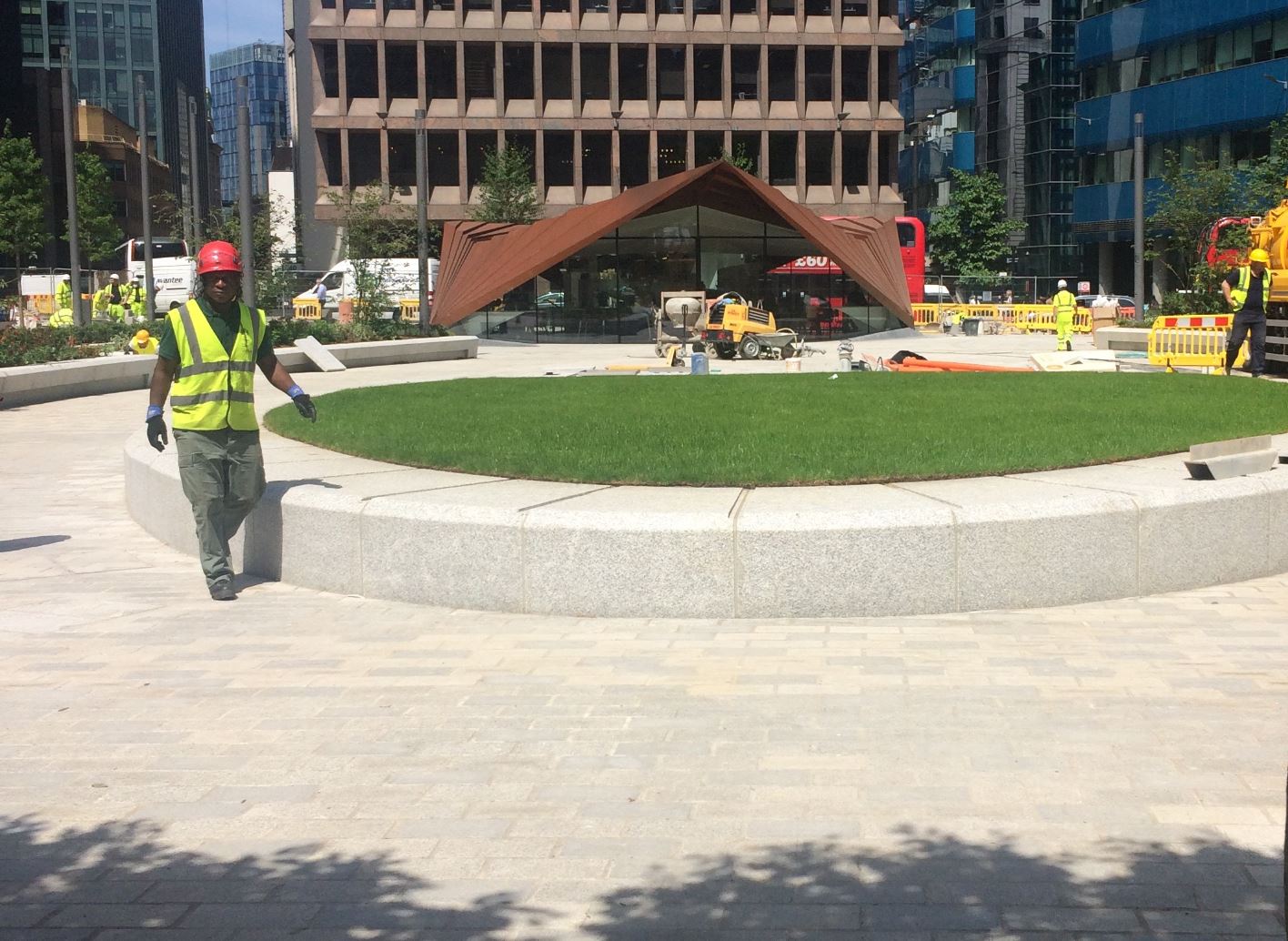 Looking north, Aldgate Square under construction (6 June 2018).
People talk about the decimation of communities after the collapse of the mining industry, but they don't talk about the effects the closure of the Docks and the slowing of the rag trade had on the East End. It was different after that. I remember when things were closing down in the 1980s and 1990s. Two or three decades previous to that, work was more easily available in the East End, especially casual work. People would tell me that they'd go down to the Docks and get in line to be chosen for work that day and the supervisors would pick men out. They might have only arrived fairly recently, but they found some kind of work quickly. Nowadays it is really difficult. Although lots of people will have worked in the City at some point, or in Whitechapel or Aldgate, that ease of finding work is not there. It's really changed the East End and who lives here.
Even when I was growing up, people talked like the rag trade was just the Huguenots, but in my lifetime the markets like Petticoat Lane and Whitechapel Market were vibrant, diverse places. Up until 1990s factories here would make clothes for the big fashion houses. I got a sample dress from Missoni at Whitechapel Market for £10 once. If you were an East Ender, you had the opportunity to better yourself and look good. That is much harder now.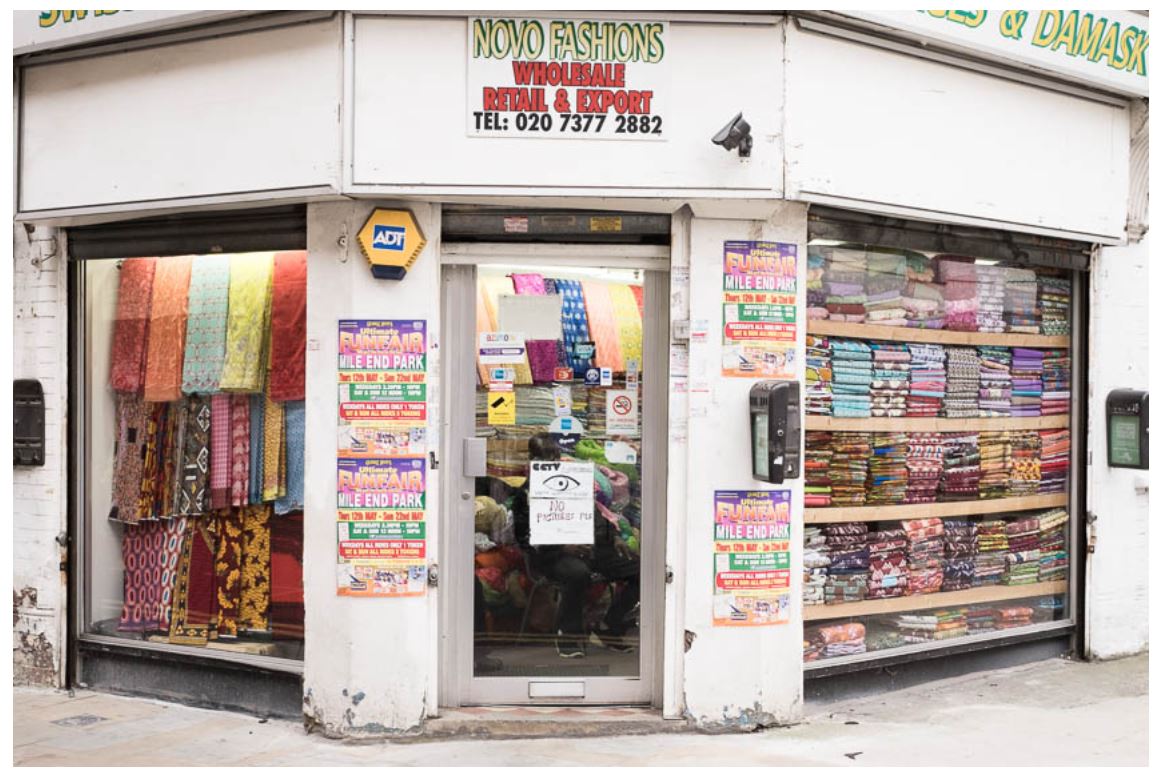 19 Wentworth Street in 2016, copyright Tamara Stoll.
My [maternal or paternal] grandmother had a stall at Whitechapel Market. It was for much less specific group of people then. There used to be a leather market on Petticoat Lane and my grandfather was a skilled shoemaker and leather seller there. My dad had a [clothing] factory in Brick Lane, and a shop in Watney market.
My maternal grandmother moved here from Jamaica in the late 1950s. I think she lived in Old Montagu Street before she went back to the Caribbean to pick up her children and then came back to London again. She came by plane as she was from quite an affluent family. That's quite an unusual story. She didn't come by ship. Her uncle came earlier in the late 1940s or early 1950s, also by plane, as did my mum who came in the 1960s. Because she was a young child, my grandmother had to pay for a Nanny to look after her on the journey from Jamaica to here.
I grew up in Wapping and when I was five, six, seven, I would go to visit people with my grandmother after church. These could be people in their eighties, and I remember them talking about how they were forcibly taken to work on ships at as young an age as eleven, arriving in the UK around that age too. This is the story of stowaways that is not really unknown. There are so many layers to migration. It's amazing I remember these stories as I was so young at the time, but there were many people who would say the same thing.
I've been doing arts projects since I was a teenager...but as an adult I wrote a play called Saturday Soup. It was put on at the Brady Arts Centre and was written through a series of workshops with the local Caribbean community and based on the theme of relationships. We talked to people between the ages of 18-70. I like to work in an interactive way. When you're doing oral history, it's fully interactive. When I'm doing a straight play, I still like to have an interactive element, so, after a performance in January 2014, we had a Q&A and Caribbean food after. People participating said, "Oh I didn't know there were Caribbean people in the East End." When I'd go to other areas of London and said I was from the East End, other black people would say, "Really?", and say I didn't sound really East End or like a cockney. This interest in documenting untold stories eventually led to an oral history project called 'Backyard – Reflections of Home and Belonging' which collected stories of London's Afro-Caribbean community in Tower Hamlets. The project was produced in collaboration with Nomad and Cultivaters.

Sample of Backyard's website.
I think the Survey of London's Whitechapel project is important because public space and buildings are used by people, so you're immediately talking about issues such as community, social inclusion, social exclusion. In a way, by mapping human space you are mapping human nature. By focussing on space and buildings, you get to map everything about a place. If you start with one person, or even a group of people, you miss things. I suppose I think in quite a non-linear way, I like to see connections. For me, you can't map a space and a building without mapping the people."