Posted by Survey of London on Dec. 23, 2017
On Christmas Eve 1872, a reporter from the London Evening Standard rambled through the streets of East London. His observations of the hurried preparations for Christmas commenced in Wapping and the area around Cable Street, then moved up through Commercial Road onto Whitechapel Road with its bustling market.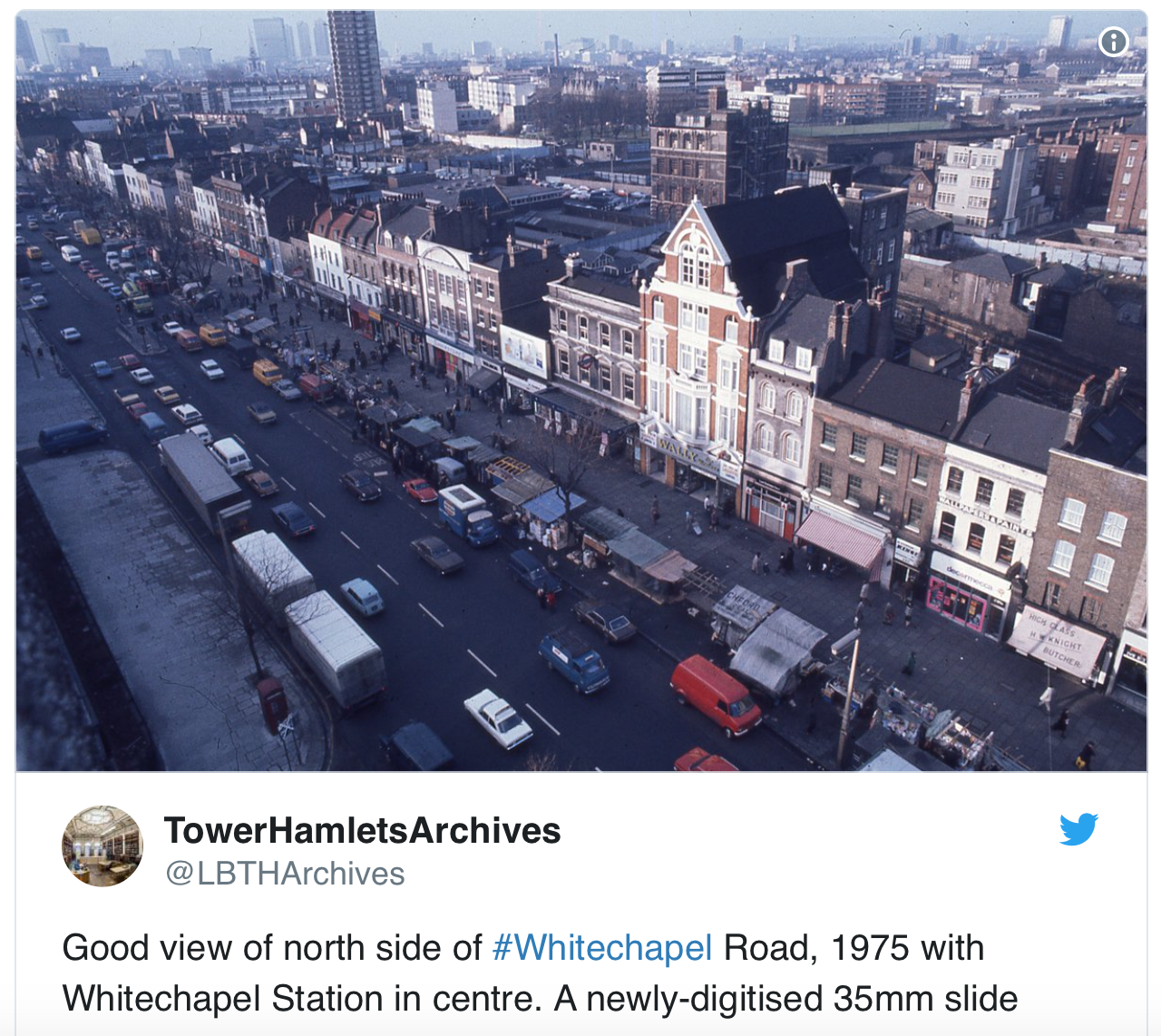 The newspaper report began with the reflection that: "the great duty and pleasure of Christmas is to buy the dinner for Christmas day." It continued: "It is in the streets that the lower classes are to be found on Christmas Eve, and the region from Whitechapel Road to the river may be taken typical of the whole district…Upon Christmas Eve the majority of those who frequent the pawn-shops [of the Highway] do so to obtain money, but upon the Saturday pre-ceding, and indeed during the week before Christmas, up to the very evening before, the movement has been the other way. Articles of clothing, little pieces of furniture, and ornaments have been redeemed with a view of making house and person look their best upon the festival. But we must not linger here, for the Whitechapel Road is our goal: here we shall see the real Christmas Eve work at its height. We cross the Commercial Road broad, well-lighted, and with good shops of all kinds…On now through more narrow lanes, and then out into the Whitechapel Road. Here is indeed a contrast to anything we have seen before, a scene of bustle and noise, of amusement and business, of general good temper, such as it does one good to see."
'Whitechapel Shops' by Joseph Pennell, c.1899. It actually depicts Aldgate High Street. Illustration from Walter Besant's 'East London' (London: 1901), p.190.
Aware of its wide readership, the report outlined that: "Whitechapel Road is well known in the East; it is its Regent Street and Oxford Street rolled into one…Still, well known as the road is in its own quarter of the town, there are existent Englishmen who have not seen it, and for their information I may describe it as a road of great length and considerably wider from house to house than any thoroughfare I know of in London. Upon the south side the pavement is wide, and towards the western end occupied by costermongers' trucks and stands, but at the eastern end it affords in its desertion and darkness a singular contrast to the bustle and activity of the north side of the road. Here the footway is perhaps fifty feet wide, and along its whole length, with their backs to the road, are an unbroken line of stalls, carts, trucks, and erections of itinerant vendors. The walk between this row of stalls and the shops was so crowded with people that it was difficult to make one's way, impossible to walk fast. It resembled a French scene more than an English one, and might, with a little stretch of the imagination, have been taken for a Parisian Boulevard during the fair at the end of the year."
Extract from Ordnance Survey map of 1873.
"Here was the great market of the East End, here was shopping going on in full force. The variety of the contents of these stalls was wonderful. Here was a bower of evergreens, holly, and mistletoe; next to it a truck with oranges, then fish, then piles of vegetables, cabbages, parsnips and turnips. Then came stalls of toys, drums and whistles, of dolls, paper lanterns, and gilt gingerbread, stalls of toys at four a penny, choose where you will; men selling twelve articles, among which was a gold wedding ring, for a penny; men with yards of songs; stalls with looking glasses, stalls belonging to butchers and furniture shops on the other side of the path, which had spread across and formed an island dependent on the parent establishment; tin-ware stalls, second-hand boot stalls, stalls where you shoot for nuts, and stalls where you could turn a wheel for toys….Here were booths with hardware, with baskets and with brushes, and covered stalls with bonnet and cap flowers, with ribbons and neckties, and brightly coloured paper flowers for mantel pieces and vases. Here were men with trucks of rusty locks and keys, jacks for roasting at a penny, and toasting forks and scones for six candles at the same price."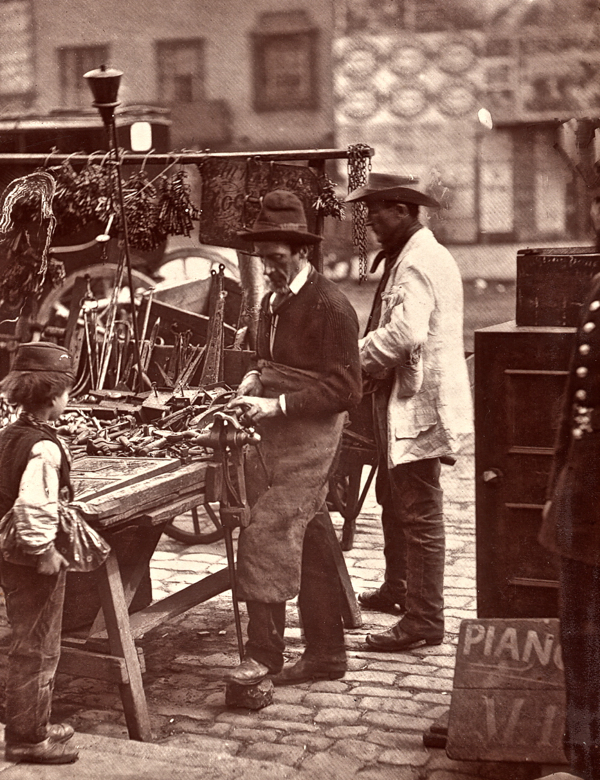 The Street Locksmith: "there are several devoted to this business along the Whitechapel Rd, and each possesses a sufficient number of keys to open almost every lock in London." Photograph and quotation from 'Street Life in London' by John Thomson and Adolphe Smith (London: 1877). Image © LSE Digital Library.
"Here, too, were creature comforts for present use, baked potatoes, hot pies, and shell fish cooked and raw. Prominent among them was an erection belonging to a vender of bloaters, but he had so completely lined it with fish, hanging in regular lines tail downwards, that it sparkled in the light until it looked like a scene from the icicle palace of King Frost in a Christmas pantomime. Imagine all these stalls, multiply them by fifty, mix them up together confusedly illuminate them by petroleum gaslights, surround them with a busy, amused, anxious throng, some purchasers, some lookers-on, put children's faces peering everywhere, and add the shouting of countless costermongers, and the picture is complete…"
Petticoat Lane, Christmas shoppers. Image from the Illustrated London News, Dec 1949.
"The drizzling rain thinned the crowd a little early in the evening, but at about nine o'clock it held up, and the pavement was soon crowded again. There are many men here, but the women are in the ascendancy, and feel upon their own ground, as may be judged by the following remarks, which I heard, with variation countless times, "Where is your father, Eliza? What a man that is! I hav'n't bin five minutes in the shop, and there he's gone again, just staring about, you know…We hav'n't settled yet which piece of beef we're going to have for tomorrow…."
The Children's Ward of the London Hospital at Christmas. Image from The Graphic, 30 Jan 1886.
"It is not every one, however, who can afford to buy joints of meat. Here and there among the busy merry crowd hang thin women in worn clothes…They are the shadows upon the scene…Some of the children's faces too, must be looked upon as shadows, pale, worn, and preternaturally old, looking with eager eyes at the toys, the bright dolls, and shining knickknacks…Most of us like to see snow upon the ground on Christmas day, but it is a pleasure well worth giving up when we consider that what is pleasure to us is exquisite pain to thousands of these famished and ill-clad little ones." [1]
---
[1]: London Evening Standard, 25 Dec 1872