Posted by Survey of London on Nov. 27, 2017
Last week, two events in Whitechapel drew attention to recent initiatives seeking to archive Somali and Muslim history in London's East End. Although independent of each other and with differing approaches to the archival process, projects by Numbi Arts and the East London Mosque are ensuring African and Asian inflected histories of Whitechapel are brought to light and documented. The Survey was invited to participate in both events as a supporter and a brief report follows.
On 22nd November 2017 the East London Mosque Archives' strongroom was inaugurated. The new strongroom provides a stable and securely managed environment for records ranging from the London Mosque Fund Minute Book (from 1911) to photographs of the mosque's pre-fab building on Fieldgate Street in the 1970s. The opening itself was symbolically important, celebrating the first such Muslim archive in the UK. The evening was led by Sufia Alam of the Maryam Centre who has told some of her own Whitechapel story on the Survey's website here and here. Many trustees were in attendance, some of whom have served the mosque for decades and can remember the former building on Commercial Road. Summaries of the lives of Sulaiman Jetha, Haji Taslim and Hajja Mariam Ali (née Josephine Mary Morgan) can be read here.
Photo credit: @ELMarchives
Londoner and British Muslim, Mayor Sadiq Khan formally opened the strongroom with a speech that included the commendation that, "familiarity with our history helps us understand our present...only by chronicling our history can we benefit from the knowledge and wisdom of those that have gone before us." His visit was marked by a commemorative plaque which will be installed outside the strongroom. Other presentations were made by Mayor John Biggs of Tower Hamlets, Dr Valerie Johnson of The National Archives, and Rushanara Ali, MP for Bethal Green and Bow. Shahed Saleem, Senior Research Fellow at the Survey of London Whitechapel, was honoured with an award for his contribution to the ELM Archives project.
Photo credit: @MayorofLondon
The following day, at London Metropolitan Archives, Abira Hussein led a workshop which focussed on what an archive does and explored ideas of collective memory. She also presented documents relating to the lives of Somali seamen living in East London. The theme was expanded on by Paul Dudman of the Refugee Council Archive (UEL), who considered the issue of forced displacement in the context of the Somalian civil war. With a strong tradition of oral history, British-Somalian heritage is not always easily located in archives and Dudman noted that where "memories of refugees are 'moving', digitalised oral history archives can be seen as 'a project of human rights'".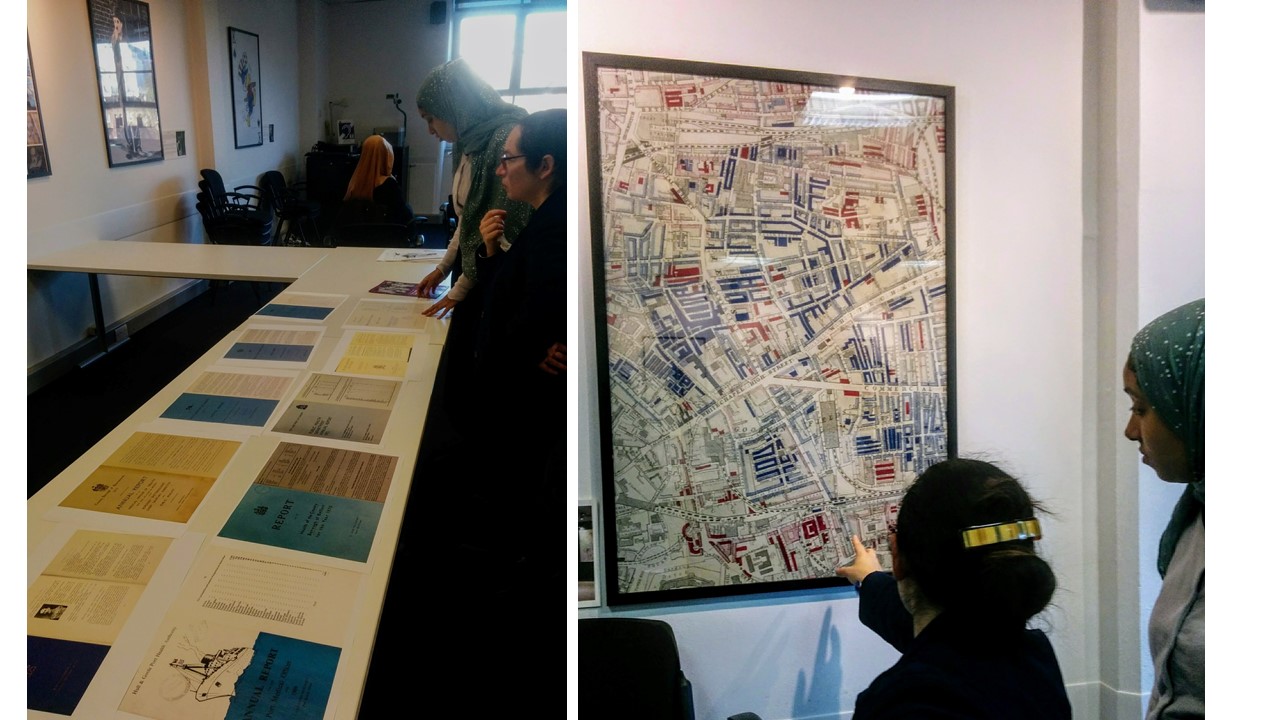 Afterwards, participants gathered in Spitalfields to begin a 'Hido Raac' (walk) south through Whitechapel. This was led by Hudda Khaireh and Kinsi Abdulleh of Numbi Arts, however everyone in attedance was invited to share their knowledge, which led to some unusual connections. As the group walked by the former Jewish Soup Kitchen at Brune Street, we learned that Somali soup kitchens once proliferated in the East End, at Calcutta House we stopped to consider the flow of trade between Africa, Asia and the UK during the colonial nineteenth-century, and at St Botolph's Aldgate we heard recent stories of tragic loss in the Somalian community, some of whom had drawn on the charitable services provided at the church.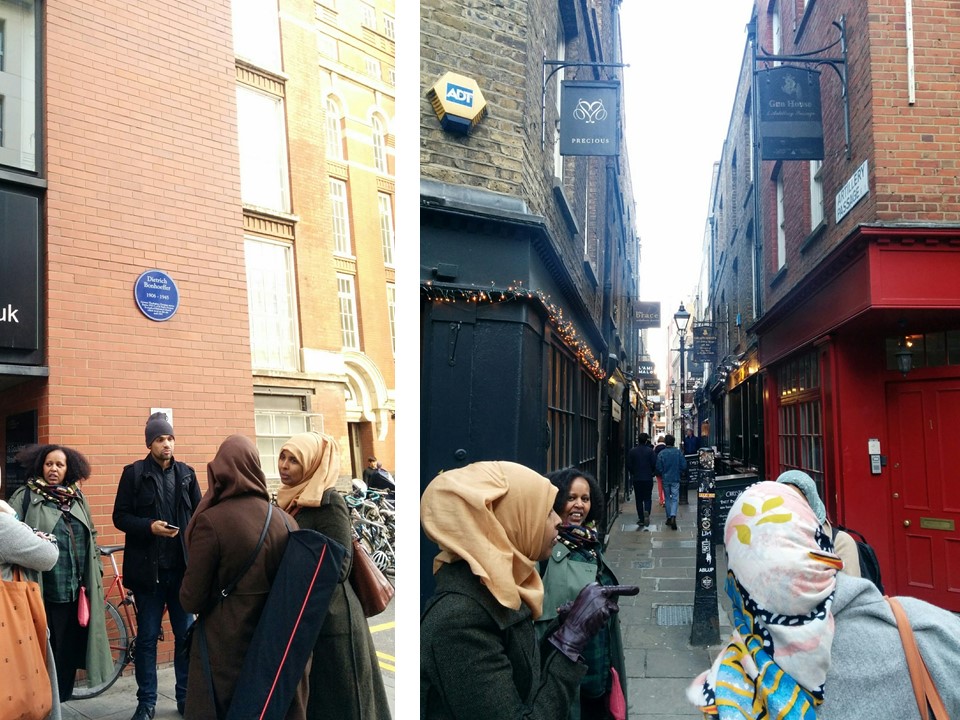 The day was covered by journalist Hana Bihi for London Live. You can view her audio-visual report featuring Abira and Kinsi here.