6 and 6a Commercial Street, Commercial Place and Sugar Loaf Court
Contributed by Survey of London on Dec. 13, 2018
Nos 6 and 6a Commercial Street incorporate an entry to the car park on the site of Commercial Place (formerly Sugar Loaf Court) and Spread Eagle Yard. The first court to be developed off Catherine Wheel Alley, the predecessor Street to Commercial Street, Sugar Loaf Alley or Court was a long narrow court of fourteen houses in existence by the 1670s. In the early eighteenth century these were held by Richard Arters 'clothworker and Citizen of London' (d. 1736).: The court became Commercial Place after the creation of Commercial Street in the 1840s and the old houses fronting Commercial Street and most of Commercial Place, by then condemned, were acquired in the 1870s by George Gardner straw and hay dealers based in Spread Eagle Yard.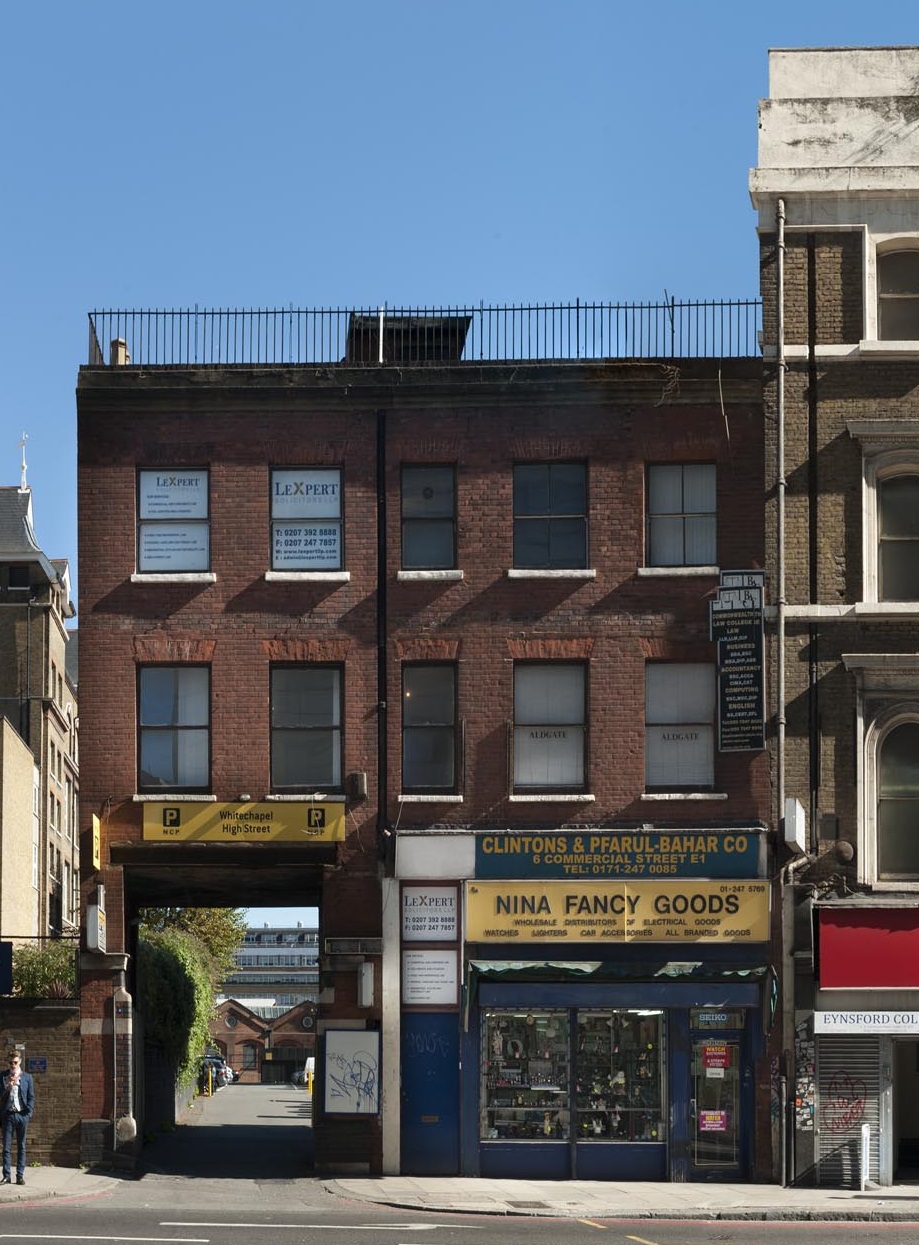 Nos 6 and 6a Commercial Street looking through to Gunthorpe Street, 2018. Photograph © Derek Kendall
Gardners demolished Commercial Place c. 1880 to create hay-cart storage and rebuilt the Commercial Street frontage in 1895-6 as the current red-brick shop-house, five windows wide, with an entry for their hay carts. The builders were Ashby Bros of Old Broad Street, the architect John Mackenzie Knight (1844-1912) of Mile End. Gardners departed in 1931 and the building was badly damaged during the Second World War and repaired in the 1950s. The hay- cart yard became part of the car park on the site of the former Spread Eagle Yard.