The Royal London Hospital Medical College
Contributed by Survey of London on Jan. 18, 2017
The Royal London Hospital has been associated with teaching since the early 1740s, when physicians and surgeons were permitted to take fee-paying pupils, along with dressing pupils, who paid an additional fee to dress wounds. The first lectures at the hospital took place in 1749 at the instigation of its founding surgeon, John Harrison. By 1781, a course of lectures on anatomy and surgery had been established. Despite these advances, pupils were obliged to attend lectures elsewhere in subjects such as chemistry and Materia Medica, the study of medicinal substances. Plans to extend teaching at the hospital were inhibited by a lack of room for lectures. Whilst other hospitals in the capital with rival courses possessed new lecture theatres, including St Thomas's (1775) and Guy's (1777), lecturers at the London Hospital were confined to makeshift arrangements, such as teaching in the court room or the repository. The provision of a purpose-built lecture theatre in 1783–5 was to expand teaching at the London Hospital and elevate its status to that of a medical school. The institution that later became the London Hospital Medical College, then part of the University of London in 1900 before it was assimilated into Barts and the London School of Medicine and Dentistry (Queen Mary University of London) in 1995, was first based in a purpose-built school east of the front block, on a site now occupied by the Grocers' Company's Wing. In 1854 the college moved to new, larger premises in Turner Street, which were rebuilt and enlarged in 1886–7 and 1898 to designs by Rowland Plumbe.
Old Medical College, 1783–5
In 1782 the hospital's surgeons and physicians petitioned the House Committee for permission to construct a lecture theatre. Represented by surgeon (Sir) William Blizard and physician Dr James Maddocks, who credited themselves for managing the 'executive part' of the enterprise, the surgical and medical staff promoted a model for hospital teaching that would combine practical experience with lectures in a range of subjects in 'Surgery and Physic'. They perceived that sound practice relied on theoretical instruction, and that the hospital offered 'continual opportunities' for taught principles to be demonstrated. The establishment of a medical school at the hospital would prevent students from travelling elsewhere for lectures and secure a ready body of trainees to treat urgent cases. It was also reasoned that the scheme would enhance the charity's reputation.
The intended lecture theatre was allocated a site at the east end of the front block with the condition that it would not impinge on the charity's resources. Despite this financial separation between the charitable institution and its burgeoning medical school, a building committee of hospital governors was assembled to monitor its progress. A public subscription was launched to raise funds for the lecture theatre, which was expected to cost no more than £600; an initial estimate thought to have been exceeded significantly.
Preliminary plans were presented to the committee in Spring 1783. It is not known whether these designs were produced by an architect, though it is evident that the medical staff possessed a large degree of autonomy over the form and layout of the intended building. Initial plans for a warm bath were postponed in 1783, when it was also decided that only one lecture theatre was necessary. These adjustments were approved, and the physicians and surgeons permitted to make arrangements for construction. By August, the building was reported to be at an advanced stage. Despite this progress, the hospital's 'new medical and surgical theatre' did not open as advertised in October 1783. As an interim measure, the physicians and surgeons were permitted to lecture in the operating theatre. Work continued into November, when John Langley was paid for carpentry.
The formal opening of the medical school took place in October 1785. It was housed in a single-storey brick building, initially detached from the front block of the hospital. Plans and illustrations indicate that its principal elevation, which overlooked the gated hospital forecourt at the north, was composed of a doorway flanked by four blind recesses east and west. Skylights were preferred to windows, most likely to secure well-lit and private teaching rooms. Its rectangular plan was divided into four main rooms of approximately equal size and a separate courtyard at the east. This layout provided distinct spaces for lectures, classes and preparatory work. After his visit to the hospital in 1787, Jacques Tenon reported that the medical school contained a top-lit anatomical theatre, with circular tiered seating and four niches. It was also equipped with a chemical laboratory and, on the other side of a corridor, an anatomical museum, a dissection room, and an injection room. Tenon noted that the courtyard was used for maceration, a soaking method used in anatomical preparations.
A range of lectures in surgery and medicine was offered at the hospital from 1783. Blizard lectured on anatomy, physiology and surgery, and Maddocks on 'Physic'. Dr Thomas Healde delivered lectures on Materia Medica and pharmacy, and Dr John Cooke taught chemistry. A new discipline was introduced in 1785, when Dr Richard Dennison advertised a midwifery course. The scheme formed a 'complete medical school' based on a university medical faculty, which lays claim to being the earliest example of its kind established at a hospital in England.
After the medical college moved to new premises in 1854, its former building transferred to hospital use. By the 1860s it had fallen into a state of dilapidation deemed beyond repair, yet it continued in use to alleviate hospital overcrowding. It was occupied by the Post Mortem and Pathological Departments, and later contained female isolation wards. Its site was cleared by 1874 for the construction of the Grocers' Company's Wing.
The Garrod Building, Turner Street
Since 1854 the London Hospital Medical College has been based at its present site on the north-east corner of the junction of Turner Street and Stepney Way (formerly known as Oxford Street). The building has undergone successive alterations spurred by a rising volume of students and the need to modernise teaching facilities. Now named in recognition of esteemed physician Sir Archibald Garrod, who spent much of his career at St Bartholomew's Hospital, the building continues in educational use as part of Barts and the London School of Medicine and Dentistry.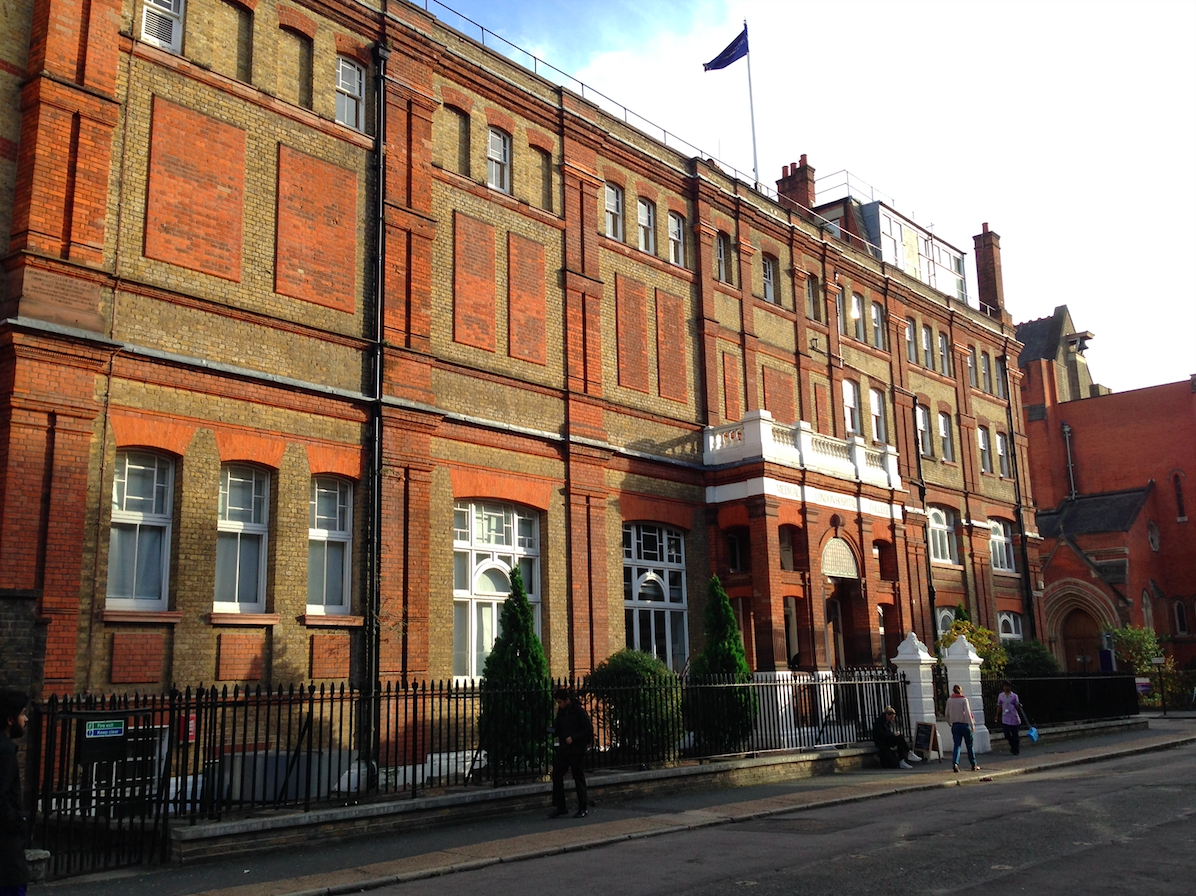 The Garrod Building, photographed in November 2015
By 1852 plans were in consideration to transfer teaching from the old medical college to new, larger premises to accommodate an increasing student body. Initial designs by Alfred Richardson Mason, hospital surveyor, were rejected as too costly. The new medical college was built to an amended design in 1853–4 by George Myers. It was proclaimed to be 'the most convenient, salubrious and handsome school in the Metropolis'. On the ground floor the college's plan was split roughly into two parts, west and east. The west range was divided by an axial corridor extending from the college's principal entrance in Turner Street to the east range. A museum and anatomical lecture theatre lay north of the corridor and to the south a labyrinthine arrangement of rooms included laboratories and a chemical lecture theatre. Beyond a north- south corridor, the east range comprised a dissecting room and a number of smaller rooms. Despite enlarged facilities and multiple lecture theatres, the new building failed to accommodate the rising volume of students attracted by the college's growing reputation. Initial steps to reduce cramped conditions were taken c.1870, with a north extension formed of a museum, a reading room, and a microscopy laboratory. This was followed in 1879 with a three-storey addition built by Perry & Co., consisting of an additional reading room and extensions to the dissecting room and laboratories.
By 1884 it was apparent that a long-term solution to overcrowding in the medical college was required. A building committee was entrusted with overseeing a significant enlargement, and Rowland Plumbe appointed as architect. The corner stone of the extension was laid on the principal elevation of the college on 9 March 1886. Construction by W. Goodman of Hartham Works, Holloway, continued until the following year, overseen by the hospital's surveyor. The building was opened formally in May 1887 by the Prince and Princess of Wales. Its completion secured a large medical college that accommodated the vast range of subjects offered on its four-year course, which saw students rotate between lectures in medicine, surgery, anatomy and chemistry to specialist areas such as forensic medicine and midwifery. In addition to lectures, classes and anatomical demonstrations, pupils received tuition in the wards and gained experience by working as clerks and surgical dressers in the hospital.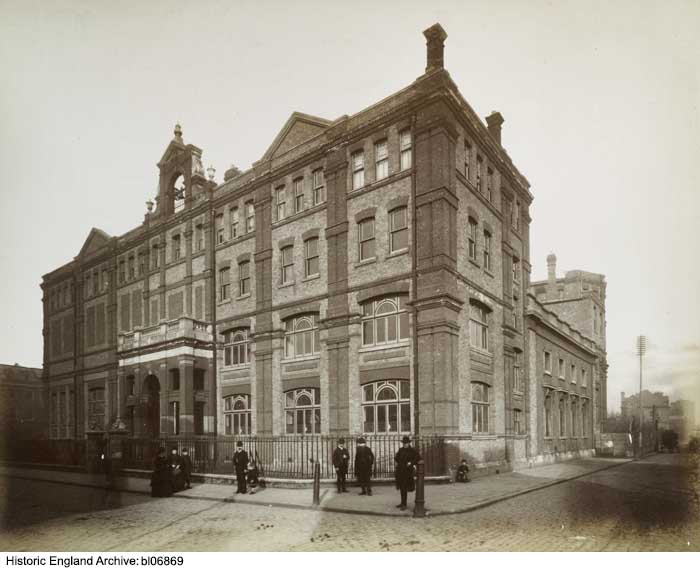 The London Hospital Medical College in 1887, looking north-east (Historic England Archive)
This extensive remodelling of the college left the chemical lecture theatre, laboratories and intersecting corridors enveloped by new spaces. The chemical theatre continued to host lectures during construction works, though it was extended by the provision of new laboratories at the south. The restrained, classically proportioned façade of the chemical laboratories overlooking Oxford Street appeared in marked contrast to the taller adjoining building. These laboratories were rebuilt in 1898 (see below). The medical college possesses a robust exterior composed of yellow bricks with red brick dressings. Its principal elevation facing Turner Street is dignified by a stout Doric porch capped by a thick balustrade, its central semi-circular headed entrance flanked by pilasters with red sandstone dressings and fluted bases. The height of the building is accentuated by a succession of paired Doric pilasters, which originally rose to a central bell-cote flanked by pediments. Its workmanlike exterior is divided horizontally by moulded string courses and punctuated by large windows on the lower floors, rising to smaller windows at the top.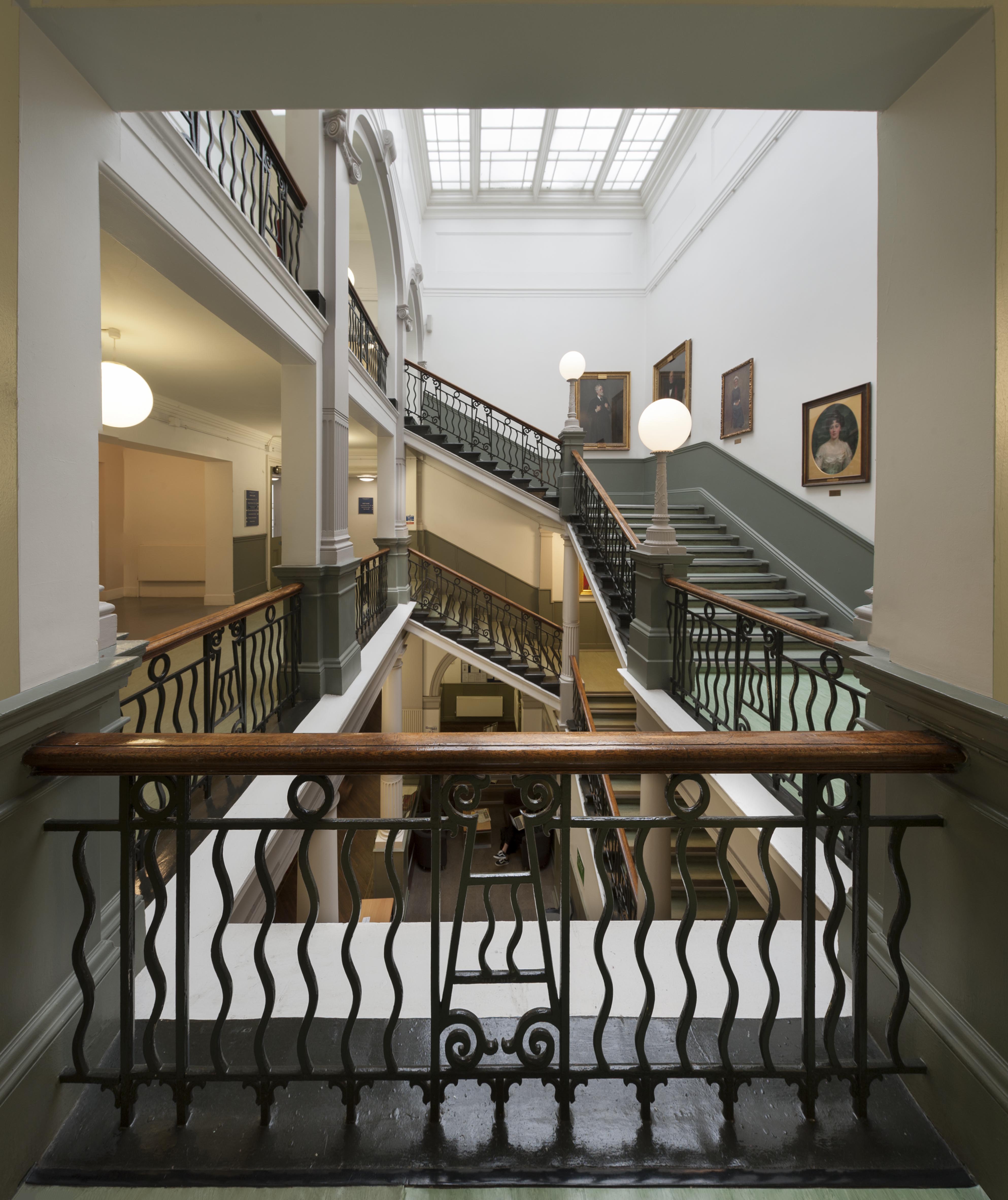 View of the main staircase of the former London Hospital Medical College, photographed by Derek Kendall in 2017
The main entrance of the college leads through a vestibule into a top-lit open well staircase with Doric columns culminating in arcaded galleries adorned by Ionic pilasters. On the ground floor, a lecture theatre with tiered seating is positioned north-west of the staircase, once adjacent to a dining room and a reading room. The east end of the ground floor contains a dignified and spacious double-height library, lit by tall windows and a bay window at the east, originally crowned by a pediment bearing a finial. In the north-east corner of the room, a wrought-iron spiral staircase ascends to a gallery. Extravagant decoration in the library, including an elaborate plastered ceiling by Jackson and Sons, was financed by donations from the hospital's medical staff and lecturers.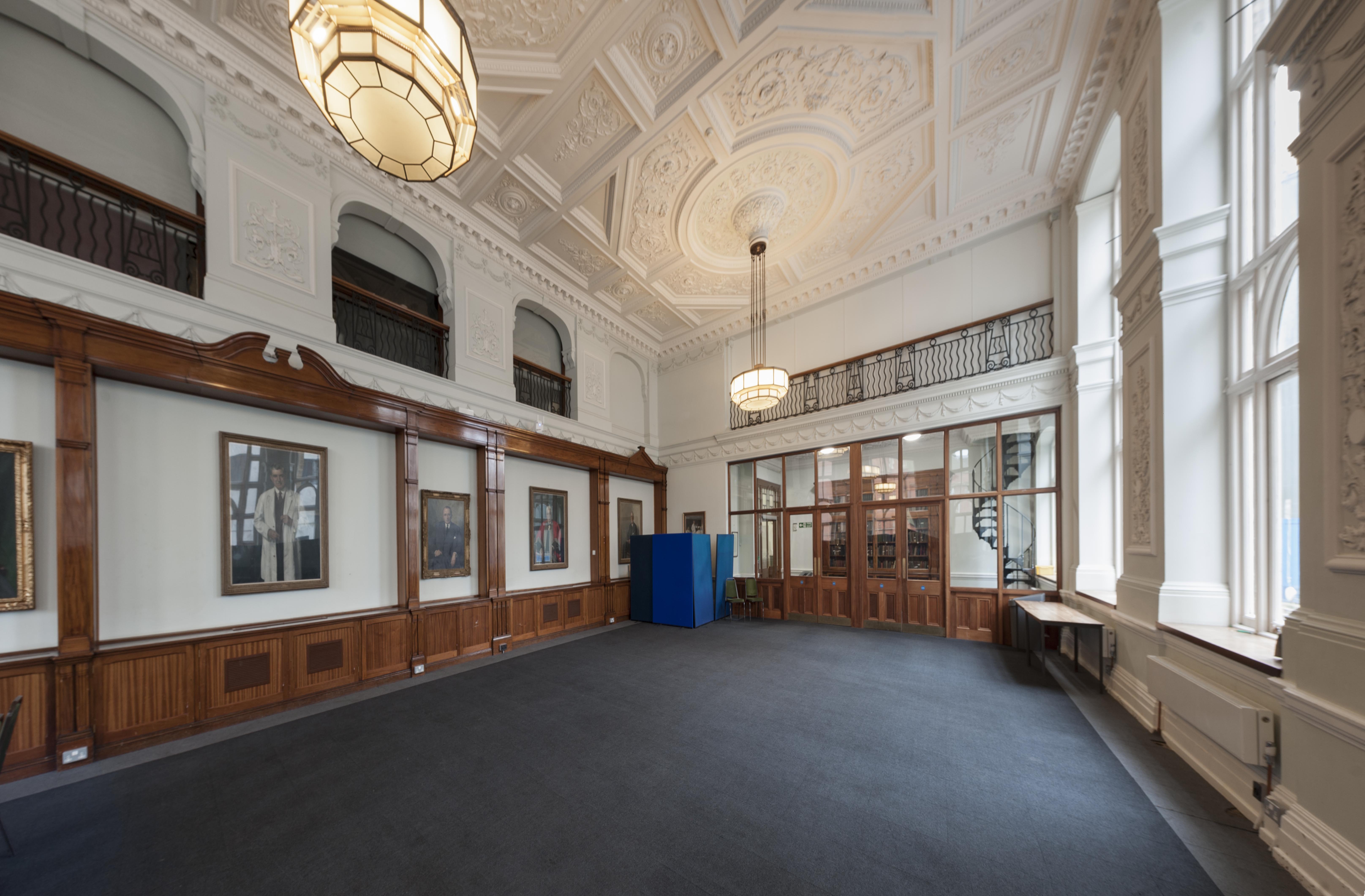 View of the Library, photographed by Derek Kendall in 2017
At the south-west corner of the ground floor, a narrow staircase provides access to offices and laboratories, including a second-floor mezzanine. The first floor of the college contains a double-height anatomical museum, originally with an L-plan curving around the north-west corner of the building. It was a brightly lit, galleried room populated by anatomical specimens, with cabinet-lined walls and a lower level crowded with exhibits. The second floor comprised a top-lit dissecting room, a lecture theatre and laboratories for physiology, pathology and biology. Despite successive alterations, the building has retained its ornate library, impressive staircase and anatomical lecture theatre, along with several doorcases adorned with carved brackets and broken pediments.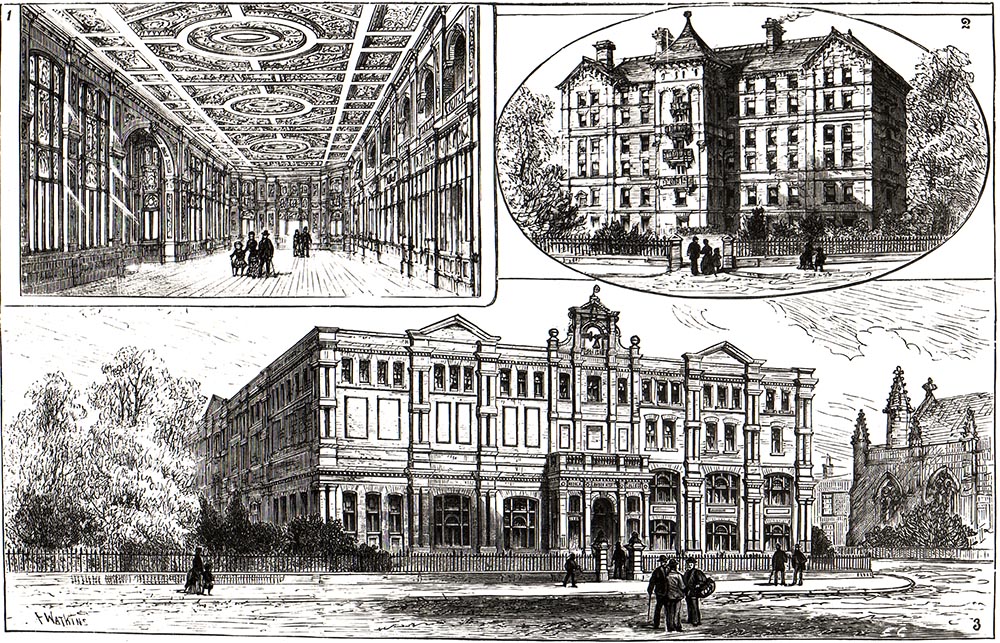 The London Hospital Medical College depicted in The Illustrated London News on 3 May 1887 (Historic England)
The medical college was a focus for further alterations in 1898, with the construction of specialised facilities for bacteriology and biology. The chemical theatre and laboratories at the south, which had survived the college's earlier remodelling, were replaced by a new four-storey block designed by Plumbe. The south elevation of the earlier building was replaced by an austere five-bay façade, its upper storeys raised above a loggia over a basement light well with scrolled columns resting on sturdy brick bases. Composed of large evenly spaced windows designed to admit light into teaching rooms, the façade is surmounted by a pediment bearing a red brick cartouche inscribed with its date. Construction was carried out by the Limehouse builders Harris & Wardrop.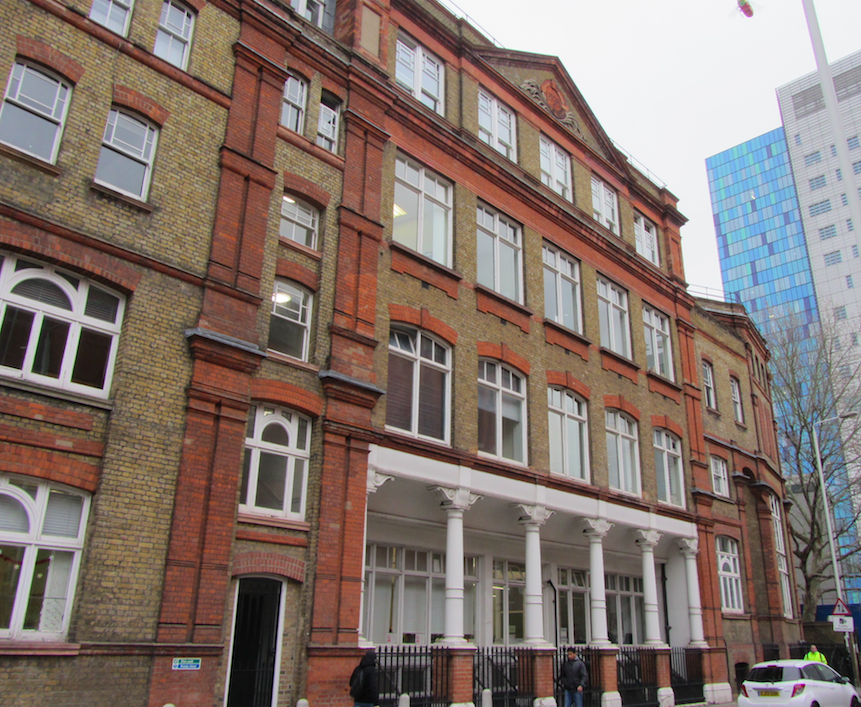 The south elevation of the Garrod Building, photographed in December 2016
According to Lord Knutsford, Chairman of the House Committee, this extension secured London's 'most perfectly equipped department' for bacteriological research. Its basement contained a public health department with a museum, a lecturers' room, classrooms and a photographic dark room. There was a biological laboratory on the ground floor in place of the old chemical theatre and laboratories, which moved to new first-floor rooms with a physiological chemical laboratory. The second floor included an anatomy classroom, a physics laboratory and an additional chemical laboratory, along with a laboratory, theatre and a professor's room for physiology. A bacteriological department, with research laboratories, classrooms and a sterilising room, was located on the third floor.
The medical college was enlarged again in 1899 by Harris & Wardrop, with a north extension to the ground-floor dining and reading rooms and the provision of a small research laboratory on the roof. A fives court was also built north-west of the college, adjacent to Turner Street. A more substantial three-storey extension followed in 1909, constructed by Harris & Wardrop to designs by the hospital's surveyor Joseph George Oatley, a former assistant of Plumbe. By this time, a subway connected the college with the Outpatients Department west of Turner Street. This range extends along the north side of the college in a utilitarian style, with a train of large windows on each elevation to ensure brightly lit teaching rooms. The north parapet bears two shaped gables adorned with inscribed brick cartouches. Its rectangular plan provided an extension to the ground-floor dining room and two spacious laboratories on the first and second floors, including a top-lit physiological laboratory.
The medical college has since been modernised and extended with the insertion of partitions to form seminar rooms and offices, and various roof extensions. The college's east elevation has been altered by the insertion of first-floor windows in place of raised brick panels. In 1912 the frieze above its east entrance was inscribed with the motto, Amara Lento Tempera Risu; a quotation from Horace admired by Professor William Wright, long-serving College Dean. His favourite translation is thought to have been, 'Temper bitter things with a quiet smile'.