Posted by Survey of London on April 1, 2018
Date and Time: Friday 16th March, 2018
Guest blog by Nataly Raab of make:good
Photographs by Rob Harris courtesy of the Whitechapel Gallery
Last month the Survey of London collaborated with Whitechapel Gallery (http://www.whitechapelgallery.org/) and make:good (http://make-good.com/) design studio to run a co-design workshop with a GCSE class from Swanlea school (http://swanlea.co.uk).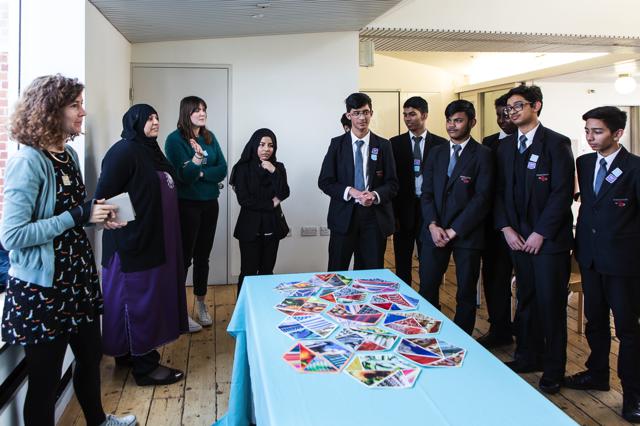 make:good have been commissioned by Tower Hamlets Council to design a series of wayfinding and public realm elements along Whitechapel Road. Over the last few months we have been running design workshops with local schools, the IDEA Store Whitechapel and also popping up along the market to speak to local people about what Whitechapel means to them. An important part of this project is to gather an understanding of the local history but also present day stories around people's individual experiences of the Whitechapel area.
Our approach has involved looking at the patterns and textures behind local landmarks, memories, stories and experiences that they have and we have invited people to combine and pull together these memories to develop a new visual language and a unique 'Patchwork Whitechapel'. This participatory process aligned very well not only with the Survey of London, mapping people's individual stories of places along Whitechapel, but also with Swanlea School GCSE class's theme of fragments.
On a sunny Friday afternoon in the bright top floor of the Whitechapel Gallery, 13 GCSE students delved into their memories and personal experiences of Whitechapel to create a collective patchwork Whitechapel made up of individual fragments, both of written stories and memories and also patterns and textures that represented the local area to them.
Looking at different photographic fragments of the local area and how they work together to make whole geometric shapes and patchworks, the workshop focused on each student dividing a hexagon into five unique fragments, inspired by the traditional Chinese puzzle of a tangram.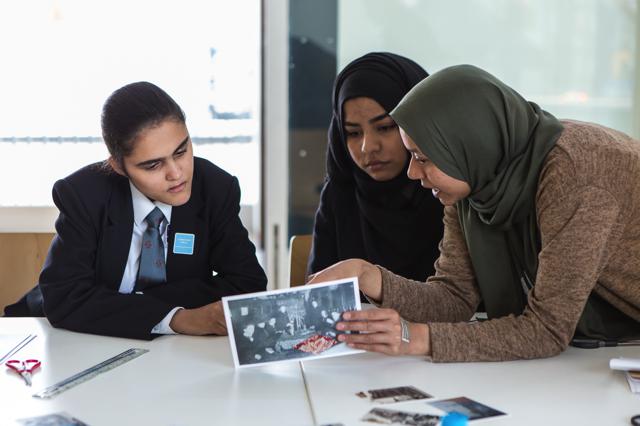 We began by filling these fragments with hand written stories and memories of the local area, asking the group "what makes your Whitechapel?" and "what do you think of when you imagine Whitechapel"? Students responded with a rich variety of memories and personal experiences ranging from sights, smells, sounds through to childhood memories and present-day rituals. We brought all the fragments together to make one whole hexagon of all the stories and then divided them again to locate them on the survey of London map. You can read these individual stories on the main map under Whitechapel Road.
Moving on to a more visual patchwork, students selected five different patterns and textures from a wide array of samples from the area; colourful scarves, slimy fish scales, rooftops of buildings, reflective windows,familiar brickwork, the list continued with over 50 different local patterns spread across the table.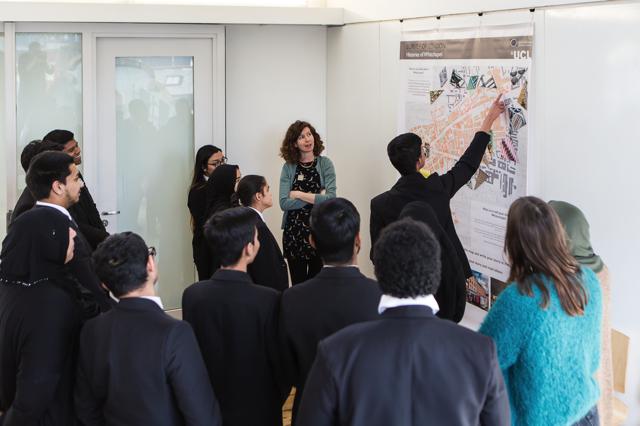 "It was amazing to see how carefully selected and matched these fragment compositions were. The students gave a lot of thought to the colours, patterns and textures from the local area that meant something to them." Nataly, make:good
The result was a beautiful and vibrant patchwork, a unique collection of fragments, each representing a personal experience, memory or story, coming together to make one whole Patchwork Whitechapel which will be used in different elements along Whitechapel Road to help people find their way and introduce a new visual language to the area.
With each fragment, students described their choice with one line, explaining what it means to them. These came together to compose a collective poem which captures the essence of what Whitechapel means to this group of Swanlea students.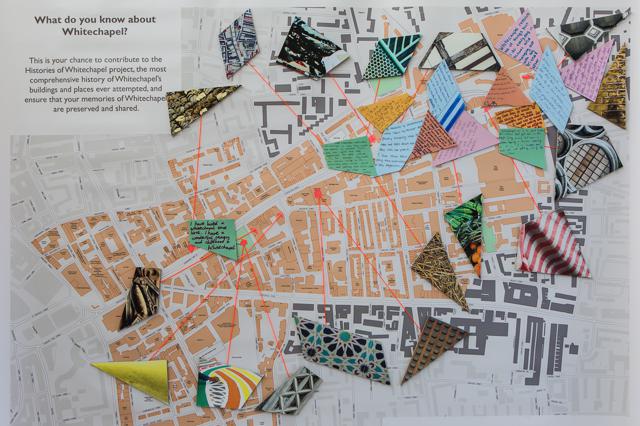 A few of the fragments that the students wrote are posted below, all of the comments can be seen on the Whitechapel Road purple strip on our main map.