Posted by Survey of London on Feb. 8, 2018
Bevis Marks Synagogue in the City of London has served London's Sephardic Jewish community for more than three centuries. Members of the 'Spanish and Portuguese Synagogue', as it was known in the eighteenth century, tended to live to the east of the City in the parish of St Botolph's Aldgate. Yet many Sephardic Jews of Spanish and Portuguese origin also took up residence in Whitechapel, still only a short walk away from the synagogue. The Survey's research into the early development and inhabitation of Goodman's Fields is beginning to uncover the strength of this community's association with the area, enriching our understanding of the character of this once affluent pocket of Whitechapel.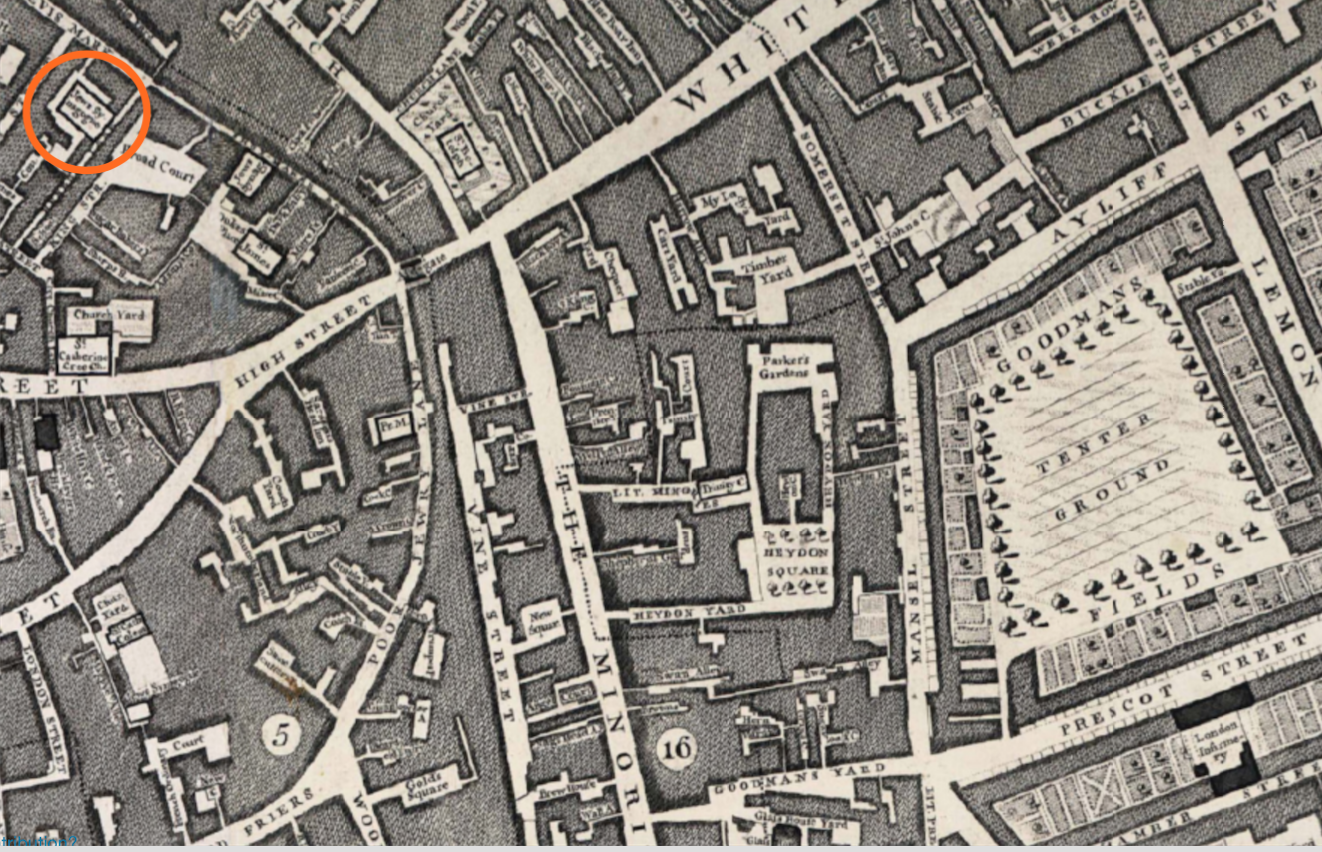 Extract from John Rocque's 1746 map of London. Bevis Marks Synagogue is highlighted in orange. The Tenter Ground of Goodman's Fields to the east.
A recent excursion to Lisbon brought one of the Survey's historians into contact with Carla Costa Vieira, a doctoral researcher based at Universidade Nove de Lisboa. Vieira is exploring archives in London and Lisbon in order to trace the Portuguese Jews, or 'New Christians', who escaped to England in the early decades of the eighteenth century to avoid persecution and punishment under Lisbon's notorious Inquisition. The records of Bevis Marks have been an important reference point for Vieira in identifiying the men, women and children who travelled to London at this time. Her work is focused on the agents, networks and mercantile exchanges that enabled many Portuguese Jews to establish themselves as successful traders in London, and indeed Whitechapel, having migrated on one of the many ships leaving Lisbon's busy colonial port. Assisted by the Methuen Treaty of Commerce of 1703, which granted English ships immunity from Portuguese laws, many escapees maintained close commercial links with Lisbon, entering into partnerships with English merchants in both cities to exploit the potential of trade with the West Indies and South America. However, many Sephardi refugees came to London with little and were at least initially reliant on Bevis Marks for charity, sometimes later establishing themselves as successful businessmen and notable community leaders.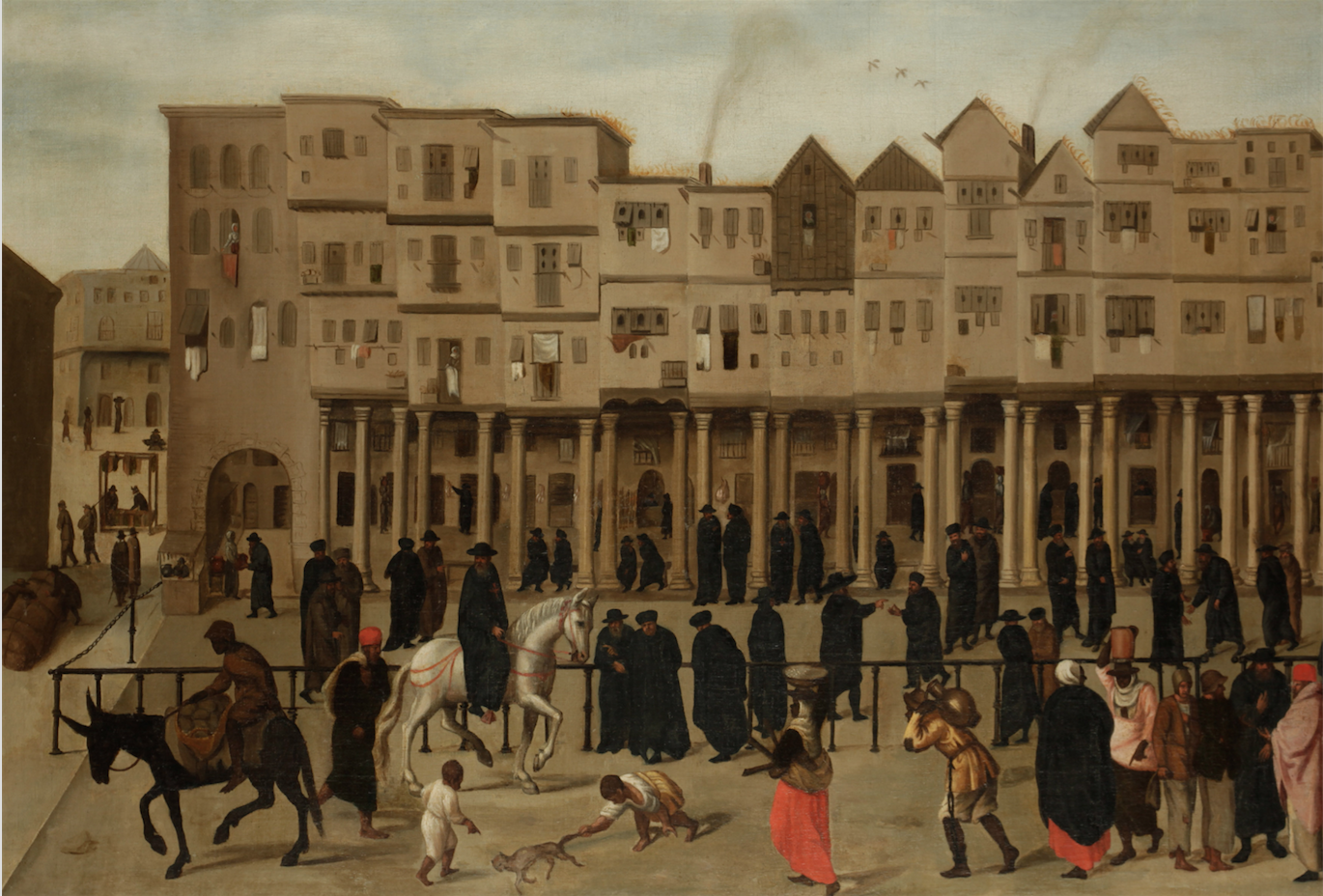 Sixteenth-century Rua Nova dos Mercadores, Lisbon. This street was the centre of mercantile activity in Lisbon before the 1755 earthquake, which destroyed much of the city. Image: Society of Antiquaries, Kelmscott Manor.
The distinctive names of Sephardic families of Portuguese and Spanish descent are easily spotted in the Land Tax lists for eighteenth-century Goodman's Fields. These lists show that a number of families lived in or operated their businesses from large houses that lined Mansell Street, Alie Street, Leman Street and Prescot Street. A directory published in 1800 indicates that this activity continued into the nineteenth century, with merchants with the surnames of Bensusan, Pariente and Fonseca holding premises on Prescot Street and Leman Street. Iberian merchants often assumed aliases to protect themselves from the threat of kidnapping: one name might be used for business and another for family life, and sometimes a mixture of the two.
Sketches of three Spanish-Portuguese Jewish families based in Goodman's Fields:
Abraham (also known as John or Jose) da Costa Villa Real escaped Lisbon with his family of seventeen in 1726. In Portugal, he had held the position of Comptroller General of the King's armies. When he learned of his imminent arrest for practising as a Jew, Abraham used a fire in the city as cover to leave for England with an extraordinary sum of money, said to exceed £300,000, on one of the ships in his control. After settling in London, Abraham leased a property on the south side of Prescot Street, a 'spacious and regular built' street.[1] One of 'Chamber's Rents', his was one of about thirty terraced houses (now long demolished) inhabited by the upper and middle classes, particularly those connected to mercantilism. Abraham's sons married quickly and advantageously, cementing the position of the Villa Reals in London's Jewish society. One son, Jacob (or Gabriel de Villa Nova), a merchant, continued to live in the Goodman's Fields area until his premature death in 1733. His house, possibly adjacent to his father's on Prescot Street, was bequeathed to his widow and young son, Abraham, who, at the age of nineteen, was later described as 'gent of Prescot Street'.[2]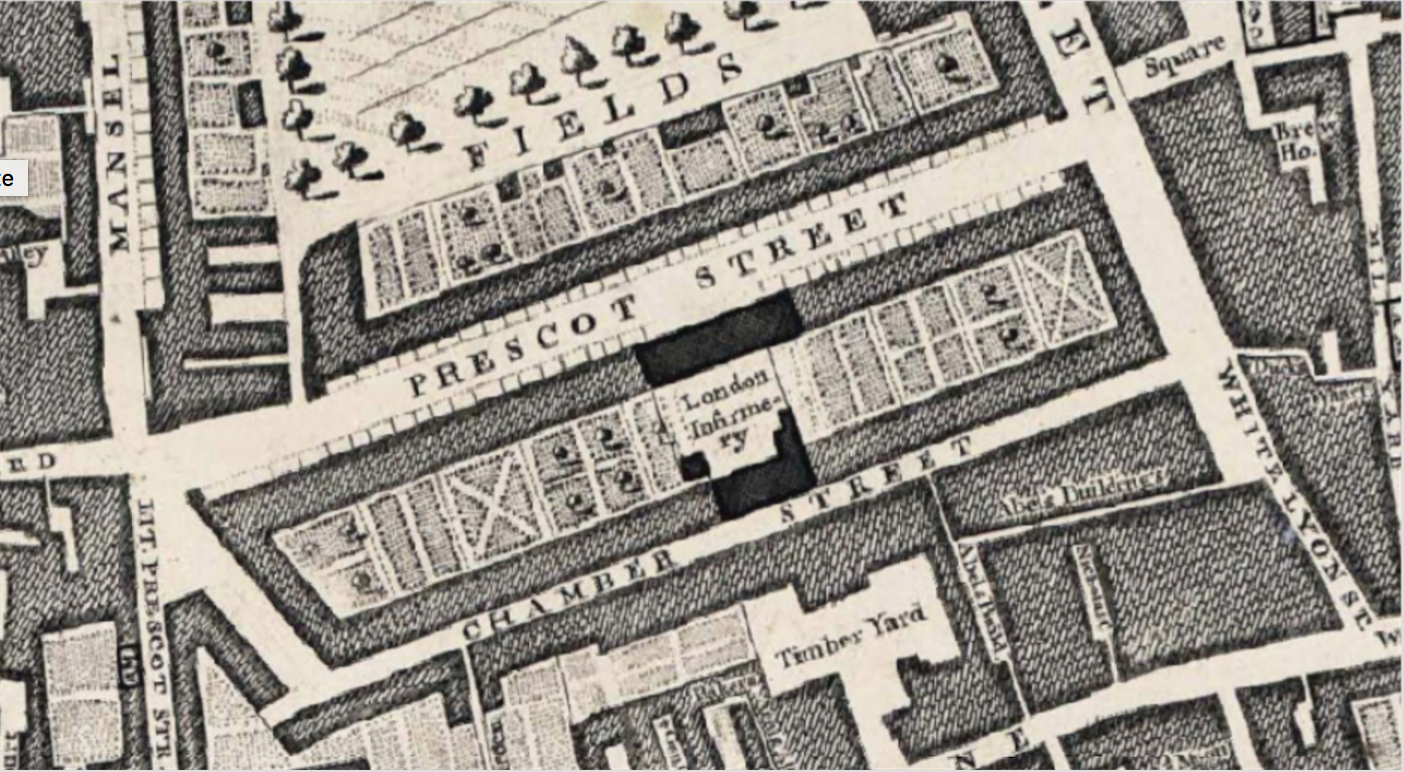 Extract from John Rocque's 1746 map of London showing the quality and open-ness of the streets and gardens of Goodman's Fields.
Abraham the Elder died a few years after his son in 1737, his own wife having apparently pre-deceased him. His will addresses three different young women who lived with him in Prescot Street. Leonor (or Judith), his granddaughter, whose father was a merchant then living in Portugal, and Luiza, 'single young woman', were gifted luxurious furniture and linen from the house, along with marriage portions and annual incomes. Rather than receiving a gift, a mixed-race enslaved girl named Izabell, of whom Abraham noted 'I brought from Lisbon', was gifted. The girl was given to her master's grandson, Abraham of Prescot Street. Izabell's enslaved mother, Maria, had served the Villa Reals in Lisbon, although apparently was not taken to London like her daughter.
The patriarch of our second Sephardic family of note was Abraham Dias Fernandes (also known as Fernando Dias Fernandes or Miguel Vianna), also a resident of Goodman's Field's. He was a contemporary of Abraham da Costa Villa Real, and named as an executor in his will. The Dias family lived in Whitechapel from at least the 1720s and Abraham's son Isaac Dias Fernandes (also known as Isaac Viana or Antonio Lopes Dias) lived on the east side of Mansell Street until at least 1742. Born in the late seventeenth century, Abraham Dias Fernandes originated from the Toledo area of Spain but moved his business to Portugal to increase his prospects. Having lived in Lisbon for five years, he fled the city in 1706 with his two sons, Isaac and Diogo, after having been condemned to wear penitential dress on account of suspicion that he was a practising Jew. His wife was burnt alive for the same 'crime'. Travelling via Spain and possibly the Netherlands, Abraham and his sons arrived in England with nothing, their goods having been confiscated in their absence and a death sentence issued.[3] Despite these adversities, Abraham successfully established himself in the wool trade, especially shipping goods to Portugal for distribution to Brazil. The Dias Fernandes family continued to operate from various warehouses and houses in the Goodman's Fields area until the end of the nineteenth century.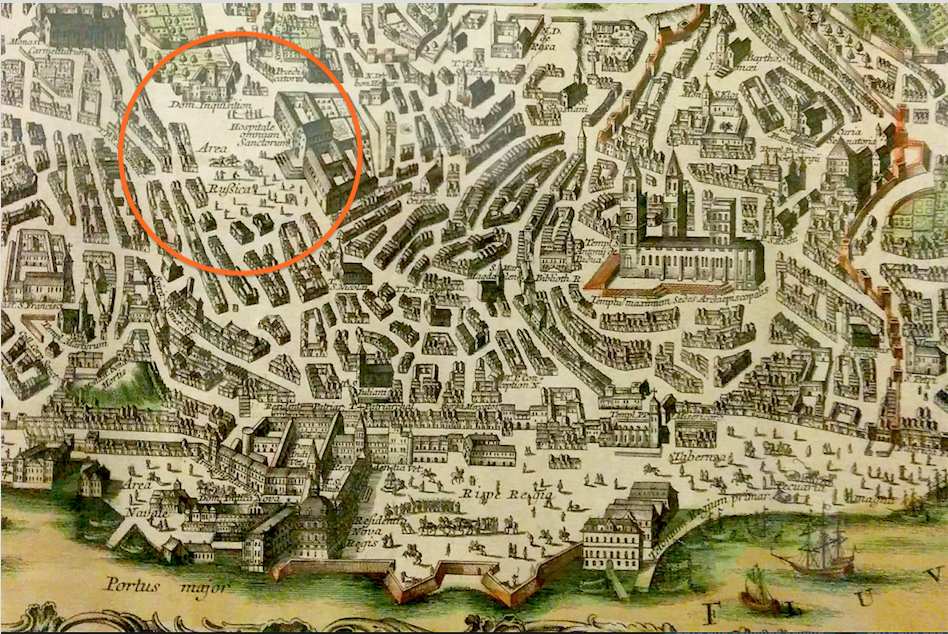 Lisbon before the 1755 earthquake, which destroyed much of the built fabric of the city. Etching by Matthaus Seutter from Georg Braun's 1598 engraving. Rossio Square and Estaus Palace highlighed in orange. This was the Inquisition's headquarters, and public executions were often performed here. This was likely the site of Mrs Abraham Dias Fernandes' death.
David Samuda was born in London in 1733 to a Portuguese refugee and physician, Abraham Samuda. Abraham had migrated from Lisbon to the Portsoken Ward of Aldgate sometime before 1723 and was almost certainly a kinsman of Isaac de Sequeira Samuda, the first Jewish Fellow of the Royal Society, who had also escaped from Lisbon to London in the first decades of the eighteenth century.[4] Not straying far from the area settled in by his father, David occupied 72 Leman Street (now the site of the police station) from the 1760s until his death in 1804. He was also associated with a property in Alie Street. His mother, or stepmother, Esther, leased a house on Leman Street from the 1760s to the 1790s, first on the east side and then on the west, likely living in her son's property for some of that time. David used Goodman's Fields as a base for his mercantile business. He owned several ships implicated in trade with Jamaica, and his son, also David (b. 1766), later followed in his father's footsteps. Samuda & Co. ships carried goods such as sugar, rum, logwood, fustic and mahogany from Jamaica to London, and the younger David became a partner in a Jamaican plantation which owned several hundred enslaved people. Proof of the strong Jamaican-London connection is found in the elder David Samuda's will; money was bequeathed to the poor of Bevis Marks Synagogue as well as the Portuguese Synagogues in Kingston and Spanish Town, Jamaica.[5]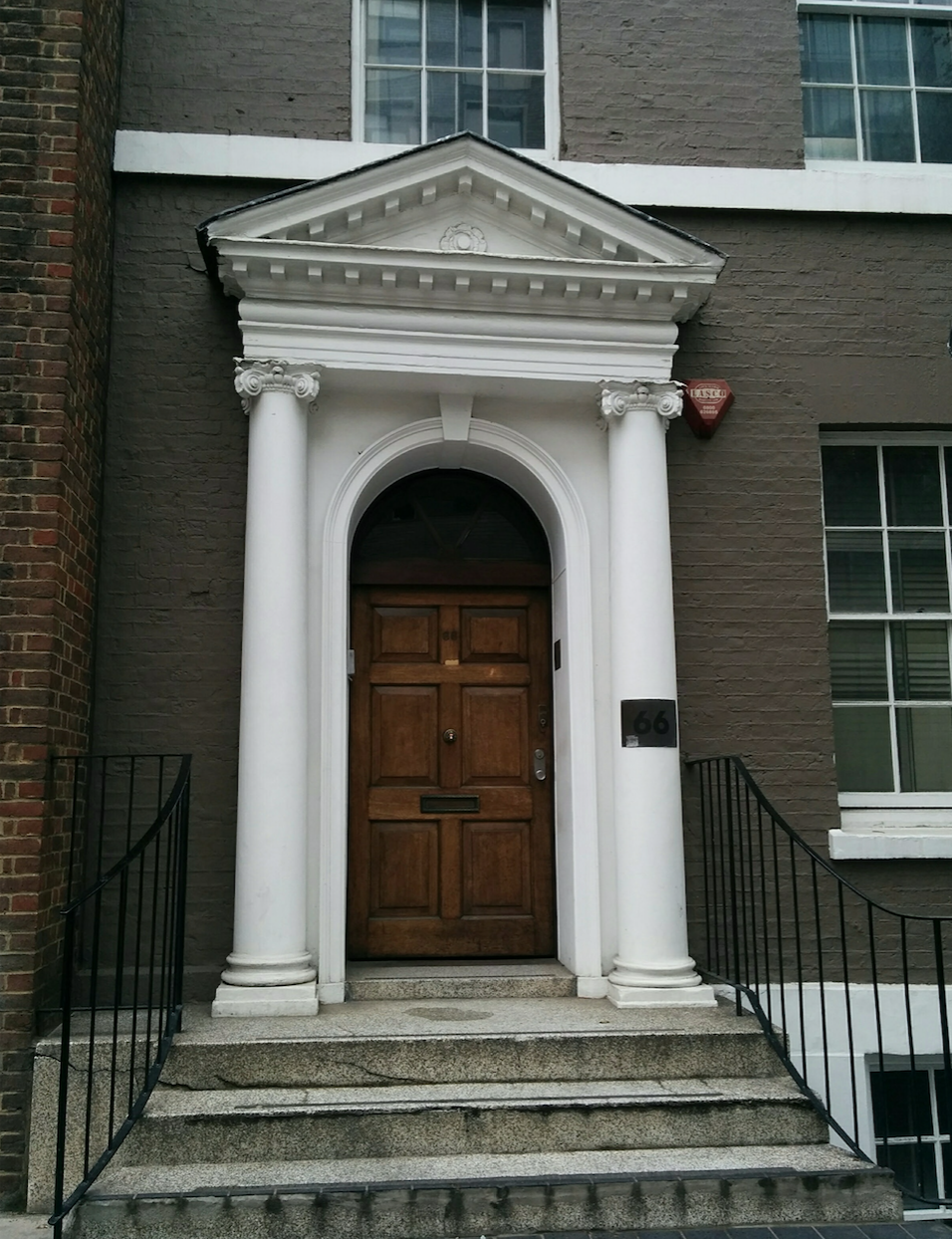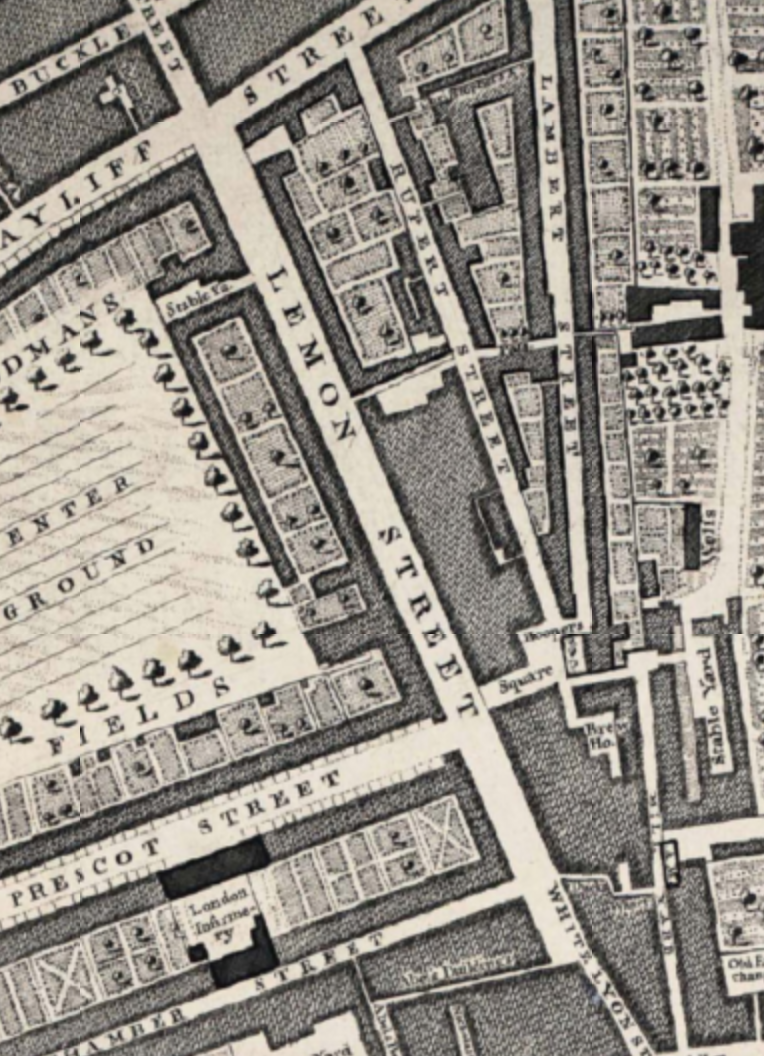 Doorway of No. 66 Leman Street, built 1760s and one of the last remaining fragments of the eighteenth-century development of the street. Extract of John Rocque's 1746 map of London.
These three brief sketches of Sephardic migration into Goodman's Fields suggest that there is much still to be discovered about how Whitechapel's built environment was shaped by colonial trade in the eighteenth and nineteenth centuries, and perhaps especially in relation to East London's sugar-refining businesses.
[1] Edward Hatton, A New View of London, 1708, p. 65
[2] TNA, C11/1608/17. Also see Wills of Abraham da Costa Villa Real (TNA, PROB 11/683/393) and Jacob da Costa Villa Real (TNA, PROB 11/659/372).
[3] Richard Barnett, 'Diplomatic Aspects of the Sephardic Influx from Portugal in the Early Eighteenth Century' in Transactions of the Jewish Historical Society of England, Vol 25, 1973, pp. 210-221
[4] Carla Costa Vieira, 'Observing the Skies of Lisbon: Isaac de Sequeira Samuda, an Estrangeirado in the Royal Society' in The Royal Society Journal, Vol 68, 2014, pp. 135-149
[5] Will of David Samuda (TNA, PROB 11/1412/83). Also see Eli Faber, Jews, Slaves and the Slave Trade: Setting the Record Straight, 2000, p. 311-12.