Posted by Survey of London on May 4, 2018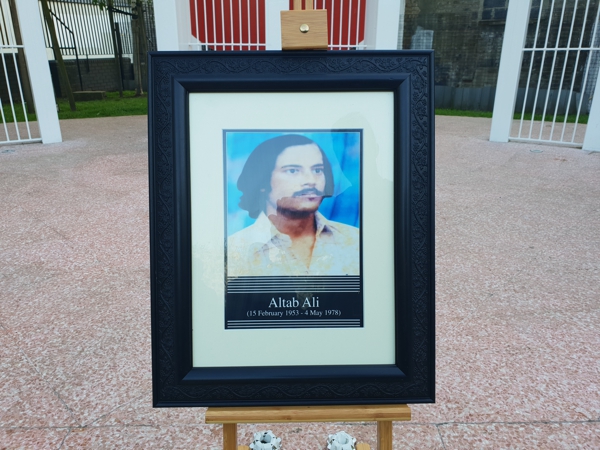 This year marked 40 years since the racist murder of Altab Ali, killed near the corner of Adler Street and Whitechapel Road in 1978. The murder is seen as the moment that mobilised the local Bengali community into political action. On Friday May 4th 2018 a commoration ceremony was held at the Shaheed Minaar in Altab Ali Park with speeches, poetry and the laying of a wreath.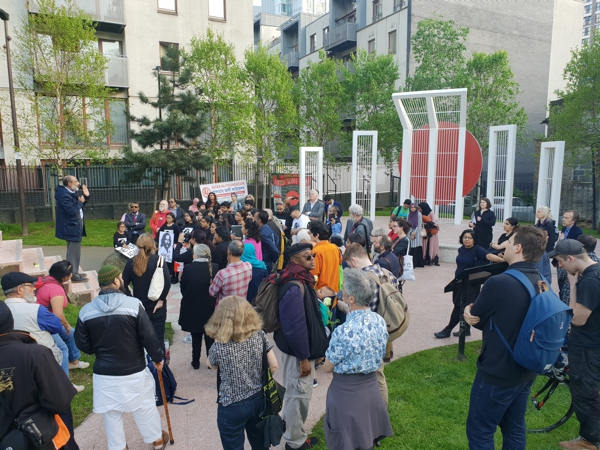 Along with other speakers, Salam Jones, a local poet, photographer and carpenter wrote and performed this poem in memory of Altab Ali.
Altab Ali
A Bangladeshi
Who changed history
When he died in the community
When he died for the likes of you and me.
We all cried in protest about the bigotry
And marched 7000 all the way round to Downing St
He died not in vain, after all we Bangladeshis did gain
But knowing that she would never see her son again
Knowing that his blood streamed like the monsoon rain
His mothers tears couldn't wash away her pain.
Altab was killed by three measly boys,
Out on the prowl with their steely toys
Oblivious to how much they would destroy
Robbing him of his joys without a single noise
With one swift move they used that knife.
With one fatal blow, they took his life.
At a time when racial hatred was very much rife.
And the East End was filled with trouble and strife.
As he fell to the floor, gasping for air like never before
He swore that he would see his mother's face once more
Someone called the ambulance from the local store
But too little too late, Altab Ali was no more.
The whole of the East End was silent that night.
Stunned by the barbaric levels of violence that night
Stunned how easily Altab died without an equal fight
His death encouraged by politicians from the far right.
But that was the straw that gave the donkey a broken back
Wanting to remember him with more than a mere token plaque.
Bengalis were no longer willing to be victims of racist attacks
We started organising, demonstrating, and facing those packs
That was the death that became the catalyst for change
With his last breath, Altab freed us of our chains
We ventured out, and stood our ground, not backing down.
That's when we Bangladeshis even dared to dream of a Banglatown.
The freedom we have today, we all should be thankful and pray
For the life and death of a man who died to pave the way
We should be grateful that despite his short life.
That was taken so sadly on this very spot with a knife
We as a borough have come together,
We as a community have vowed to never
Forget, and stand up and reject
The very hatred that took away our Bengali brother.
Anser Ullah writes, on this website, about the reaction of the Bengali community to the murder,
"For the Brick Lane Bengali community, who had been under constant attack from racists since early 1970s, the murder of Altab Ali, a leather factory worker, in 1978 was a turning point, especially for the Bengali youth. The murder led to their mobilisation and politicisation on an unprecedented scale. On 14 May 1978, 10,000 locals marched from the then St Mary's Gardens (now Altab Ali Park) to a rally in Hyde Park, walking behind the coffin of Altab Ali in a show of unity and strength against racial violence. The group then walked to 10 Downing Street to hand over a petition to the Prime Minister calling for action to be taken against racist attacks."
Read the full account here https://surveyoflondon.org/map/feature/296/detail/