Toynbee Theatre
Contributed by Survey of London on Dec. 13, 2018
In December 1935 a grant of £10,000 was announced that enabled J. J. Mallon, Warden of Toynbee Hall, to launch an appeal that resulted in the bulky New Building, usually known as Toynbee Theatre, on the site of the old St Jude's National Schools. Designed by Alister MacDonald, the son of the former Prime Minister Ramsay MacDonald, it was built in 1937-8 by Griggs & Son Ltd, builders of Victoria Street.
It was a functional Modernist building, four and five storeys high, steel- framed with white-tile and beige brick facings but no street frontage, tucked as it was behind St George's House, Gunthorpe Street. Staircase towers at the west corners lit by vertical strip-glazing served four floors of corridors and offices surrounding the two main rooms: a theatre to seat 400, with a stage 19ft deep and a proscenium opening 28ft 6in wide. Above the theatre was a music room, used in the daytime as a juvenile court room, on the second floor were classrooms, a laboratory and two art studios, and on the top floor a dining room and recreation room separated by removable partitions. A light steel framework was built over the roof enclosing it as an area for sports and play.
The former music room at Toynbee Studios, December 2018. Photograph © Derek Kendall.
The interior is more forgiving than the exterior. The theatre has half-height flush pine panelling stained to resemble an exotic wood and a shallow double- pitch ceiling with cyma recta curves and concealed lighting at its apex. The music room has a few Art Deco embellishments - a shallow coffered ceiling and full-height stained pitch-pine panelling with fielded panels (an abstracted linen-fold syle, reminiscent of an open book), the wood said to have come from the old Waterloo Bridge demolished in 1932. The panelling is separated by glossy semi-circular columns without capitals, and there are ebonised skirting boards.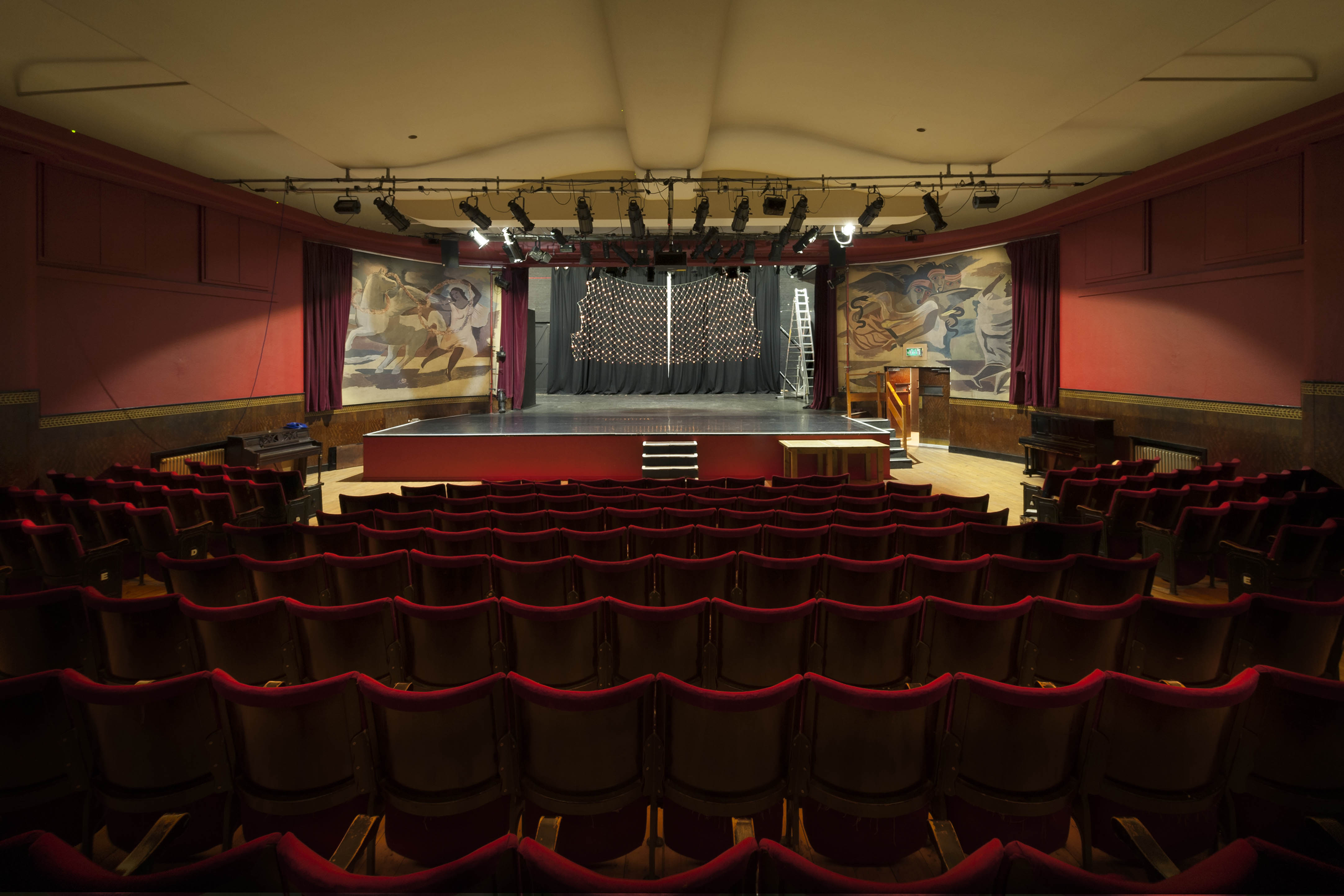 The theatre at Toynbee Studios, December 2018. Photograph © Derek Kendall.
In 1939 a pair of murals, one of The Furies, the other of, apparently, Pegasus and Athena, were painted on the curving proscenium wall flanking the stage by Clive Gardiner (1891-1960), Mallon's brother-in-law, in a similar, though more tonally muted, manner to that he used in his poster designs for London Transport.
The theatre reflected Mallon's cultural interests, more highly developed than those of his predecessors. It hosted the Toynbee Drama Festival, which continued after the war, and in 1946 the first children's theatre in Britain was established there, supported by, inter alios, John Gielgud, Bernard Shaw and Alec Guinness. The theatre stood empty from 1959 but its parlous financial situation was resolved in 1962 when it was leased to the LCC, and opened in 1964 as the Curtain Theatre by the Inner London Education Authority.
The Curtain Theatre closed under the Thatcher government in 1984 but in 1995 the building was leased by the charity Artsadmin and opened asToynbee Studios, a centre for individuals and small companies to develop new performing arts work, with an extra floor was added. Alterations were made to turn the adjoining former Toynbee Hall drawing room of the 1880s into a bar/café and a new entrance was created by glazing the remains of the old colonnade, now abutting Profumo House, that had run between the drawing room and the Warden's Lodge.