Lily Austin at the Roebuck Public House
Contributed by Pete on Feb. 21, 2017
My mum was born above the Roebuck Public House in Brady Street in 1928. A stairway had to be installed at the rear of the premises so she didn't have to go through the pub to get to her lodgings above. She would run up the stair as they passed the outside urinals. The urinals were full of tall men dressed all in black with beards and black hats.
Her dad (a horse-keeper) worked nearby and she accompanied her mum around the local streets with a barrow selling cat's meat (horse meat) at a penny a bag. She was attending the Roan School for Girls around 1942/3. I have her autograph book signed by her schoolmates along with her school badge.
My mum was the youngest of a family of at least five siblings. There were two boys, one killed in the war, one killed in a motorbike accident, leaving three girls: Marie, Daisy and my mum Lily. Lily got married from 279 Whitechapel Road (the Working Lads Institute) aged 16 years in July 1945. Perhaps she shared a room there with her family during the war years. Next I remember was 5 Ireton Street, where I was born under the front window in January 1951. It seems I had a crib hanging in the alcove beside the fireplace which my dad made out of used orange boxes, tasking my mum to straighten out the nails for this re-use.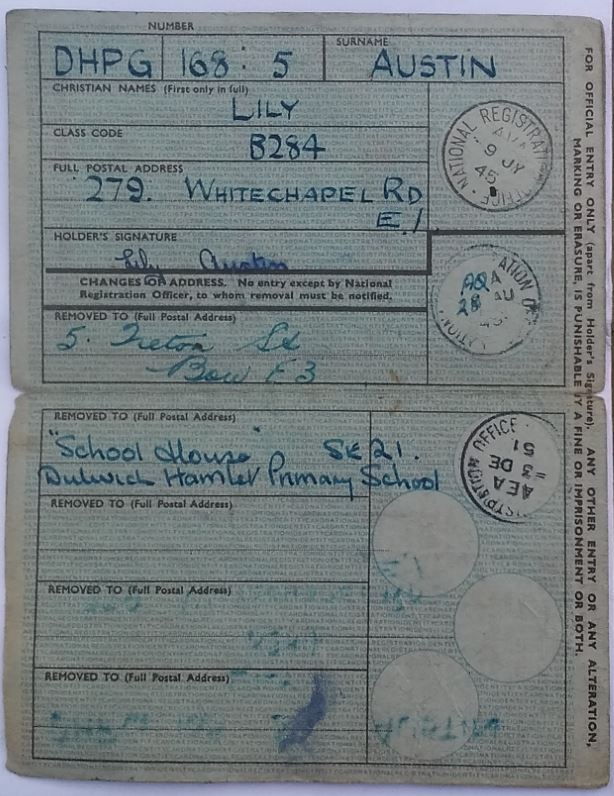 Mum's National Identity Card
After a while my dad went into training to become a school keeper and we moved off to Dulwich Hamlet School. Mum wasn't very impressed with this move saying everybody there looked down on her and when she went shopping she was surrounded by domestic servants! We didn't stay there long.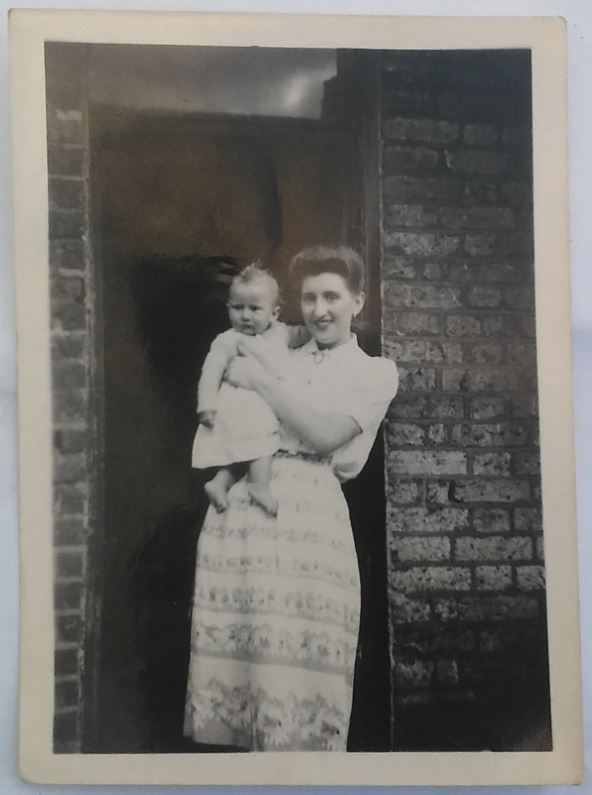 Mum and me aged 1 year (with a hair style which demanded a lot of spit on her part). Why did mums do that??
A Grocery Shop and a Brewery in Wartime Whitechapel
Contributed by norman on May 30, 2017
I am a product (pre-war) of Whitechapel. Mid 1930s, my father, Wolf Goldenberg, rented a shop at 7 Brady Street, from a Mr. Cockerell and the shop was known as Cockerells.
We lived above the shop where we had two bedrooms one of which I shared with my brother. Our bathroom, toilet and kitchen were located in the open air on what was the roof of my dad's storage room at the back of the shop. Somehow my mother managed to keep us clean and cook our meals. My bedroom overlooked an area that belonged to a stonemason and it had a lot of tombstones waiting to be used. Whitechapel Station was a little way beyond. I remember being kept awake by the shunting of the trains in the middle of the night.
When the war started, together with my gasmask, I was evacuated alongside my school - Robert Montefiore - to a village called Mepal just outside Ely in Cambridgeshire. At six years old I was very unhappy, and as nothing warlike seemed to be happening at home for the first nine months of the war, my parents decided to bring me home to Brady Street where I was when the Blitz started.
My father left during the war owing to the difficulties involved with food rationing and coupons, and customers constantly asking for an extra ounce of this or that over and above the rationing. I was re-evacuated to a village called Stretham, also just outside Ely, where I went to school and stayed until the end of the war. I was billeted with a Jewish family who had three kids of their own and who treated me like dirt. My folks eventually moved to Dollis Hill.
Number 5 Brady Street was occupied by Alec the barber. Number 9 was a stone mason by the name of Levy (whose relative coincidentally now lives near me in North London).