A Short History of Sixty-Nine & Seventy Whitechapel High Street (Including Nine Whitechurch Passage)
Contributed by Tomreed on Dec. 20, 2017
Medieval:
Whitechapel High Street is probably the shortest High Street in London, some 350 yards.  It leads right up to the Aldgate entrance to the walls of the original Roman City of London established about 45AD. In the biggest rebellion in nearly four hundred years of rule by the Romans, Bodicea (Boudicca), Queen of the Norfolk-based Iceni Britons, must have used this route to enter and destroy Roman London in 61AD after first destroying Roman Colchester in Essex. At the end of the High Street, 20 yards from no's 69 & 70, is the original location of the White Chapel, becoming in 1323 St Mary's Church, the centre of the parish of Matfellon. (Now named Altab Ali Park after a young man murdered there by Racist thugs in 1978.) No's 69 & 70 therefore occupy a site that is likely to have been under perpetual re-building since soon after that: some seven hundred years.
1700's:
A new Huguenot protestant refugee community had established itself.  They were from the Low Countries, fleeing Spanish Catholic colonisation. The surrounding area contained orchards, and mulberry trees used to feed the silkworms for their silk-weaving industry. The parish church, St Mary's had a famed outdoor pulpit on the corner for preachers.  Behind it was a massive rubbish dump forming a stinking hill.  Across the High Street was the southern end of Brick Lane (now Osborn St), a narrow alley leading to Spitalfields and the brick works that served the surrounding area. Behind no's 69 & 70 was Hatchet Alley (now Whitechurch Passage), which provided access to Adam and Eve Court, opposite, and to our own back yard, which then extended into the properties either side. This part of the High Street was extremely congested since it was the location for a Hay Market as well as the main route into the City for livestock and traffic from Essex.  Also being near the docks, it was packed with inns and brothels.  The block (of which no's 69 & 70 are a part) may have originated as market stalls in the thoroughfare, which had previously been widened.  The stone oven/sink in the basement of the no 70 shop may date from this period and may be the oldest existing feature in the property.
1800's:
By this time the area was packed with Irish (earlier) and Jewish (later) immigrants.  Hatchet Alley had been renamed Spectacle Alley.  Somewhere in the Alley was a small synagogue, seemingly at no. 9, our 'tower', (which appears to have been called no. 3 then).  The 1881 census shows over 30 Alley residents, mainly "Russians" i.e. Jews.  Next door, on the corner of White Church Lane was the Bligh Pub with mainly Irish residents. While the present row of properties no's 65-69 (including 9 Whitechurch Passage) may have been rebuilt in the early 1800's, no. 70 was probably mid-1800's.
No.'s 69 & 70 were already occupied by a succession of woollen merchants and tarpaulin manufacturers.  In about 1882 the whole block was acquired by London Metropolitan Railway Company at the time they were building the underground line beneath the High Street.  It may have been at this time that the original brick-arched windows to 9 Whitechurch Passage were massively enlarged with exposed rolled steel lintels, and the floor levels changed.  In 1885 they auctioned-off most of the block, including no. 70, but they kept no. 69, the front of which seems to have been demolished to form an earth excavating route via the basement from the tube line to 9 Whitechurch Passage which is described in the 1901 census as an "Engine-House".  It may be that they also rebuilt no. 70 before selling it in 1885; see the picture on the inside front page.
The basement of 69 is still now characterised by massive riveted steel beams, a barrel vaulted cellar running forward towards the tube line under the High Street, and a large bricked-in arch running back to below 9 Whitechurch Passage.  This has exceptionally thick walls at ground and basement level.
1900's:
About 1907, Wolf Mackover (a 'Scotticised' version of Makov in Poland?), Jewish woollen merchant from Warsaw, took over at no 70 and then in about 1910 he purchased the lease to no 69 (incl, presumably, 9WP) from the Metropolitan Railway, immediately after it had been rebuilt.  At basement, ground and first floors there were large linking entrances to 9 Whitechurch Passage (renamed from Spectacle Alley about this time), which was by now a Salvation Army warehouse.
By 1940, Wolf's four sons; Samuel, Nathaniel, Abraham & Gabriel, were running the business, selling worsted wool for suit-making off twelve-foot rolls.  Then blitz bombing demolished St Mary's church, all of neighbouring number 71, the second and third floor of no 70, and the rear first and third floor of no 69.  A 1942 repair plan shows the rear first floor ceiling being raised to make what is now the cavernous flat 1 living room.
It wasn't until the mid 1960's that the second floor of no 70 was rebuilt and the Mackover brothers gave up the woollen merchants business.  They let no's 69 & 70 to "Fancy Goods" wholesalers, and no 9 for rag trade warehousing. Their first tenants were the Jewish Nathans, then Laniardo, then Mazri.  In the late 1990's the business passed, typically for the whole area, to their former employees and immigrant successors, Shafiq Sultan and Iqbal Shahid from Islamabad.  By the end of the century the whole block had fallen into severe decay but it had been declared a conservation area.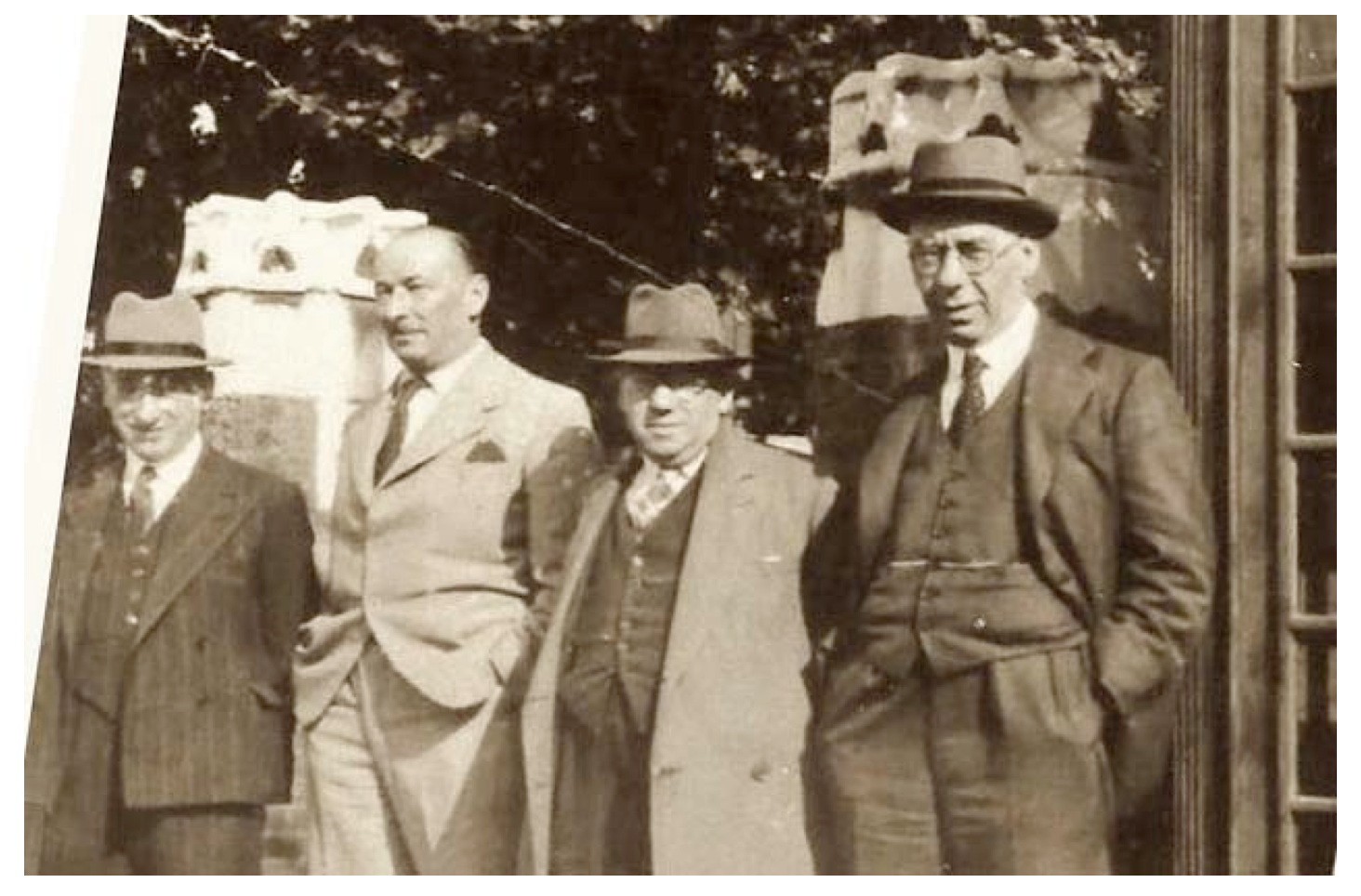 About 1951, outside the Whitechapel bombsite:  Wolf Mackover's sons, the (somewhat dodgy-looking!) Mackover brothers (l to r): Abraham, Samuel, Gabriel and Nathaniel.
2000's:
In 2002 the Fancy Goods Wholesale business (and the rag trade warehouse at 9 Whitechurch Passage) vacated the somewhat rundown property, moving just across the road (Audiotime).
Over time, some ownership shares in the properties (by this time split into twelfth shares owned by the third generation) had been bought by Wolf's great- grandson, Tom.  In 2004 he bought out the remaining other Mackover shareholders.  With his wife Jacquie, and daughters Jodie and Belinda, they became the fourth and fifth generation of Mackover owners.  (Jodie had moved into the former warehouse at number 9 in 2003.)
In the face of developer's plans to demolish the whole block (which fell through in the credit crunch of 2009), a comprehensive restoration and conversion then commenced under the architect Jan Kattein.  In 2005 the ground floor and their basements became separate commercial units; now Bangladesh- and Bahrain-based banks.  In 2006 the first and second floors became split- level flats.  And the third floor, destroyed in the same blitz bombing which had demolished Whitechapel Church exactly 70 years before, was finally re- instated as a residential flat in 2010 under a sweeping new copper mansard roof.
2011 saw a new roof and other important structural restoration work to 9 Whitechurch Passage, the unusual four-storey tower.  More improvements remain to be done!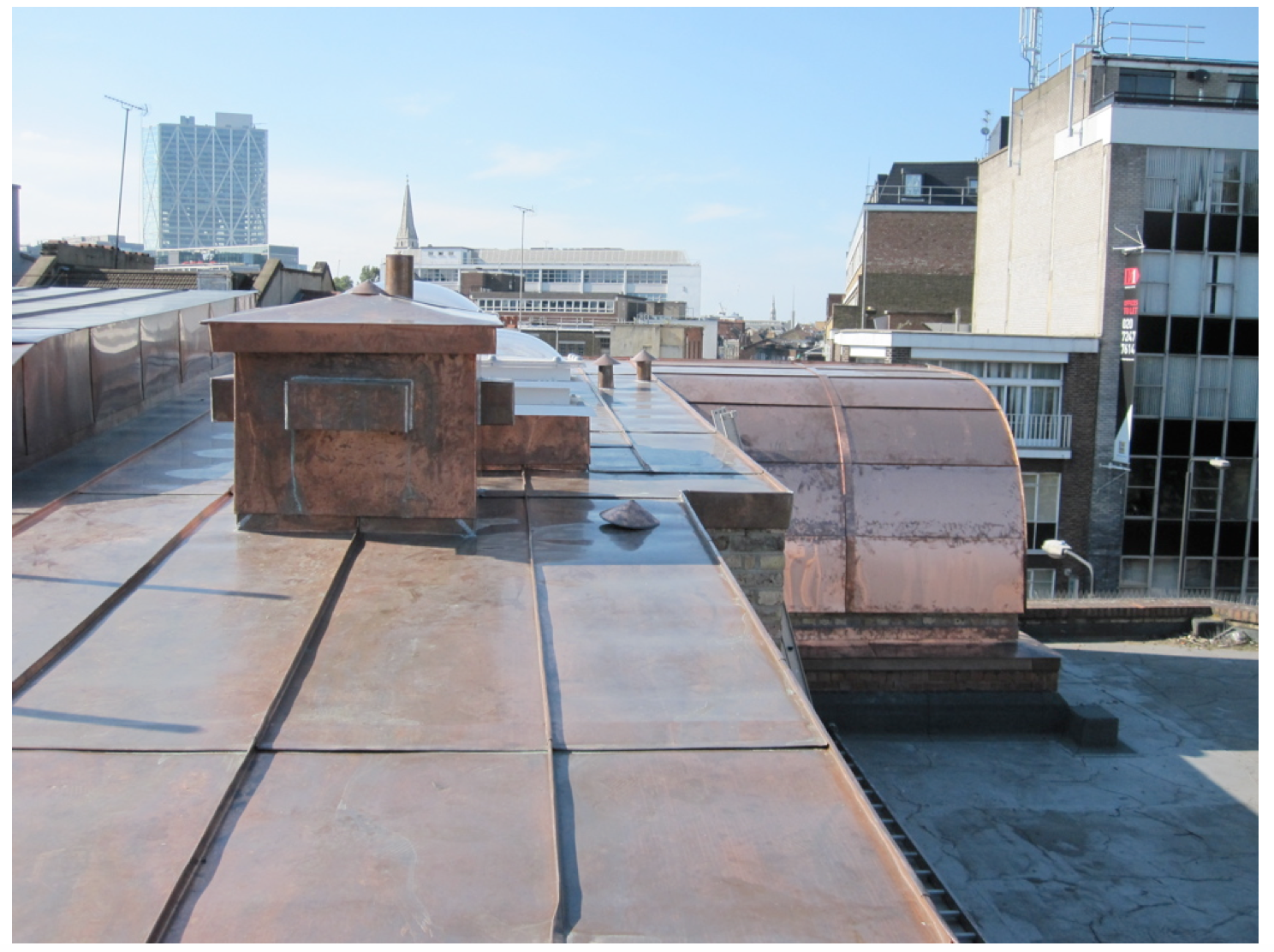 2010: Part of the new copper roof.
Census Extracts *and Mackover involvement summary*.
Summary:  From the records and documents below it seems the lease on no 70 was acquired by the Mackovers about 1908, but the freehold was still owned by a Philip & Ella Goldstein as late as 1939.  Likewise, the lease on no 69 (which included 9 Whitechurch Passage) was acquired sometime between 1910 and 1920, but the freehold was only acquired from The British Transport Commission (successor to the Metropolitan Railway Company) in 1949.
Census Extracts copied from Tower Hamlets Archives, 6.5.04:
Note: Photocopies of relevant entries held in TR's files.
Date     Source     No   Comment
1881    Census     69    8 residents: Raymond Klapper, confectioner, born Germany,
plus family of 7 and 1 servant.
1881    Census     70    7 residents: William Boldwood, woollen draper, plus family of 6.
1891    Census     69    No reference to no. 69.
1891    Census    70    4 residents: Mary Fryer, Dressmaker, plus family of 3.
1901    Census     69    Recorded as " Engine-House".  No residents.
1901    Census    70    Recorded as  "Harness & Stable Requisites Shop". No residents.
1901    Electoral  69   No reference to no.69.
Register
1901    Electoral  70    Records a "John Smith" as owner of the "tenement".
Register
1905    Kelly's    69    No entry
70    "Tomlinson Bros, tarpaulin makers"
1906    Kelly's    69    No entry
70    No entry
1907    Kelly's     69   No entry
70   No entry
1908    Kelly's      69   No entry
70   First reference to "Samuel Mackover & Co, Woollen Merchant",
1920    Electoral   69   Jessie, Nathaniel, Samuel, and Wolf Mackover recorded as
Register    70   owners of both properties.
1939    Electoral   69   Abraham, Francis, Samuel & Sylvia Mackover recorded as owners.
Register    70   Phillip & Ella Goldstein recorded as owners.